Following the immense success of 2017 release, All Bitches Die (re-released by Profound Lore Records in 2018), LINGUA IGNOTA is back with a new album CALIGULA, set for release on July 19, 2019, via Profound Lore Records. The press release promises the new record to be Kristin Hayter's most ambitious work to date, displaying the full force of her talent as a vocalist, composer, and storyteller.
Eschewing and disavowing genre altogether, Hayter builds her own world. Mixing industrial noise, black metal, spiritual, and opera, CALIGULA looks like a record that is magnificent, hideous, and raw at the same time. Boasting a full arsenal of collaborators, the album features harsh noise master Sam McKinlay (of The Rita), The Body's drummer Lee Buford and percussionist Ted Byrnes, with guest vocals from Full of Hell's Dylan Walker, Mike Berdan from industrial-noise act Uniform, and Noraa Kaplan of Visibilities.
Building on LINGUA IGNOTA's earlier work, CALIGULA hopes to take the same radical, unflinching approach to themes of violence and vengeance, and build on the transformation of the survivor at the core of this narrative. Consisting of 11 survivor anthems, the new album is a multi-layered epic that gives voice and space to that which has been silenced and cut out.
To give the fan community an idea of what the record holds, LINGUA IGNOTA has released the first single "Butcher Of The World." Right off the bat, Hayter snarls 'I'm the fucking death dealer, I'm the butcher of the world,' in a voice that ricochets chilling raw power, before shifting to agonizing vulnerability towards the end as she whispers 'In return for my love, he strikes me down.' Brimming with references and sly jabs, Hayter's sardonic commentary on the abuse of power and invalidation are deftly woven.
See the cover artwork and tracklist of CALIGULA below: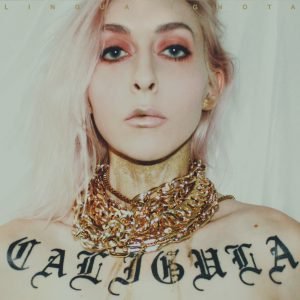 01. Faithful Servant Friend Of Christ
02. Do You Doubt Me Traitor
03. Butcher Of The World
04. May Failure Be Your Noose
05. Fragrant Is My Many Flower'd Crown
06. If The Poison Won't Take You My Dogs Will
07. Day Of Tears And Mourning
08. Sorrow! Sorrow! Sorrow!
09. Spite Alone Holds Me Aloft
10. Fucking Death Dealer
11. I Am The Beast
CALIGULA is available for pre-order here. To keep up with more singles and potential tour news, one can also follow LINGUA IGNOTA on Facebook.