Sometimes we underestimate how much impact signing to a record label can have on an artist. There are plenty of labels out there who are money-hungry bastards that aim to control all aspects of their signed artists, ultimately sucking away the life from the music and turning it into a mere product. On the contrary, there are those special labels that go the extra mile to make sure to bring the spotlight to artists they feel are one-of-a-kind and allow them to focus solely on their music. Signing to a label like this can completely change things for an artist in the best of ways. One such example of a band breaking past obscurity through a label signing is Psychonaut, our Weekly Featured Artist!
I had never heard of Psychonaut until the release of their record, Unfold the God Man, through Pelagic Records in early 2020; little did I know that this was a re-release as this album was first released independently in 2018. At that point in time, this was the best album you've never heard of. Ever since their signing and re-release of Unfold the God Man, Psychonaut have been making waves. Everyone in each of my music-oriented circles can't stop talking about them and for good reason at that. There is always so much buzz when it comes to their music and this signing is what truly propelled them to that next level. The quality of their music was always there, it just took this little boost to get them the exposure that they needed and so deserved.
As I mentioned, my stumbling up this (re)release through Pelagic was how my interest was piqued. I know for damn sure that Pelagic signs nothing but absolutely stellar bands, so I took it upon myself to give this album a spin. Upon listening to the very first track, "All I Saw as a Huge Monkey", I was floored. This instrumental opener was an onslaught of mind-bending riff after riff and unpredictable tempo changes. It grabbed me by the throat from the get-go and refused to put me down. My head was spinning in the frenzy that was this track. I didn't even have to listen to the rest of the album to determine that this was going to be something truly special. Based on the first track alone, you just know that this is going to be a musical gem.
As I listened to Unfold the God Man, I was in utter disbelief with how the world went two years being completely oblivious to the existence of this group. I was angry to be honest, knowing that a group put all this time and effort into crafting something as magical and transcendental as this, just to go unnoticed. I spoke with Stefan De Graef from Psychonaut about signing to Pelagic and he had this to say:
'The Pelagic signing really put us on the international map. The DIY release in 2018 got us some attention and some cool Belgian gigs in the summer of 2019, but it was nothing compared to the response to the Pelagic re-release. All of a sudden, we were getting contacted by people all over the world who loved the album and wanted to know more about it. It was absolutely crazy to see reviews coming in from everywhere and we owe that to the fantastic team at Pelagic Records. We had been a DIY band all our lives so this was a big stepping stone for us. Pelagic was already one of our favorite labels out there and we couldn't be happier with this signing.'
Upon first listen to this group (hell, even just in the opening track to Unfold the God Man), you can hear so many influences all mashed together to create a post-metal masterpiece unlike you've ever heard before. You can hear passages paying homage to classics like Pink Floyd and Led Zeppelin, along with many flavors reminiscent to modern greats such as Tool, Neurosis, The Ocean, Night Verses, and Amenra. To put it simply into a cheap comparison, think of Psychonaut as Lucid Planet going post-metal. Ultimately, Psychonaut is much more than just a sum of its parts but it does certainly help when those parts are as monumental and fantastic as they all are.
There are countless moments in which you're rubber banded back and forth between slow and broody passages that make you feel as if you're deep inside a dream, whereas other moments pummel you straight into oblivion. As I listen to tracks like "Sananda" and "Nothing is Consciousless", it feels as if my whole world melts away as I lose myself in these massively dense soundscapes that feel so bleak and forlorn yet larger than life all simultaneously. The psychedelic nature of Unfold the God Man never fails to put me under a hypnotic trance, one that I never want to escape. Meanwhile, other pieces like "The Fall of Consciousness" shows the group flex their instrumental prowess in the grooviest of jam sessions. This group most certainly knows when to go all out but also when to hold back, ultimately creating tension that keeps my ears glued to the music at each and every moment. These arrangements are absolutely monumental, I don't know what else to say.
As you become familiar with all the shapes and curves in their music, you'll realize that there is more than meets the eye. Hidden in the almost tribal, psychedelic undertones, as well as in the lyrics, are philosophical indulgences. Psychonaut write all their music focused around spirituality, philosophy, and existential themes, and the music itself directly reflects that; looking back, it couldn't be any more obvious. This is more than just music. Stefan had this to say about what Psychonaut's music means to him and the group:
'Music is something very spiritual and sacred to us. We've always been seekers and music is the thing that gives us the most intense feeling of being alive. We treat it like that and use it as a means to share the things we have learned and felt throughout the years. On the surface, our music may sound harsh to people who don't know us, but the underlying themes of our music are all based on love and unity. A Psychonaut album isn't just a collection of songs; it is a big story that is told through different chapters and a lot of thought goes into this. We are extremely thankful to have the ability to play music and to have such an amazing fanbase that also feels that underlying dimension.'
As mentioned before, Psychonaut have a way of creating music that is larger than life itself; that couldn't be more clear on Unfold the God Man. Even on their latest release, Emerald (a split collaboration EP with SÂVER), this group continues to blow my mind on their sixteen-minute behemoth of a track, "The Great Realization". This track really shows Psychonaut going above and beyond to create tantalizing soundscapes that one could drown in. All the additional percussion, usage of choir vocals and throat-singing, digeridoos, violins, and a morin khuur really show the group expanding on their already mesmerizing and thick sound. Not a single moment is wasted, nor repeated. This immense and grandiose piece of music is as fluid as a river – never still but always moving forward to something new.
'"The Great Realization" represents the start of both an individual and a collective awakening. As we slowly watch our world change to the point where it may actually become uninhabitable for our species, we start to question the story of the world and realize that it may be time for a new story. It continues where the concept of Unfold the God Man left off, which was mostly centered around the recognition of our higher potential as individuals. "The Great Realization" is the next step in the transition towards a new collective experience. It functions as a bridge between UTGM and our next album.'
Across all their works, Psychonaut's music has always been a build-your-own-adventure of sorts. You can choose to fully dive into the lyrics and spiritual meaning that ultimately drives the music; you can sing, scream, and headbang to your heart's content while solely enjoying the tracks, or you can do a little of both. I will say that this music (and the messages that these songs tell) leaves a much more profound impact on your way of thinking and perhaps even on who you are as a person. It gets you thinking, making you contemplate who you are as a person on this floating rock we call Earth. Their music is incredibly humbling and truly makes you feel more alive once you've had the chance to experience it as Psychonaut themselves have intended. Having these thoughts and deep conversations is what leads us to think better, act better, and do better as human beings. With the state of the world today, we could definitely use some wholesomeness, that's for damn sure.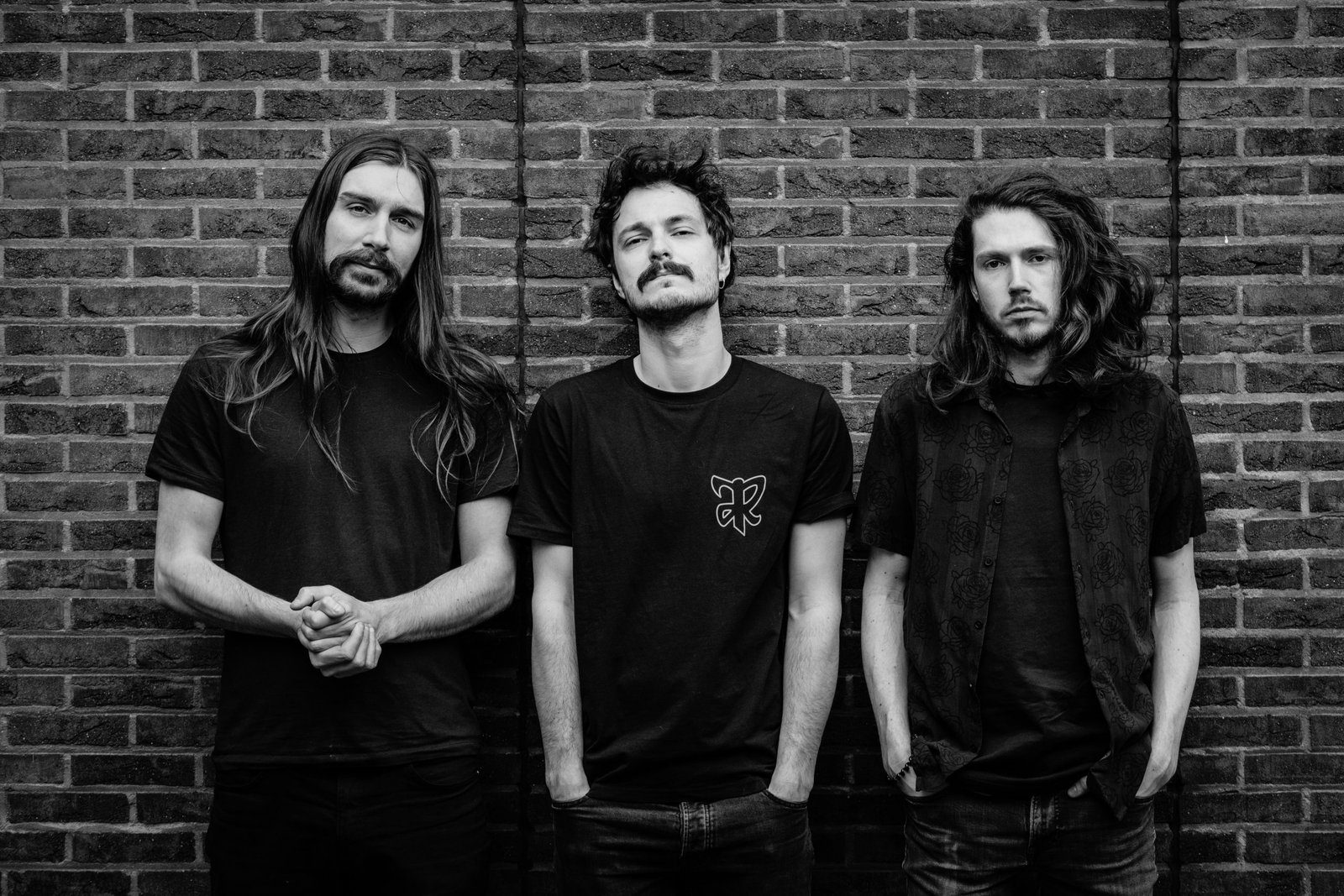 Photo credit: Gert Stockmans
Psychonaut is:
Harm Peters – drums
Stefan De Graef – guitars & vocals
Thomas Michiels – bass & vocals
We're witnessing the beginning of an incredible career of one of Belgium's unsung musical heroes, Psychonaut. With their recent signing to Pelagic Records, they'll be headed into the studio to record the follow up to Unfold the God Man and Emerald. I cannot stress enough how exciting this will be, so I'd advise you give them a follow on their Facebook and Instagram pages to stay in the loop. If you like what you hear, their music (along with all other Pelagic releases) is name-your-own-price on Bandcamp, so go nuts! If having some colorful wax is your thing, don't forget to swing by Pelagic Records and get yourself a copy; the pressing sounds stunning!