They're coming, and they want you to know about it! Voivod have just dropped a brand new track from their forthcoming  album, The Wake. I've put "Always Moving" on heavy rotation, and let me tell you, it gives me the classic Voivod chills and excitement as well as offering something new. We covered the announcement of the new album back in July, and this is the second single to be released by the band with an an official video.
What's cool about this track? Everything from the trippy reverb vocals, cracking bass, and fast and furious drums for a start. Interstellar space-thrash fans rejoice! If this is a taste of what is to come (of course it is), then The Wake is going to be a very cool album indeed when it hits later this month. Directed by Eric Massicotte and Pierre Duplessis, the video matches the music well. The trippy space artwork, psychedelic effects, and in-studio footage work to great effect. Check it out below:
Voivod are one of those cult bands that everyone knows about and respects. Even though they formed over 30 years ago , they've always stayed relevant, exciting, and, most importantly, heavy! From listening to "Always Moving", it's clear that they're giving us not only some more classic Voivod that we know and love, but continuing to evolve. The full album is something we're all looking forwards to here at Everything Is Noise, and we'll definitely be reviewing The Wake in detail ahead of the full release on September 21.
PHYSICAL RELEASE AND TOUR NEWS
In addition to the usual digital release, the band are also planning a couple of special physical ones too. The first is a 180g vinyl pressing, featuring a gatefold sleeve, poster and side D etching. As a strictly limited edition release (300 each) it will also be available as white, red, silver and…pink. The second is a limited edition 2CD set. The bonus CD will contain eleven more tracks; the first five are from the previously released Post Society EP, whereas the remainder are new live tracks, recorded at 2018's 70000 Tons of Metal cruise. Track listing for the bonus CD is as follows: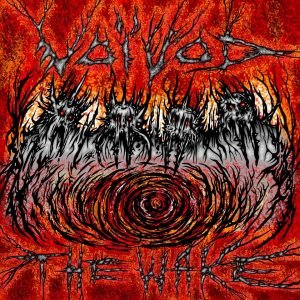 Post Society – EP:
1. Post Society
2. Forever Mountain
3. Fall
4. We Are Connected
5. Silver Machine
Live at 70000 Tons Of Metal Cruise 2018:
6. Inner Combustion (Live 2018)
7. Order Of The Blackguards (Live 2018)
8. Psychic Vacuum (Live 2018)
9. Lost Machine (Live 2018)
10. Fall (Live 2018)
11. Voivod (Live 2018)
And finally, taking of live shows: Voivod are veterans on the circuit, and are well known to be killer on stage. They're planning a full European tour to support The Wake, with plenty of dates booked for the rest of 2018. You can check out the tour details and album release details at their site here, or follow them on Facebook.