Sumac has announced a west coast tour of the US in January, in support of their latest album Love In Shadow. Released in September, the album won critical acclaim with our two writers, and will certainly be fighting for its place on Everything is Noise's album of the year list for 2018. For those who missed our review and are unfamiliar with the band, Sumac is the main project for ex-ISIS guitarist, Aaron Turner, and, like his previous band, they bring the heavy. Combining math metal and sludge, the band is also likened to post-metal, too, thanks to their ferocious onslaught of the senses.
They'll be joined on the tour by Divide & Dissolve, a Melbourne, Australian-based band whose style is doom/drone, which will complement Sumac's sound perfectly. Last on the roster is Tashi Dorji – an experimental guitarist – who will be interesting for fans of Sumac's split that they released earlier in 2018, the noise/sludge album with Keiji Haino – American Dollar Bill.
Now my definition of the West Coast of the US seems to be vastly different from the promoters, but it'll give a lot of folks a lot of chances to catch them live through a number of states. See below the tour dates, along with social media information for all the bands involved. Let us know if you'll be at one of the shows!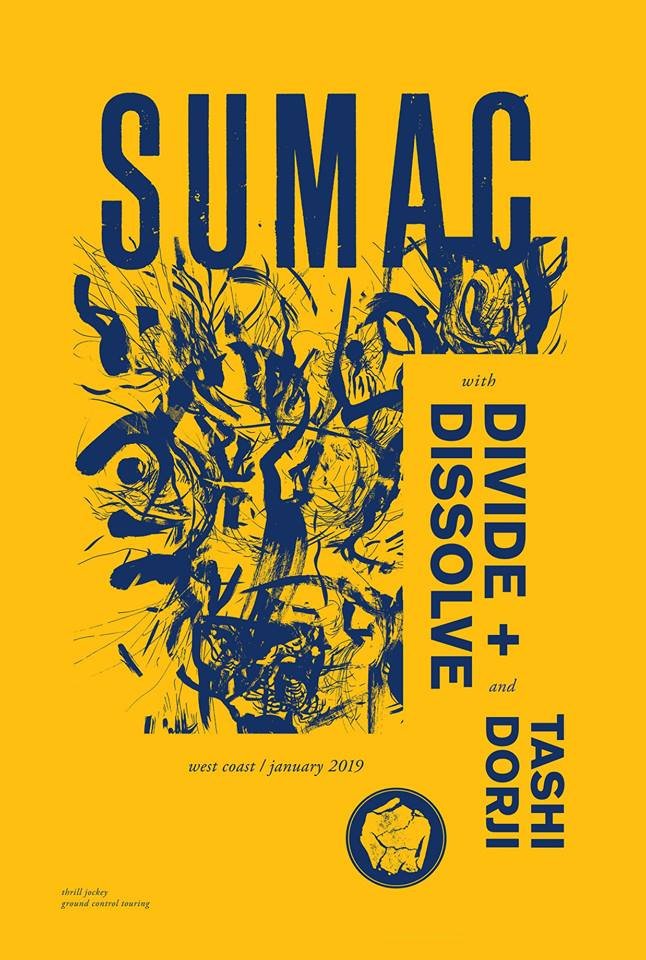 01/11 – Vancouver, BC – The Astoria
01/12 – Seattle, WA – Sunset Tavern
01/13 – Portland, OR – Mississippi Studios
01/15 – Chico, CA – Naked Lounge
01/16 – Sacramento, CA – Harlow's
01/17 – San Francisco, CA – Rickshaw Stop
01/18 – Los Angeles, CA – Zebulon
01/19 – San Diego – Brick By Brick
01/20 – Phoenix, AZ – Rebel Lounge
01/22 – El Paso, TX – Rockhouse
01/23 – Austin, TX – Barracuda
01/24 – Dallas, TX – Club Dada
01/26 – Albuquerque, NM – Sister
01/27 – Denver, CO – Larimer Lounge