To refashion clumsily a maternal adage for the ages: anything worth listening to is worth waiting for. Vancouver's Glass Kites put a definitive end to a nine-year release break this January with their second album, aptly titled Glass Kites II. This sophomore release sees the group expanding on the dreamy prog rock stylings of their debut with renewed experimental impulses and stellar production, while maintaining the butter-smooth hooks and melodic soundscapes that made their initial outing such a pleasure to listen to back in 2012.
Given how little background information I could dig up online while writing my review of their new LP, I realized I had to reach out to the band directly to satisfy my curiosity. Top of mind for me was the same question I'm sure most other new Glass Kites fans have been asking: what on earth has been going on since the debut record launched back in 2012? According to vocalist/multi-instrumentalist/producer extraordinaire Leon Feldman, the group used the long-time horizon to ensure that they didn't compromise on their artistic vision:
'We built everything from the ground up again. We didn't want to rush [Glass Kites II], and we just wanted to make something unique and impactful. For me personally, I was so much more focused on making something that's going to last into the future rather than releasing something in a timely fashion.'
What does this process entail in actuality? The intervening nine years between Glass Kites's two records comprised trans-continental moves from Vancouver to Montreal and back, brief but intense spurts of compositional activity, and a lineup change or two. Feldman describes how he and bassist Nate Drobner put prospective drummers through the wringer; when current stickman Kyle Araki nailed the 15/8 groove on monster track "Leviathan", the band knew their search was over.
From 2014 onward, the group spent a lot of time jamming and fleshing out new ideas. Though Drobner and Feldman wrote much of the album in 2013 and 2014, other members helped refine the arrangements in practice (of special note is guitarist Curt Henderson's creative contribution to track "In The Night"). It's understandable that we heard little from Glass Kites between albums, as they did not perform any shows and focused heavily on recording over track demos starting around the middle of 2015.
The album took about three to four years to record fully, with Feldman finishing the instrumentals in 2019. Though the group's various members recorded in a variety of environments, Feldman oftentimes produced and sequenced at his home outfit, Backroom Studios. The record's production suits the sound well, with modern layering techniques (Feldman describes Logic projects with 'well over 200 tracks') and a 1970s-esque sonic palate forming a delicious ear candy of a package.
The group's moniker pays homage to Mew's psychedelic dream pop classic And the Glass Handed Kites; just like their namesake, Glass Kites's music defies easy genre categorization. Glistening vistas of synth-and-string melodies meld with groovy basslines, subtly complex drumming, and silky vocal runs. The mix of progressive song structures, post-rock-like ambient passages, and almost shoegaze-like textural layering define the core of Feldman and co.'s sound. The writer humbly submits that the group's own characterization of the record as 'cinematic' on Bandcamp is as proper an adjective as one could use, and perhaps much more succinct than the description I've provided.
While the album successfully achieves a balance, and is neither prohibitively avant-garde to the casual listener nor too compositionally simplistic for the audiophile, Glass Kites II undoubtedly rewards close, repeated listens. Feldman indicates that the group deliberately sought this approach: 'Hopefully the listener can choose where to place their focus and hear some new detail every time they listen to the album. There is a lot of texture layered in there and some gems hidden if you listen closely.'
I attribute the success of Glass Kites II's well-executed and unique production in part to Feldman's diverse body of work as a producer for other artists. Also important to the band's sound are many of a broad swath of influences Feldman cites: 'Radiohead, Sigur Rós, Jaga Jazzist, [and] Explosions in the Sky,' along with 'The Beatles, Pat Metheny, Stevie Wonder, Kendrick Lamar, Gino Vannelli, Thundercat, Louis Cole, and Frank Zappa.'
Even stronger influences may come from artists who 'defy genres', in Feldman's words:
'I remember seeing Rick Rubin talking about System of a Down on YouTube once, he was being asked about the band and was discussing how with heavy bands there are certain tropes or blueprints generally followed that make a lot of them indistinguishable. But then there are these rare bands who don't fit with anything that came before it and are something totally different, like System. I think his quote was "Clearly they don't fit – but they're so good that they transcended not fitting! And those are my favorite artists…" and I couldn't agree more.'
Feldman also cites The Mars Volta, Coheed and Cambria, Opeth, and Tool as groups who eschew strict genre boundaries in pursuit of making music that just sounds, well, good. This motley crew of musical ancestors and their untethered approach to creating music speaks to the genuine love and appreciation Glass Kites have for the art form. On that theme, the group imbue their record with a fair deal of experimentation, with the caveat that experimentation for its own sake (what some might call wankery) is not an end goal:
'We probably leaned into being able to do whatever we wanted more on this record because, in a weird way, it had been so long since the first release there was less external pressure, which was liberating. The intention was always to impress ourselves as fans of music and we're all total music geeks, scanning the horizon for new untapped musical terrain, so I think that naturally translated into sounding a bit more experimental. Having said that, we always emphasized that we never wanted to have 'technicality' purely for its own sake – so hopefully we achieved a happy medium.'
Thinking towards a (hopefully) post-pandemic future, Glass Kites look forward to being a more 'traditional' band after the long gap between their first two albums. Whether this means upcoming releases in the near future is unclear, though I look forward to the live sets featuring extended plays of "Discworld / Projector". I'll leave the closing words up to the band:
'We totally understand this has been a challenging year for everyone. Please stay safe out there. You can stream or download Glass Kites II free from our Bandcamp site, or find it wherever else music is sold or streamed online. If you like what we do and are able to support us directly, your support is always greatly appreciated.'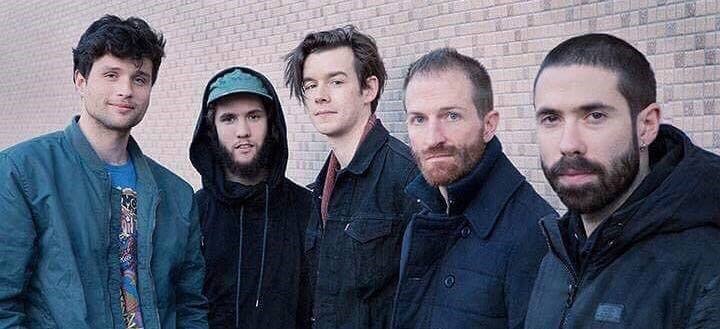 Glass Kites are…
Leon Feldman – Vocals, Guitar, Keyboards, Piano, Synthesizer & Sequencing
Nate Drobner – Bass, Keyboards, Synthesizer
Curt Henderson – Guitar
Daryn Cassie – Piano, Fender Rhodes
Kyle Araki – Drums
Follow Glass Kites on social media to stay up to date on upcoming releases and tours! Find them on Twitter and Facebook, as well as their music on Bandcamp!