Every few months, I stumble upon an album that I didn't know I needed to hear. It's always completely unexpected and a lovely surprise, finding something that speaks to me so much at that point in time. Most recently, it was Polish quartet Fren's debut album Where Do You Want Ghosts To Reside. Rejoice, fans of old-school prog: these guys know how to do it right. Fren is a band who wear their influences on their sleeve, flawlessly weaving a musical tapestry of lush Pink Floyd chords, King Crimson riffs, and Dream Theater's rhythmic complexity. Their musicianship is out the gate, the songs simultaneously cheeky and emotional, and they bring such a freshness and passion to a genre that's been written off as pretentious, boring, and outdated for far too long.
Fren formed in Kraków in 2017, when keyboard player Oskar Cenkier, guitarist Michał Chalota, and bassist Andrew Shamanov decided to start a band. Like in many cities with small music scenes, the three of them had played in bands together before, but it was only when they met drummer Aleks Fedoriv at a jam session that Fren, in the way we know it, formed; the band states it was 'love at first jam'. The name Fren was chosen by Cenkier in reference to the book Perfect Imperfection, by Polish author Jacek Dukaj. He explains:
'In it, 'fren' means a specific kind of a soul envelope, a medium ensuring the continuity of personality, allowing to maintain conscious existence after death and resurrection. Apart from the very meaning and my fondness for the book and its author, I liked the sound of the word itself. Short and sharp. The guys approved.'
All four of the band members share a fondness for classic progressive rock that is evident in their own writing. Chalota's first love in music was the heavier side of Queen, and he recalls, at age 4, singing along to the songs phonetically while playing a toy guitar: 'a day without watching a VHS cassette of Queen's music videos was a wasted day. But the key was that, in fact, at that time I already preferred rock songs.' Later, his father introduced him to Black Sabbath, and eventually, Chalota picked up the guitar, almost by accident. He explains: 'My best friend got an acoustic guitar as a gift and I started making fun of it, saying that in a moment he would sell it because he would not learn to play. The effect is that we both play to this day.' Jimi Hendrix and Ritchie Blackmore in particular had a huge influence on Chalota's playing. During his early years as a guitarist, he was also introduced to progressive rock via an internet forum; he cites Jethro Tull's Thick As A Brick and Yes's Close To The Edge as particularly memorable. To sum up his music taste as a whole, Chalota states:
'For me, the most important things in music are melodies, expression, creativity, passion, feeling. In progressive rock I like unpredictability in changing tempo or time signature, extensive composition structures, and pleasant arrangements.

When it comes to guitarists, I prefer Andy Latimer to John Petrucci, but I love many different players like Jan Akkerman, Tony Iommi, Brian May, John McLaughlin, Michael Schenker…and many more. But I'm trying to not focus on guitarists only. And I'm not only into progressive music, of course. I like jazz music, fusion music, classical music, and much more. Over the years I have tried to understand people's points of view and different reasons for listening to any genre.'
Keys player Cenkier grew up on classic 70s prog rock: Pink Floyd, Genesis, King Crimson, Camel. He says that 'the very first record that shocked me, at the age of seven, was Mike Oldfield's Platinum. And Oldfield also remained one of my great inspirations.' While both him and Chalota share a similar musical core, Cenkier says they are quite different in their inspirations:
'I would place my own playing somewhere between Nils Frahm and Godspeed You! Black Emperor. From the first one, I try to extract the delicacy, sensitivity, and a general, unconventional approach to the piano as an instrument. And the love for improvisation, of course. At the other extreme are GY!BE, with their overwhelming, dense, and sad atmosphere of apocalypse. With a perfect balance of musical impression and expression. With heart-splintering climaxes. And, I love the long ones. Over twenty-minute pieces and complex forms are my bread and butter.'
Similarly to Chalota, bassist Shamanov also grew up around the music of Queen and classic prog rock. He recalls:
'I remember this guy, a life-long friend of my parents', who was passionately speaking about Pink Floyd and other prog bands. I couldn't care less; I was 13, I bought my first Metallica cassette and my testosterone told me that girls go out with guitarists…that marked the beginning of my 20-year-long musical rollercoaster: from rock music to EDM, to reggae/dub, and back to rock music, blending musical baggage and experiences together.'
This complex blend of styles can also be seen in Shamanov's more bass-specific influences.
'Speaking of individual musicians that shaped my bass playing I must mention these names: Bill Laswell (the ultimate genre-bender whose dub-oriented mindset, productivity and bass playing technique have always amazed me), Morphine's Mark Sandman (2 strings, slide & pure sex), and Kevin Martin, aka The Bug. Although Kevin is an electronic musician, his bass lines, deeply rooted in dub and delivered at unprecedented sound pressure levels during the live shows, are in my musical DNA.'
To add to this kaleidoscopic brew, Shamanov also takes great inspiration from the live shows of IDLES, Swans, Daughters, Sly & The Family Drone, and Sunn O))). His search for inspiration seems never-ending, and he elaborates that he is currently investigating 'Nordic fusion (Tonbruket, Bushman's Revenge), jazz that gravitates towards hip-hop (Kamaal Williams, BADBADNOTGOOD) and various projects balancing on the edge of African roots music, psychedelia, funk and kraut-rock.'
Drummer Fedoriv simply states:
'I'm not able to choose any particular music genre or artist that influenced my view of music. Of course, I used to listen to rock, blues, funk, fusion, and all that prog…now it varies and it's hard to tell what specific bands it all started with. My music choice depends on my mood. Sometimes it helps me to get into the mood I want. I can make my morning coffee listening to Roots by Sepultura, and draw to Esbjörn Svensson Trio in the evening.'
I think one of the major reasons I was so delighted to stumble upon Where Do You Want Ghosts To Reside is that it's an instrumental album that at no point feels like it needs vocals. The songs stand as solid stories on their own, something that I personally feel every great song should be able to do. Being in an instrumental band myself, I feel there are huge advantages to not having a vocalist, but it can also result in a lack of accessibility for certain audience members who might feel alienated by the absence of a human voice. When I asked Fren whether they thought there were advantages or drawbacks to being instrumental, they responded:
'We see no drawbacks, only upsides: no vocalist to record in the studio, soundchecks become less of a pain…Jokes aside, using music as the message medium is far more challenging and open to interpretation than singing the message in the audience's face, and this is the challenge we enjoy.'
This can certainly be felt in Fren's writing. The music is very evocative, each section provoking a different emotional response or mental image. In my review of Where Do You Want Ghosts To Reside, I wrote that I felt Fren had created an album they themselves have always wanted to hear. I mean, I know that's what all bands aim to do, but I really felt Fren had succeeded. I could hear their delight at their work in their music. It's such a lively album, and especially considering it's their debut, it's absolutely amazing. Above all, it feels extremely organic; when I asked Fren how they decided on what style of music to play, they simply stated that 'we never talked about the music we wanted to play, we just played'. And you can hear this on Ghosts: that spontaneity, the completely natural evolution of ideas outside of any self-imposed restrictions of genre. Fren elaborate on their approach to writing:
'Our songwriting is a highly collaborative process: everyone can suggest a theme, a melody, or a chord progression. If we like it, we jam on it and it comes to some shape, then we listen to recordings individually at home and at the next rehearsal some pieces get joined, some are evolved. And we jam on this again. And record. And analyze. Stir, repeat. Sometimes it looks like making a patchwork blanket, sometimes it's a go-with-the-flow approach. Long jams and recording analysis are essential.'
Where Do You Want Ghosts To Reside is a complex album, consisting of many different layers, textures, and atmospheres. Fren say that some of the songs did change in the studio, and therefore aren't quite the same live, most notably "Time To Take Stones Away", the album's epic closing track. Cenkier admits that 'on the studio version [of "Time"] I soiled Aleks' pretty drum solo with my damn ubiquitous delays and put his two other solos over it – for which he's still pissed off at me!'. Shamanov adds: 'Generally our live sound is more on the raw side, closer to "Surge" on the album rather than to "Heavy Matter" or "Time to Take Stones Away"'.
About the live scene in Poland, Cenkier says:
'A lot of great music happens here, also instrumental; worth mentioning is the Polish experimental jazz scene, which blossomed in recent years. However, I think the ambitious projects are still welcomed more warmly abroad, in Germany or the Czech Republic for example, and respective scenes of these countries are still far ahead from ours.'
Last year, Fren had the honour of opening for English prog-rock greats Caravan, which Chalota saw as
'the fulfillment of my big dreams. I did not expect that this band would ever play in Poland. I thought about booking a ticket to see them live in the UK. I didn't think we would play a concert with them. I love their finesse and arrangement lightness and besides, they turned out to be extremely nice guys. I must admit that some listeners compare us to the Canterbury scene, which is flattering to us.'
Like many other bands, Fren's plans for the future have been put on a forced hold by COVID-19:
'Our first and foremost plan is to get back to playing music together: while social distancing in the pandemic times can be seen as a 'hard reset' and 'time to reflect', it definitely doesn't help bands that have a collaborative songwriting process. We will start playing and see where the music takes us next.'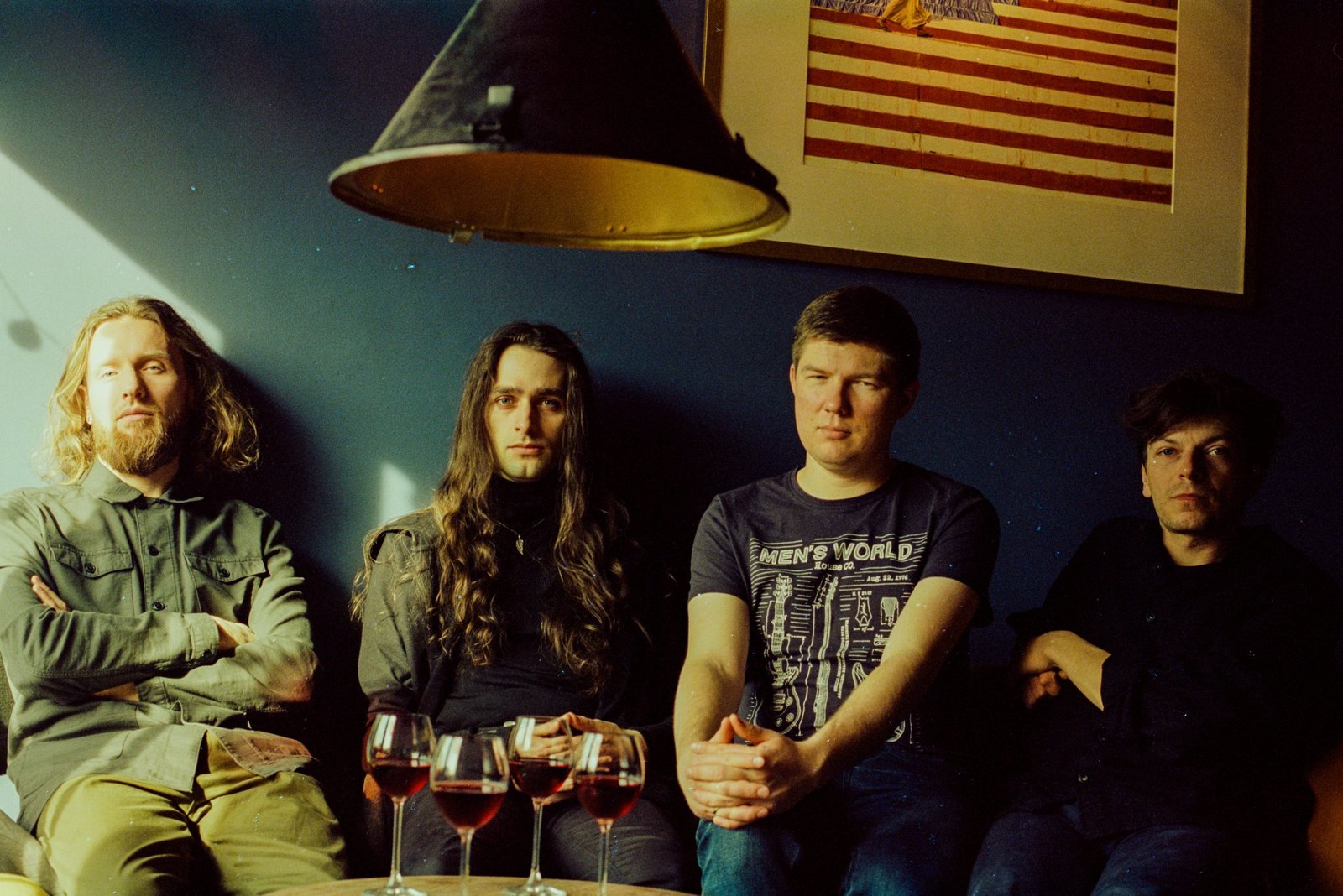 Image courtesy of Alina Pleska