Thank you for joining us for 2022's first Weekly Featured Artist! There couldn't be a better way to kick off this feature than with a remarkable group that was born at the Berklee College of Music. Aviations is a special group that takes progressive metal/rock and spins it on its head. You don't often associate this type of music with warm, fuzzy feelings that you get from watching a Disney film, yet Aviations inject that charm into every single facet of their music. This group never fails to put a big fat smile on my face and I want to share those feelings of euphoria with you!
Now usually for these types of articles, I chronologically discuss releases from our artist of choice (technically, I am discussing the music in chronological order…). In this case, I felt compelled to put a song from Aviations' latest release right at the top because its just that good. If you're going to take away anything from this feature, it is that you need to listen to that song. "Outliers (Retrospect)" comes from their 2020 EP, Retrospect, which features reimagined versions of a handful of tracks from their two previous releases. With how especially exceptional and charming "Outliers" is, it warrants being the very first thing you listen to from this group as opposed to being saved for last, which would also be appropriate albeit in a different way. Do yourself a favor and bless your ears with this J.R.R. Tolkien saga in musical form!
From that track alone, you're made clear that this group composes a type of music that is immensely dense, not always providing the easiest of listens for most people, yet it is just the perfect amount of dense; if there wasn't such a thing, there is now. I won't deny that this piece is a lot to take in, but with how masterfully composed and harmonious it is throughout its entirety, it feels so effortless to enjoy from beginning to end. The other reason why I decided to bring up this track first was that it demonstrates the sheer breadth of Aviations' musical vision and instrumental proficiency. Their unique, jazzy brand of progressive metal is so incredibly hypnotizing, but never once does it seem pretentious at all unlike many bands that exist out in this endless sea of prog.
The way that "Outliers" grabs you and refuses to let go until the final strike of the piano rings out is the musical equivalent of reading a thrilling novel all in one sitting. From the moment you pick up that book, you immediately get sucked into its world and plot, yet you're unable to pry yourself from it until you find yourself at its end, browsing where you can find its sequel. Within this particular song itself, there are so many movements that could be independent songs (or chapters) on their own, yet it feels like an expedition-of-sorts with the highs and lows that you encounter along the way. "Outliers" is everything that Aviations is all about, wrapped in one massive, cleverly digestible package.
If I had it my way, I could honestly spend this entire article diving deep into all the nuances and intricacies found on "Outliers" alone. If you ask me, that is immensely impressive, taking into account the fact while there is so much going on, it never once feels disjointed nor pasted together simply for the sake of being a long song with various movements. This track alone encapsulates everything that Aviations is absolutely capable of. On the contrary, taking the talents and musical competence that these individuals so clearly possess into consideration, it is clear that they have yet to peak. Matter of fact, they haven't even begun to peak as this reinterpretation of "Outliers" is just Aviations hitting their true stride. Considering that Retrospect is the first release with this current lineup, it cleverly gives us a glimpse into what their following releases will be like by showing a natural progression from songs that listeners are already familiar with. You can follow along with the original and reimagined versions and listen for the tangible differences between the two.
Now that you know (hopefully) what to expect from Aviations, let's rewind and start from the 'where and how' it all started. Aviations began as a small passion project while James Knoerl and Sam Harchik were pursuing degrees at the prestigious Berklee College of Music in Boston. They met up with vocalist Adam Benjamin and were able to give this project a voice! One thing led to another and their demoes came to life in the form of their debut EP, The Declaration of Sound, which was released in 2012. Two of the tracks that you hear on the Retrospect EP ("Nineties Nine Ties" and "Outliers") come from this EP. Speaking with the band, here is what one of the founding members, James, had to say regarding how the Aviations that we know today, came to be:
'Sam and I met in college and we shared similar musical interests and just generally got along. I was pretty open with sharing my GuitarPro creations with him and it ended up being something where he'd learn the guitar parts and flesh things out more on his end to make it be more in line with what a guitarist would actually play. The goal was always to try and have a band, play shows, and tour. This process has definitely become more streamlined and advanced as the years have progressed as we have included more members and we are always a fan of getting everyone's ideas in the mix.'
Following the release of The Declaration of Sound, the band was put on hiatus, only to return with the sophomore release, The Light Years, later on in 2018. For this release, they recruited Richard Blumenthal to man the piano, ultimately adding yet another extremely lavish dimension to their already sonically vibrant sound. The Light Years is where you really start to see the group come into their own, as this record is incredibly diverse with adrenaline-rich groove fests as heard on "Quest", to jazzy, delicate soundscapes in the form of "Lullaby". The latter track gives me the same amount of satisfaction that I get from wrapping myself in a warm blanket fresh out of the dryer.
Regarding the lyrical component of the music, Sam provided me some insight on what the sounds (and album artwork) for The Light Years are all about:
'The title, The Light Years, represents the period of time during which we recorded and wrote the album. We had lineup changes, and were in our final years of school. Time was flying by and before we knew it, some of us had plans to go touring with other groups for work or relocate for job opportunities after graduation. More specifically, a lot of the lyrics are about the atmosphere of Adam and Sam's hometowns, which are somewhat rural with dense woods and other wildlife/nature. Moving from those areas to the city is reflected in different ways throughout the album, and describing that in some songs symbolizes becoming an individual/adult.'
As if it already wasn't clear, Aviations music is incredibly dynamic, going back and forth between gritty riffs and breakdowns (ala Periphery or Monuments) to the bubbliest of soundscapes with twinkling piano, very akin to Jordan Rudess's work in Dream Theater and solo material. Blumenthal's work behind the piano really elevated this groups sound and The Light Years is all the better for it in my opinion. The piano here is so integral to their sound overall and the music wouldn't be the same without it. It adds another layer of pure charm to the music. Blumenthal himself had this so say on the overall scope of the music:
'We try to make music that doesn't have a super clear-cut emotion tied to it like 'cheerful' or 'angry', but rather to straddle some more combination sensations, like wistful nostalgia or uplifting moments. All this is wrapped up in a prog metal package though, so there's certainly some moments to get loud and stomp around. All that said, hopefully those mixed goals translate to music that you can equally curl up to by yourself at home or out at a show with friends.'
If the piano-work is one of the most fascinating parts about Aviations for you as it is for me, I highly implore you to check out Richard's solo work, which I have linked here for your convenience! Richard, if you're reading this, I love you.
Once Werner Erkelens and Eric Palmer officially joined the band, they are able to provide so much more input and insight on these songs, allowing this to truly be a collaborative effort with everyone's ideas contributing to the music in some way, shape, or form. What initially started off as a small project mainly written as a whole by drummer and guitarist, now has brought these additional instrumentalists to provide their own expertise on their respective instrument. As for new material, the band is now at its 'full form' and as a result, the way the music is written has shifted. Werner shared with me how this process has changed now being part of this full band, while also providing a little more insight on how this helped shape the new record:
'One of the major changes on the new record was having the ability to work on songs while keeping the whole band in mind. Especially writing tracks with our pianist, Richard, has enabled us to really let the piano stand out more as opposed to using piano more for comping in the background and doubling the occasional lead. Also having played with the current line up for a while, we're much more able to cater towards each other's musical strengths. We've all felt a lot more freedom as individual players on this record than we did before, even on Retrospect. After all, those songs were originally written with a whole different line up.'
To go into the song writing process a little more in detail, James elaborates:
'So far all of the tunes have stemmed from a guitar pro file. It usually has a rough arrangement and unfinished harmonic ideas. I generally pass the guitar pro around the band-chat for a bit until we get something a little more solid. It'll go to drum demoing at my studio and then we will get some guitars on it while we are writing vocals and any extra bits. It's very much a team effort everyone is allowed to contribute to every part of the process.'
With the seemingly never-ending pandemic looming over us and everyone around the world, I asked Werner about how this has affected the band, especially since he lives in Europe and the rest of the band is located in the US. Everyone has had to adapt and overcome in some way, so I was curious as to what this meant for Aviations. Here is what Werner had to share regarding that:
'Even though these past two years have been challenging for the entire world, especially the cultural sector, weirdly enough there have been upsides to it. Since touring wasn't an option in the first year of the pandemic, we all of a sudden had the time to double down on writing, demoing, recording and creating music videos for our upcoming record. On top of that, the pandemic forced us to get better at working together while not being able to leave the house. Since traveling to the US from Europe wasn't allowed up until a few months ago, I remotely recorded bass for the new album from my home studio over Zoom with the rest of the band. This is just one example of the many things we learned we can efficiently do as a band while not being in the same room. Since all band members live in different places we feel this will help us a lot going forward as a band.'
With the explosion in music (and art in general) over the past few years due to the pandemic, we at least have that silver lining despite having the world perpetually falling apart around us. We are lucky that we have our favorite artists being able to double down on their music and not so much on touring, which is unfortunate as most, if not all, artists make their living on the earnings from touring. It is without a doubt a double-edged sword, but if that means we're getting more and better quality music, I cannot complain. I cannot express how important it is to support for favorite artists during these tough times, because it truly goes a long ways, more than you could ever imagine. If you want to see those beyond special groups like Aviations continue to pursue their passion in creating music as upliftingly complex as they themselves make it, they cannot do it without you!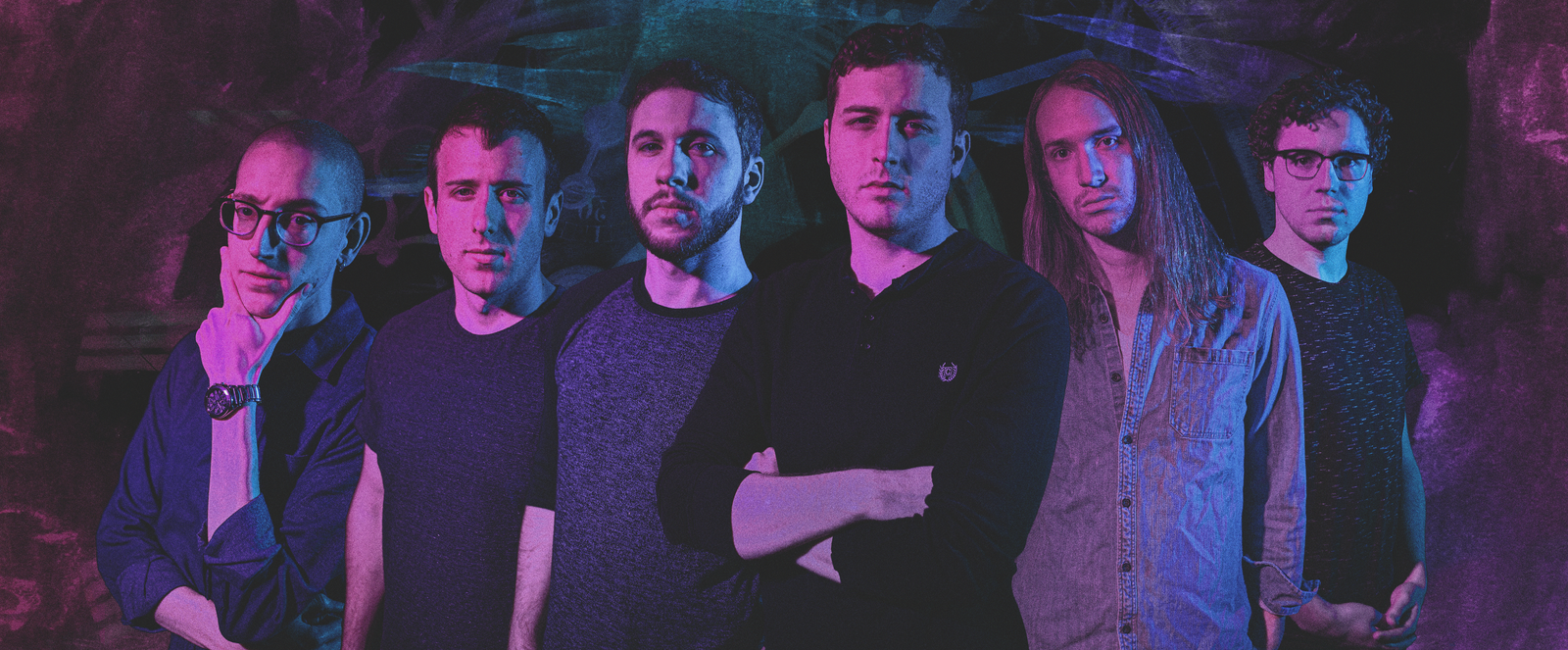 Aviations is:
Adam Benjamin – Vocals
James Knoerl- Drums
Sam Harchik – Guitar
Eric Palmer – Guitar
Werner Erkelens – Bass
Richard Blumenthal – Piano
Rumor has it that a new Aviations album is going to be released later this year, so this is something you're definitely going want to keep an eye out for, I know that I am. In the meantime, swing by their Facebook and Bandcamp pages and give them a follow as you won't want to miss any news regarding new tunes. I can feel it in my bones that this special group is going to drop a prog metal masterpiece that'll take the genre to new heights, so that fact alone assures me that 2022 is going to be worth it.