Brief, boisterous, and as big as the band's namesake: Abbruch is a sharp slab of post-hardcore/punk rock, courtesy of German quintet Braunkohlebagger. As fleeting as it is fiery, it certainly leaves a lasting impression.
Release date: September 13, 2019 | This Charming Man Records | Facebook | Bandcamp | YouTube
Braunkohlebagger translates as 'lignite excavator'. Unholy, gargantuan machines unable to avoid looking like they're photoshopped into every image they appear in (see right). Behemoths of their kind stand out whatever their backdrop, and for the Essen, Germany-based band of the same name, their latest EP Abbruch sets out to distinguish itself as much as their moniker's inspiration.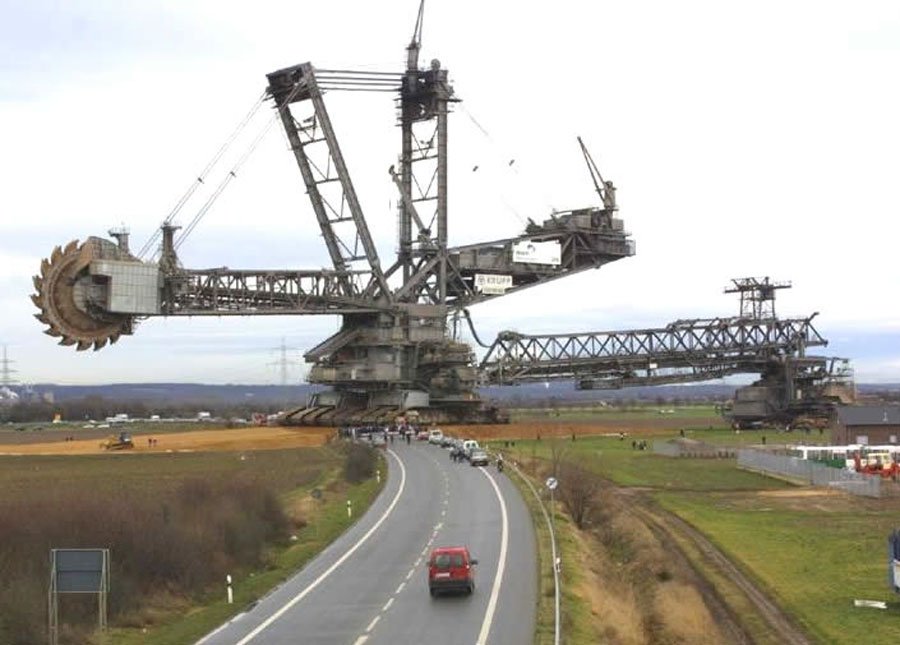 A quick translate of Abbruch, meanwhile, seems to offer up myriad suggestions: from cancellation and severance to rupture and cutting. Based on the gloomy cover art, I'd say they're all relatively likely to be the intended translation.
The best way to describe Braunkohlebagger's particular dish of post-hardcore with punk rock garnish is controlled. Impressively – albeit paradoxically – so. Why the paradox? Well, let me put it another way: listening to Abbruch is like being in a car with a driver whose consideration for your safety is non-existent, and who utterly lacks control of the acceleration pedal. Trundling along leisurely one moment, their foot plummets the next, snapping your neck, hurling you around corners – likely into a tree, upside down, and on fire. Seconds later? They comfort you, removing shards of glass from your face, patting out your flaming garments, and calling for an ambulance.
What I'm getting at is that Braunkohlebagger do very well to create adrenaline-addled music that seems to regularly spiral out of control, yet in the most controlled way possible. The band are cited on label this charming man's website as being a combination of, 'hardcore à la Refused, contemporary post-hardcore à la Fjort, and the weirdness of At The Drive-In.' Such comparisons are well-justified, with varied styles populating Abbruch from start to finish. Additionally, it's accompanied exquisitely by the raw, entirely non-English vocals (an interesting twist in reviews that I'm rather familiar with).
There's a latent anger that pervades throughout the five tracks offered on the EP, each pedalling its own swells of raucous rock riffery and scattered, ebbing instances of calm, like an athlete stopping to catch their breath before the next energetic event. We begin at "Endlosschleife" ('Looping'), building into a crescendo of noise that riles up suitably for what is next. Third track "Herz" ('Heart') is a fast and furious affair, speeding out of the gates and launching us into "Wochenende" ('Weekend'). This one's a touch more geared towards radio alt-rock, but no less endearing than anything else on display here.
Abbruch covers a breadth of themes. Society is dragged under the microscope on "Endlosschleife" and "Zeichen" ('Signs'), musical soapboxes for the discussion of over-consumption and rising poverty, among other things. Further in, we tackle the 1988 Gladbeck hostage crisis in "Wochenende". Hell, there's even a comparison between right-wing extremists and the Argentine ant on "Ameisenhaufen" ('Anthill'), if that's your thing.
In much the same vein as my July review of Khemist's Khemtrails, it has to be said that my experience with Abbruch was marred by one single facet – its brevity. Even accounting for being an EP, with no song lasting longer than four minutes, Abbruch is disputably finished before you as a listener can fully engage with the sheer chaos taking place in your ear canals. Truly though, this is the nature of the musical turmoil Braunkohlebagger have compiled in the mere 16 minutes of this release.
That being said, this chaotic, cacophonous cloud has an endearingly maniacal silver lining. Such is the shortness of Abbruch that it demands repeated listens. In turn, each listen reveals new and exciting details. So many messages are conveyed (if you understand German) alongside so many odd, distortion-riddled avenues contained within the music.  It's the kind of experience that is akin to taking your car for a 16 minute spin. Only, instead of a dull motorway drive in the family saloon, you're tackling frequent twists and turns in an oversized supercar, of which you aren't entirely sure you have any control. Damn good fun, though. Pre-order it from their Bandcamp now – you won't regret it.