It's a rare pleasure to hear something legitimately different these days – with so much genre cross-pollination, you'd think it wouldn't be so difficult to unearth artists that toy with sounds in genuinely unfamiliar ways. Fortunately, Brighton-based trio CLT DRP have recently arrived on the scene to blow your mind with a new breed of rowdy riot tunes.
Existing somewhere in the intersection of heavy rock and electronica, CLT DRP's take on this particular crossover leverages the unsettlingly inhuman tonal qualities made possible by electronic music, marrying them to the socio-political funk rhythms made famous by acts such as Rage Against The Machine. CLT DRP recently released the track "Seesaw," the latest single off their upcoming debut album Without The Eyes, scheduled for release on August 28 via Small Pond Recordings. Today, we are pleased to be premiering a fuckin' loud live rendition of the track – guaranteed to add a much needed shot of adrenaline to your routine. You can check it out below:
A pandemic isn't enough to contain the sheer force of CLT DRP, who've pulled out the big guns for this performance: a fully equipped stage –  rigged with industrial flashing lights – and dynamic camera work to capture the intensity of their live attack. It's amazing how much unhinged energy the trio conjure up in absence of the studio version's electronic effects and the natural energy an audience would normally feed them. There's a lot to bang your head to here: the hyper-distorted guitar crunch and its seamless transition to shimmering notes during the chorus (dished up with taunting, tongue-twisting swagger), or the over-the-top groove laid down by the drums towards the end.
"Seesaw" is an excellent choice to perform live from an album bursting with equally awesome tracks. Of the entire collection of songs, it's perhaps the most familiar, built around a funk core whose groove shines through despite the enveloping manic energy and distortion effects. I particularly appreciate the song's brief respite, courtesy of a psychedelic guitar interlude – beautifully retained here from the studio version. It reminds me a lot of the guitar work of Wes Borland from Limp Bizkit (intended here as a compliment). It's an effective injection of nostalgia that doesn't overwhelm the song, and adds appreciable dynamism to the performance.
The video leaves me longing to hit up a live show like this, and fortunately for those of you residing in the UK, CLT DRP's previously postponed headline tour dates have been rescheduled and confirmed for September! You can view the full list of dates below: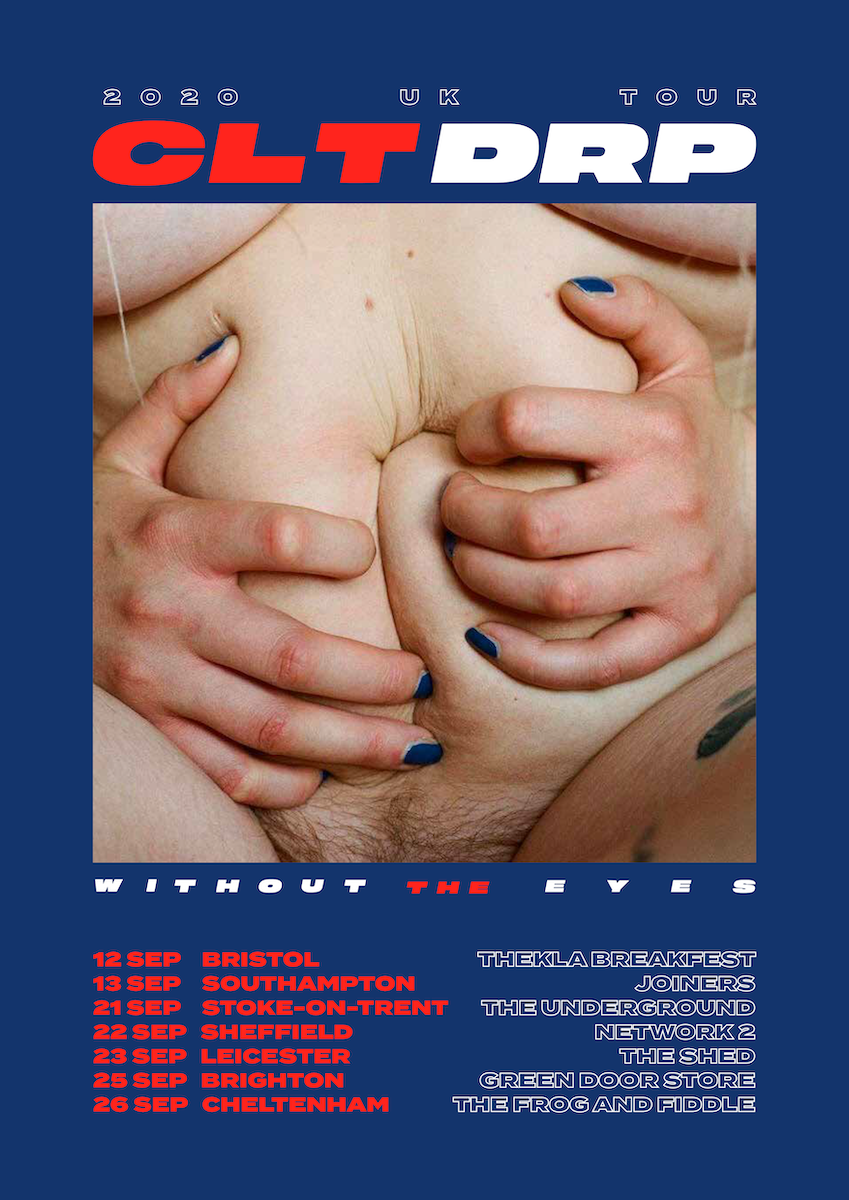 September 12th – Thekla (Breakfast), Bristol, UK
September 13th – The Joiners, Southampton, UK
September 21st – The Underground, Stoke-On-Trent, UK
September 22nd – Network 2, Sheffield, UK
September 23rd – The Shed, Leicester, UK
September 25th – The Green Door Store, Brighton, UK
September 26th – Frogfest, Cheltenham, UK
In the meantime, if you're not UK-based, or are curious to hear more of CLT DRP's genre-twisting fire ahead of their album's late August release, you can check out more of their tunes on Soundcloud. Also be sure to keep up with CLT DRP on Facebook, Instagram, and Twitter for band news, new releases, and other announcements!