Emo adjacent spoken word music has been graced throughout the years by many important groups, resonating with young and disillusioned audiences made up of individuals struggling to find their place in the world. From the long format, stream of consciousness style of La Dispute's wordsmith Jordan Dreyer through to the more modern and atmospheric Hotel Books, the impossibly niche yet surprisingly all-encompassing and inclusive style of music is strewn with different sounds, idiosyncrasies and subject matter. However, at the beginning of it all, there was one spark to ignite the whole fire and that is of course; the Philadelphia based mewithoutYou.
After 18 years together, the band have released seven studio albums and, as a result, toured extensively thus solidifying their place in the not yet constructed Emo Hall of Fame. This past October saw the group drop their seventh record [Untitled] courtesy of the legendary Run For Cover Records. Everything is Noise covered the record in our 22nd edition of Review Rundown, which you can find here.

mewithoutYou have announced that they will be touring in March this year throughout the United States alongside acclaimed cult emo band Tigers Jaw, a group who are deserving of an equal amount of attention and consideration from listeners. Most emo enthusiasts are familiar with anthems such as "Plane vs. Tank vs. Submarine", a vitally important addition to the finger-point-run-and-cry era of emo music's extensive and varied repertoire.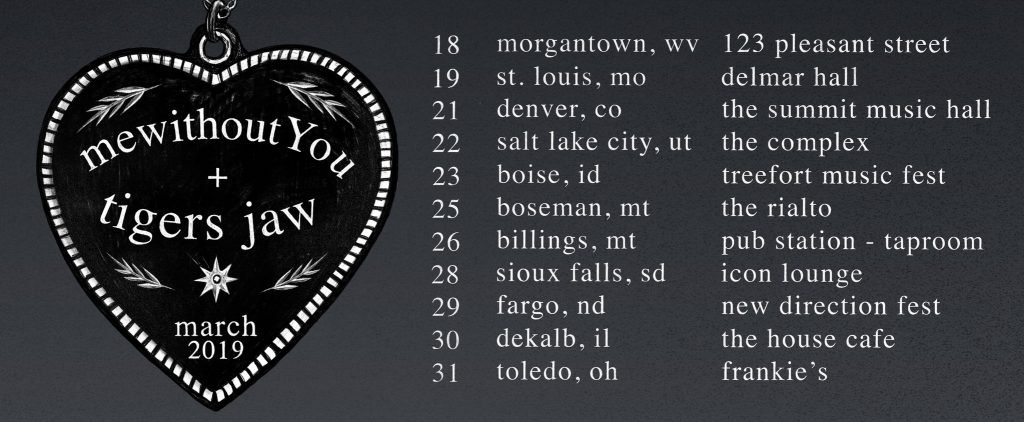 The dates are listed as follows and tickets are available at mewithoutYou.com and tigersjaw.com:

March 18 – Morgan town WV, 123 Pleasant Street
March 19 – St. Louis MO, Delmar Hall
March 21 – Denver CO, The Summit Music Hall
March 22 – Salt Lake City UT, The Complex
March 23 – Boise ID, Treefort Music Fest
March 25 – Boseman MT, The Rialto
March 26 – Billings MT, Pub Station – Taproom
March 28 – Sioux Falls SD, Icon Lounge
March 29 – Fargo ND, New Direction Fest
March 30 – Dekalb IL, The House Cafe
March 31 – Toldeo OH, Frankie's

Be sure to follow both bands on their Facebook pages for more updates surrounding this tour and any subsequent releases they may be gearing up for in the future. You can find mewithoutYou's Facebook page here, and Tigers Jaw's page here.