The US based experimental rock/post-punk band Have A Nice Life have premiered a new single "Sea of Worry", taken from their new album of the same name. The forthcoming effort will be released on November 8 through The Flenser and ENEMIES LIST HOME RECORDINGS, and distributed in Europe by Deathwish Inc.
Amassed in the darker corners of the human psyche, Have A Nice Life formed in 2000, having released three full-lengths and few smaller scale recordings since. Thematically revolving around the infinite struggles of every day life and mental disorders, the band came crashing down into people's awareness with their aptly named, 2008 debut Deathconsciousness. The lo-fi washed double album quickly gained a cult following through it's subject matters and their unique blend of styles, incorporating elements from post-rock, noise, shoegaze and drone, to mention a few. Coming into full fruition with the follow-up, The Unnatural World, Have A Nice Life genuinely conduct their own, peculiar show in the bleak and passing present.
The titular single cut wastes no time in crafting a familiar and somewhat of a tender atmosphere. Falling perfectly in line in the continuity of their career, the new track embeds in itself the notion of still waters running deep. And in fact, deeper than ever I might add. "Sea of Worry" sets all tricks and gimmicks aside, relying on constant pulse and raw, abrading emotion. Even if the basis is desperate, the song has a surprisingly uplifting feel. This also imparts the band's growth and maturing, on both musical and personal levels. For those of you looking for an experience aching for catharsis, this will induce just that.
Sea of Worry artwork and tracklist: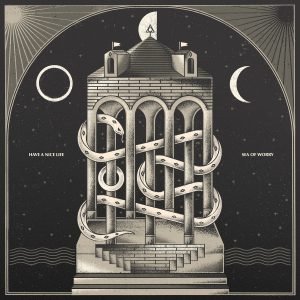 1. Sea Of Worry
2. Dracula Bells
3. Science Beat
4. Trespassers W
5. Everything We Forgot
6. Lords of Tresserhorn
7. Destinos