Welcome to something which was on the stove for at least a perceived eternity. Welcome to The Prog Guide! Many moons ago (an eternity, like mentioned before) the train of thought of doing something like a beginners guide to prog reached my mind, and it's a great relief to finally unveil it. With the hard work of the whole team, the individual pieces slowly coalesced and brought this feature to life. During this time, the idea changed from being something for beginners to an overall list of recommended and essential prog records from 1969 to 2016.
You are about to find household names next to overlooked masterpieces and probably some steps outside the usual prog comfort zone. It's not about highlighting the most obscure records we could find, it's about giving people who are already into progressive rock/metal and their strings a nod in a new direction, and helping beginners to delve into the world of this fantastic realm of art. This list isn't about being complete or the ultimate truth. There are many great prog records out there which don't have a place here. It's a subjective attempt to gather some records we find essential in the genre, so please keep that in mind.  Let's start with Part I and the first 25 records, in chronological order!
King Crimson – In The Court Of The Crimson King
Atlantic Records // October 10, 1969
Seldom does a band release a debut album that becomes the foundation for an entire genre, and that is what makes King Crimson's In the Court of the Crimson King one of the most influential progressive rock albums of all time. King Crimson has now existed for over fifty years, but this is the only album released by the band's original line up. Recorded during the cold war era, the album has a strong anti-war symbolism disguised within the fantasy concept, giving it a dark undertone that went on to become its defining feature.
With long songs that combine finger-picked acoustic guitar, mellotron drenched keys, string arrangements, flute solos, Greg Lake's vocals, In the Court of the Crimson King sprawls a vast expanse of the progressive music landscape. From the sheer psychedelic album opener "21st Century Schizoid Man" to the melancholic ballad "Epitaph" the album brought a plethora of influences and ties them all together with perfection and set up a framework for countless bands in the years to come.
Atomic Rooster – Death Walk Behind You
B&C/Elektra/Philips // August 1970
Death Walks Behind You is a classic and essential prog album for sure. Atomic Rooster had a pretty wild and unfortunate history, so we are lucky to have been graced by such an album. It will never be known what sparked the muse in Vincent Crane to create such a masterpiece, but it's magic he was never able to fully re-capture. Fueled by the organ playing of Crane, Death Walks Behind You is an immediately different take on conventional rock for its time.
Dipping into psychedelia, heavy metal, and blues frequently, it hardly misses a beat throughout its runtime and is sure to keep you guessing on what it can throw at you next. The instrumental "VUG" is five wild minutes that hardly slows down and is driven by high-tempo rock drumming and keyboard with bluesy guitar chords. "Nobody Else", on the other hand, is a softer ballad led by piano. Constant line-up and sound changes plagued Atomic Rooster to an early end, but Death Walks Behind You withstands the test of time as we approach its 50th anniversary next year. They offered a harder edge to progressive music than most of their counterparts at this point in time and incorporated influences from a wide breadth of genres to create an album that was totally unique for its time while still touching on many of the common elements that progressive rock showcased at that time. Whether dipping into prog for the first time or expanding your horizons, this album is a must.
Bröselmaschine – Bröselmaschine
Pilz // 1970
There are many prog epics out there with fantastical storytelling and flashy instrumentation all over the place. But to put Bröselmaschine into the same category would be plain wrong. Bröselmaschine is the The Hobbit of the prog rock world: it is not necessarily epic, yet detailed and grounded in a way you can immerse yourself in within seconds. Their self-titled starts with the first track "Gedanken" (thoughts) into a magical world with a slow acoustic guitar accentuated by the slow, calming male and female vocals. The ambiance of the song makes the track feel like a ride in a wagon with an elf and a wizard into a small town in the plains, while the cozy summer evening slowly swallows the last remaining daylight.
As the album progresses, our cozy pilgrimage turns, through the flexibility of the instrumentation, into an adventurer. This adventure is not grand, it is a spiritual one through mystic soundscapes, filled with psychedelics. The song "Schmetterling" (butterfly) opens with beautiful sitar drones and a poem in German about a man turning into a butterfly. This might come across as bizarre at first, yet if you let yourself drift in the beauty of its arrangements it can transport you to climactic heights, without much effort. It is the simplicity that makes this record so great, the simple joy of an acoustic guitar riff that sounds good on its own, followed by flute and sitar to accentuate this greatness.
Jethro Tull – Aqualung
Chrysalis Records // March 19, 1971
I had a conversation with my mother once, talking about the music she was into when she was my age (I was like 17 or 18 at that point). One of the bands she mentioned was Jethro Tull, whom I wasn't all that familiar with at the time. Of course I (incidentally enough) knew "Locomotive Breath", but beyond that, I was a tabula rasa, so to speak. So I dug into their discography, starting with Aqualung. While I enjoyed some of their other material as well, it was mostly this record which stuck with me.
Somewhat of a concept album (even though Ian Anderson heavily disagrees) about faith and religion, it runs the musical gamut of hard rock, psychedelia, folk, acoustic and blues, making for an interesting and diverse soundscape. Especially the sheer amount of completely acoustic tracks is noteworthy, as Jethro Tull weren't exactly known for such an approach despite their obvious knack for folky numbers.
And, although it was mostly overshadowed by the success of the single "Locomotive Breath" (which is an amazing song, don't get me wrong), Aqualung very much stands the test of time as one of the band's most varied and charming works.
Caravan – In The Land Of Grey And Pink
Deram Records // September 1971
'Look at the day that is dawning, what do you see with your eyes?' Caravan's 1971 sleeper hit is by all accounts the definitive Canterbury album, offering both faces of this particular prog family and all the reasons why you should familiarize yourself with it. Starting off on an easy note we're greeted with an agreeable pop arrangement, lightweight rhythms and cheerful lyrics on "Golf Girl", one of the most ear-wormy songs ever written. This carefree atmosphere persists through all of the side A, with "Love to Love You" and the title track maintaining still the light-hearted sound – that is until side B hits.
And yes, to be fair, most people venture In the Land of Grey and Pink for the side-long epic journey "Nine Feet Underground", built up of eight carefully interwoven parts. Here, in an unmistakably Canterbury kind of way, Caravan walk all over the line between playful and sombre. The previously gleeful vocals suddenly alter to a rather uninvolved commentary of transcendental experiences, but the lyrics become all the more potent. Pye Hastings' characteristic biting lead guitar seamlessly blends with Dave Sinclair's array of keyboards in meandering improvisatory interludes and dreamy solos. 'Will the day be warm and bright/Or will it snow?' Is it a song about life or is it about death? Who knows. But I do know it is 22 minutes of excellent Canterbury prog. It is like "Close to the Edge" minus the hurry or "Echoes" with even more keyboards. And a very 'eavy Uriah Heep-like riff awaits patiently at the very end. 'And it brings it all back to me'.
Van Der Graaf Generator – Pawn Hearts
Charisma // October 1971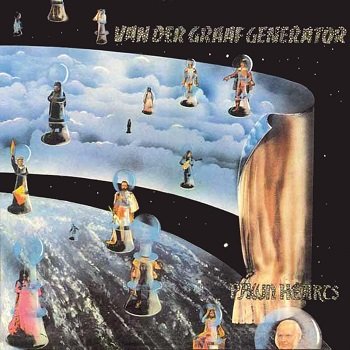 The towering shadows of musical giants are fertile breeding grounds for underappreciated masterpieces. In the late 60s and early 70s, household names like King Crimson, Genesis, and Yes shaped the common perception of progressive rock, all the while bands from the second string were usually relegated to small successes among dedicated connoisseurs of the genre or much-belated accolades. This is where Van der Graaf Generator enter the picture. Formed in 1967, the British prog outfit, led by singer-songwriter Peter Hammill, had everything it took to secure a place among the top players of prog rock; their chops were undeniable, and their songs were just immaculately crafted as those of the aforementioned, more well-known bands.
In fact, their fourth full-length album, 1971's Pawn Hearts, did catapult them to incredible heights of success – in Italy, and Italy alone. It has since garnered a wider reputation over time, even though the band dissolved for the first time not even a year after its release. The reason for this collective change of heart is that it's, well, a bloody masterpiece. Side A harbors three very remarkable tracks in "Lemmings (Including 'Cog')", "Theme One", and "Man-Erg", but Side B is where things become larger than life. A ten-part suite about a lighthouse keeper who witnesses several offshore deaths, the over 23 minutes-long "A Plague of Lighthouse Keepers" is a sprawling epic, and even on its own constitutes reason enough for you to revisit this overlooked gem.
Captain Beyond – Captain Beyond
Capricorn // July 1972
Captain Beyond was a band that dared to be different. Comprised of ex-members of Deep Purple and Iron Butterfly, their convergence of rock-solid 70s rock and progressive psychedelia was mind-melting by that decade's standards, and still holds up ridiculously well today. Songs aren't long – a bit of a subversion of prog's trope of the ten-minute-plus long song – but they bleed into each other so cleanly, it's easy to lose track of your journey throughout the album.
Everything has its place here. Bass is groovy, guitars are classically-toned and strong with a focus on melody, and drums shift and slither between different time signatures with ease. Vocals have that Deep Purple power (Rod Evans was the original vocalist for the band), combining a great rock range with clarity and a pinch of soul. If you only listen to one song (you can't stop at just one, it's like eating only one potato chip – not gonna happen), make it "Mesmerization Eclipse". It's a fine elevator speech for the album and will likely hook you in with one listen.
This record is actually short, another point uncharacteristic of classic prog rock. All this does is render it with nearly endless replay value, like your favorite movie as a kid. Captain Beyond is dastardly spacey, ruthlessly rocking, and an underrated testament to the breadth of 70s prog that should not be overlooked.
Yes – Close To The Edge
Atlantic Recrods // September 13, 1972
Close To The Edge was a cosmic voyage from a group of fearless trail-blazers. And where would prog music be today without Yes? Their contribution to the world of pulse-fueled experiential is legendary, and Close To The Edge remains but one example of why the band are still worthy of their legacy. This album in particular really resonates, 47 years on. The music is still that damn powerful… Quirky and exuberant, but intense with it. In this chapter of their career, Yes were similar but not quite the same as other progressive and folk-ladelled heavy bands of their generation. The vocals and acoustic parts were sort of reminiscent of Led Zeppelin, and the song structures had shades of early Genesis.
But ultimately Yes had their own charisma and flew upon it at lightning speed, throwing unstoppable levels of rockingness into their music. The sheer passion of movements such as "And You And I" were unrivalled. But it might be best not to get too wrapped up in song titles. Close To The Edge is a unified concept, with recurring musical hooks which resurface at various intervals and at different emotional velocities. Sample Close To The Edge to hear the Steven Wilson, the Devin Townsend, the Mastodon, and the just about everything which followed. Ultimately, you don't have to be prog-oriented to be influenced by Yes… But it helps.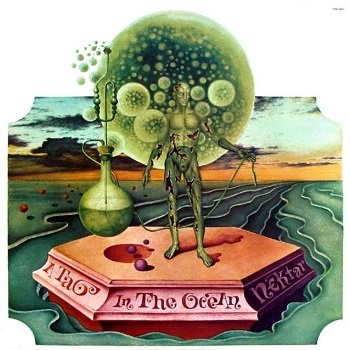 Nektar – A Tab In The Ocean
Bacillus // November 1972
A Tab In The Ocean is an ample case-study on how to follow the classic prog-rock sound. It's like Pink Floyd but with a bit more of a quirky Charlie and The Chocolate Factory feel to it. The album is melodic plus speedy with a distinctly out-there prog rock voice and, on the whole, drew from some of the grandest prog rock conventions of its era. One of its most impressive traits is the guitar work. Relatively shreddy for its time, the guitars really contribute to the album's triumphant sound, meandering across scales and ripping into low-end chugs like so many of its heavy metal successors of later time periods.
The classic prog keyboards behave in pretty much the same way too. On that note, this record very much serves as a blueprint for the modern structures used in prog death. For those deeply embedded in the Opeth-esque bands of today, try and think of A Tab In The Ocean as the preliminary sales-pitch to the commonly used conventions in today's more adventurous heavy music. But even putting this aside and judging the album by its own merits, Nektar, in this case, created a wholly epic and thunderous spectacle which performed not a single bad maneuver along its entire breadth.
Gentle Giant – Octopus
Vertigo/Columbia // December 1, 1972
To me, Gentle Giant have always been the most criminally overlooked of the initial prog rock bands, left in the (admittedly gargantuan) shadows of their compatriots in Yes, Genesis or King Crimson. That being said, you can't help but find shades of their sound even in contemporary bands like Haken, essentially proving their influence to be much greater than their renown. Octopus is regarded by many to be the beginning of the band's most fruitful and musically ambitious period, and the music on display here makes that statement make sense right from the get-go.
"The Advent of Panurge" boasts an expansive use of harmonized vocals, baroque/chamber music elements and jazzy guitars; lyrically, it's inspired by the 16th century French auteur François Rabelais and his 'Gargantua and Pantagruel' pentalogy. From there, the album unwinds in a wonderful fashion, revealing even more of the band's wide-ranging influences. Amidst the songs displaying influences ranging from folk and classical over soul all the way to early hard rock, the highlights that stand out are the madrigal-esque "Knots" (those vocal harmonies!) and the ballad "Think of me with Kindness".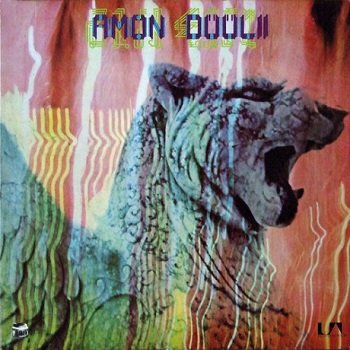 Amon Düül II – Wolf City
United Artists // 1972
Much like other albums on this list, Wolf City is profoundly 70s. The ways it combines German krautrock with prog and some far-reaching elements from around the world slots it cleanly into the psychedelic wave of that era of rock. Amon Düül II isn't particularly a household name, but you'll find they belong among the greats even though they do things their own way. Isn't that what progressive music is all about?
Wolf City has many tenants, most of which you'd expect – guitar, drums, piano, bass, vocals – but all get twisted up into a radioactive cocktail with some special guests. Sitar, timpani, saxophone, tablas, and more texturize the music here unlike many other albums on this list. If you want to get right to the good stuff, you'll want to swan dive into the instrumental "Wie der Wind am Ende einer Strasse". It's a veritable portal to a haze-coated plane of existence where you can practically feel the synths spinning around your head and saxophone tickling your ears. Vocals are no slouch either. "Surrounded by the Stars" is largely cosmic, channeling "White Rabbit"-era Jefferson Airplane where Renate Knaup-Krötenschwanz is Amon Düül II's Grace Slick. "Jail-House Frog and the title track do well to mix things up with different vocalists and approaches to ensure the seven-track album's new-wave-isms don't stale.
Wolf City does the number one thing all good prog should do: not care. It asks you to bask in its weirdness for a while, arms wild open. And you don't want to be a rude guest, do you?
Pink Floyd – The Dark Side Of The Moon
Harvest/Capitol Records // March 24, 1973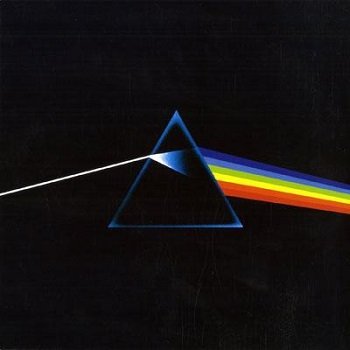 Without Pink Floyd, music as we know it simply wouldn't exist. When true progressions are made that challenge the ordinary world in which we live that we truly take note and begin to raise our understanding of what is possible. Moving away from their largely instrumental works Dark Side of The Moon allowed the band to explore vocals in a more meaningful way, this accessibility and relatability retained all of the psychedelic haze for which the band had become synonymous but in a far more succinct way that offered a clarity of vision that had yet to be fully realized by the band.
Through the use of advanced recording techniques such as loops and multitracks the Pink Floyd were able to craft textures like never before all the while packing them into 10 incredibly short tracks with a run time of just over 40minutes. This taking a hard tangent from the 20+ minute keyboard solos of early 70s prog. Offering commentary on mental illness, greed and death all of which were relatively untrodden paths in 1973 the thematic depth paired with the musicianship on show it becomes abundantly clear as to why this record is considered the gold standard for progressive rock. With over 900 weeks in the billboard charts, and sales of over 45million copies worldwide; Dark Side of The Moon is more than an album. It's a bonafide icon.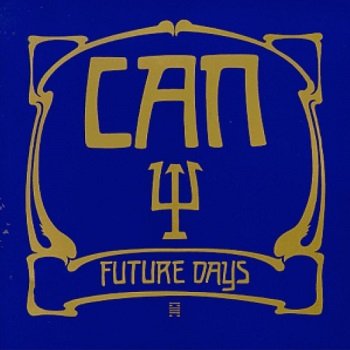 Can – Future Days
United Artists // August 10, 1973
The end of an era is usually marked by a fittingly dramatic climax – this is not one of those cases. Although Future Days should soon prove to be the final manifestation of the musical prowess of what most people agree to be legendary German krautrock innovators Can's defining line-up (consisting of vocalist Damo Suzuki, bassist Holger Czukay, drummer Jaki Liebezeit, guitarist/violinist Michael Karoli, and keyboarder/synthesist Irmin Schmidt), it closed this chapter not with a thunderous roar, a bang to shatter the ages set in motion by this band, but with a relaxed shuffle at the beach.
All things considered, Future Days is the most ambient record Can recorded up to that point. While it did conserve many of the tropes the band played on so far (including pronounced rhythmic work, psychedelic guitars, and jazz influences galore), it did so while shifting their overall sound into a more electronic, ambient-driven direction. Behind the unassuming art nouveau graphics on a blue background lies nothing less than a small paradigm shift that anticipated a lot of what would come to shape the sound of experimental rock music in the 70s and 80s: an increased use of electronics, a clever use of subtle dynamics, drawing from eclectic sources of inspiration, and a willingness to go above and beyond what the genre's origins dictated.
Genesis – Selling England By The Pound
Charisma Records/Atlantic Records // October 12, 1973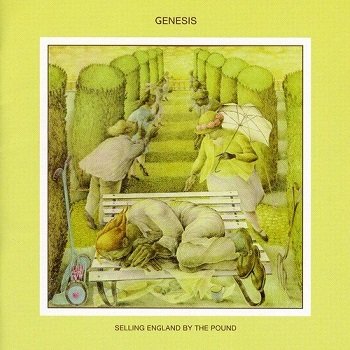 Putting aside the people who love it all, there will always be the divisive tribalism of which Genesis was better: The chart-topping supremacy of the Phil Collins saga, or the earlier, much less commercial and wholly more progressive reign of Peter Gabriel. Well I can give a clear indication of which camp I gravitate to. To drop a small hint, Selling England By The Pound contains my all time favorite Genesis song, "I Know What I Like". And the fun doesn't stop there when it comes to this 1973 classic.
Just to bring a bit of perspective into this record, it came out the same year as Pink Floyd's The Dark Side of The Moon. And Pink Floyd weren't trying to sound like Genesis any more than Genesis were trying to sound like Pink Floyd. But there were similarities in the political lyrical content and the distinctive British-ness of their prog. Selling England By The Pound took numerous ideas and blended them beautifully. For an album which seemed bereft of rules it was superbly arranged. But Gabriel's vocals provided it with a real sense of identity. In particular, songs like "The Battle Of Epping Forest", with Gabriel's crisp vocal diction and theatrical characterization, made this album a full course meal that was as humorously out-there as it was sensibly grounded in the real world.
Emerson, Lake And Palmer – Brain Salad Surgery
Manticore // November 19, 1973
'Come inside, the show's about to start
Guaranteed to blow your head apart'
These lyrics are from the mouth of a show caller bringing attention to a freakshow-esque exhibit of dystopian earth's rarities and oddities in the song "Karn Evil 9, 1st Impression: Part Two", but they function just as well as a proper introduction (or warning) to this ELP album. For an album that came out in 1973, Brain Salad Surgery was outrageously ahead of its time.
It still has all the markings of 70s prog culture; the synthesizer is integral to this album's progressive sound, turning it into an evocative setpiece that carries entire songs. The first four songs, while having solid enough writing considering two of them are adaptations of other songs, prove to be only foreplay for the main attraction: "Karn Evil 9"; a 30-minute song made up of three impressions expressed over four tracks. The melding of classic orchestral arrangements with prog rock sensibilities is borderline anachronistic, creating a veritable circus of 70s synth psychedelia. This is a mind-melter of an album and a prog rock masterpiece.
Magma – Mekanïk Destruktïw Kommandöh
Vertigo/A&M Records // December 1973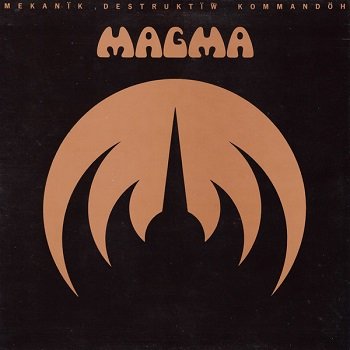 The British prog scene of the late 60s and 70s is well documented. Meanwhile in France, something a little different was happening. Mekanïk Destruktïẁ Kommandöh is an underground classic which is very much out of time. Listening back, it doesn't really present itself as a reflection of the prog era, more as something that operated in spite of it. The album also suffered a long-running loss in transit, as the original composition, recorded in 1973, didn't see the light until the late 80s. Shame then that it was MIA for so long, as it is a fantastic album.
Mekanïk Destruktïẁ Kommandöh is a hypnotic, orchestral and wonderfully sonic display of musical ingenuity. Its gradual build-up of intensity and drama is a pacy affair which occurs right the way across the album, and concludes in decidedly epic fashion. The free-spirited brass instruments, relentless bass and ever cascading vocals render this an addictive delve into tribal soundscapes. Like all groundbreaking prog, its freshness is still apparent, more than four and a half decades on. Plus it's always good to hear music sang in its native tongue. It tends to add authenticity to the listening experience, irrespective of whether or not the ears are capable of interpreting the words. In this record, Magma exemplify how a musical narrative can be as equally enthralling when it comes across as abstract.
Mahavishnu Orchestra – Visions Of The Emerald Beyond
Columbia // February 1975
The first thing that needs to be established here is that John McLaughlin is one of the most influential fusion guitarists of history, alongside greats like di Meola or Holdsworth. Who knows where progressive music would be without his contributions? However, his towering impact on the jazz scene doesn't encroach upon the importance of his band mates at all; if anything, they allow him to realize his visions by being accomplished musicians themselves.
Nowhere is this more apparent than on Visions of the Emerald Beyond. Sure, McLaughlin composed the bulk of the music, and his guitar playing is displayed prominently, but the others (especially violinist Jean-Luc Ponty and keyboarder Gayle Moran) fill the compositions with their own unique spirit. Songs like the two-part suite "Eternity's Breath" and the soulful "Earth Ship" are bona fide masterpieces, and Visions… as a whole a cosmic, spiritual journey from the stars right into the heart. This is one of jazz fusion's (and by extension, progressive rock's) proudest achievements.
Rush – Moving Pictures
Anthem Records // January 7, 1981
It's hard to talk about one of the most iconic bands to have ever existed, forget prog or not, and have nothing except admiration. Rush have been around for nearly half a century! In this time, the band has released 19 studio albums, but the one album that has always stood out is Moving Pictures. Released in 1981, Moving Pictures is not only Rush's highest-selling album but also their best studio outing.
The early 80s was a time when prog was coming into the "Limelight," and bands including Rush were sizing down tracks to suit radio-play. The result, instead of grand epic 20-minute conceptual melodies of 2112, we got short and well-formulated tracks in "Tom Sawyer" and "Red Barchetta." Even the morse-coded instrumental interlude in "YYZ" is nothing short of perfection and showcases Rush's unique ability in mixing technicality with sensible song-writing. And that is the one characteristic, that has helped Rush thrive where many have perished. Moving Pictures is one classic that just refuses to age with time.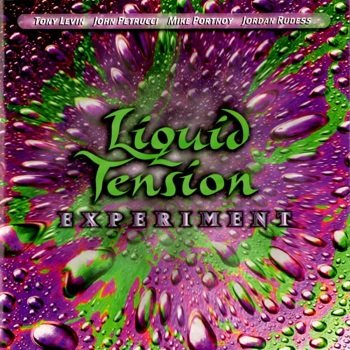 Liquid Tension Experiment – One
Magna Carta Records // March 10, 1998
Supergroups, despite being fun conceptually and occasionally entertaining, are frequently overshadowed by their progenitors and more often than not come off as musicians simply having fun instead of working towards a complete product. While some of this can be seen in the self titled debut of LTE, there is also a sense of freedom and exploration that is complimented by the stylings that these musicians slanted towards. That is to say that this record is a prime example of how such talent can effectively bloom in the shadow of what came before. The technical musicianship on this album, in perhaps a more traditional sense, is second to none. Percussion, keys, guitar, and bass all shine in unique and creative ways that tread the line between inventive prog and fun fusion.
From the in your face intro to "Paradigm Shift" to the beautiful restraint of "Freedom of Speech" and the five-part suite beyond that, there is a diversity here that feels as if no stone went unturned – you only need listen to "Osmosis" to see exactly what I mean. What makes this record work where masterclass performances and varied ideas have failed in the past with similar supergroups, is in how the musicians build off each other. This is partially due to a clear need for divergence from the past, the first real collaboration with Rudess' keywork, and Levin's levity that is sorely missed in the trio's other works. More than that, it's the balance of trying interesting new things in compliment to wanting beautiful pieces. To this day there is nothing quite like it, and it along with its little brother (aptly titled LTE2), stand as some of the best instrumental records thus far.
Dream Theater – Metropolis Pt. 2: Scenes From A Memory
Elektra // October 26, 1999
Dream Theater fans love to argue. They argue with fans of other metal bands in favor of Dream Theater a lot, but they save the bulk of their aggression for each other. Metropolis Pt 2: Scenes From A Memory is the only thing they can agree about, all but universally acclaiming it as the best album the band has ever made. Every new Dream Theater album gets compared and contrasted to Scenes From A Memory. It only stands to reason that if this list had to have one Dream Theater album, it would be this, the band's fifth.
This album shows what happens when five virtuosos get complete carte blanche artistic control in a quest to make something deliberately brilliant. Scenes From A Memory is a cold calculated effort and wildly uninhibited at the same time, a meld of superior writing and stellar musicianship. Dream Theater realized everything great about prog' all at once on this album, making it essential.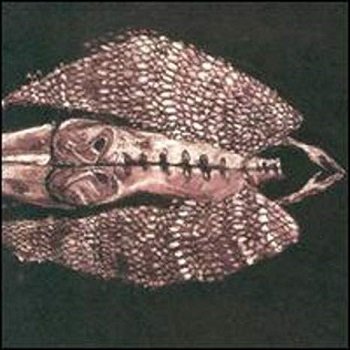 Cerberus Shoal – Homb
Temporary Residence Limited // November 15, 1999
Homb is a strange, gradual, foreboding affair, that's also rather lovely in places. It offers no certainties in where it's going. But where it does go, it ensures that you, the humble listener are right in with it. From the sinister synthy intro of "Harvest", through to the jazzy follow-up of "Omphalos", listeners are granted the architectural parchments of a musical journey that is mostly sublime but with the potential to darken of its own free will. So when the tribal, doomy drum-beats kick in, it's even more of a surprise.
Progressing from one corner of this album to the other, is akin to taking a semi-waking stroll through a desert landscape and acquiring some markedly sacred enlightenment along the way. Via the conduit of instrumental, Homb tells a story. It's a deep, mysterious and utterly enthralling story, fully subjective to the discretion of the listener. What happened before and after this marvelous escapade isn't entirely relevant. But, created way back in 1999, the album served as a refined, cleaner follow up to the trailblazing but altogether rougher experimental sludge acts of the early 90s, such as Earth and Neurosis. It replaces brazen distortion with saxophones and dreamy electronics, to create something with equal, mystical and slow-burning intent. Homb is a timeless masterpiece, pleasantly floating on the periphery of your consciousness.
Pain Of Salvation – The Perfect Element, Part I
InsideOut // October 31, 2000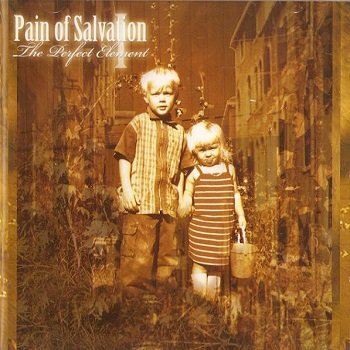 Pain of Salvation's third release is one gem of an album created far ahead of its time. Released at the turn of the century, the Swedish prog legends crafted an album that depicts the pains of growing up through a heart-wrenching story. The band does a wonderful job of balancing heavier songs like "Used" and "King of Loss" with the more melancholic ballads.
The Perfect Element is a near perfect record, with seemingly no dull moments. "Ashes" is one of the darkest and saddest songs the band has ever written, while the title track sums up the entire album over the span of one epic song. The Perfect Element is a true must-have for any progressive metal fan.
Opeth – Blackwater Park
Music For Nations // February 27, 2001
Many bands see growth and change during their careers, but it's often difficult to narrow down when a stylistic shift begins. Opeth's punctuated evolution came in the form 2001's Blackwater Park. By bringing prog rock stalwart Steven Wilson in to produce the album, their sound shifted Opeth into the most their beloved era.
From the ten minute opener "The Leper Affinity" to the closing track for which the album is named, each song contributes to the melancholic fervor in unique ways. Loaded with standout riffs, shifts, growls and atmosphere, this album will grab you from the start and never let go. While it's extended play time is not for the faint of heart, each minute spent in Blackwater Park is time well spent.
Meshuggah – Nothing
Nuclear Blast // August 6, 2002
As far as progressive metal goes, one can't really have a conversation about it without mentioning Meshuggah. Although many of their albums have been largely influential in the progressive music world, this one seems to stand out above the rest.
While there are plenty of Meshuggah albums that could have made it on to this list, Nothing was their first album that really deviated from the thrash-influenced style of their previous work. It was on 2002's Nothing that we saw the band really transform in to the slower, downtuned machine that we know so well today. It's certainly no surprise that, fifteen years later, the grooves on Nothing are still sonically crushing.
Dredg – El Cielo
Interscope Records // October 8, 2002
There are some albums that you discover that completely flip what you expect from music. Dredg's El Cielo is right at the top of that list. The utter ingenuity behind this record take you by surprise and never give up. There is so much substance to be found that it is mind-blowing that even though it is over fifteen years old at this point, it is still as distinguished as the day it was released. I think one of the greatest strengths for El Cielo is the atmosphere.
Most of the tracks aren't incredibly intricate or technical as compared to other albums on this list. It is in that fact, however, that shows its magnitude. The vivid landscape that is painted for you is awe-inspiring. There is a downtrodden sound behind the tracks, almost to the point of misery. The lyrical concepts of sleep paralysis are the keystone to the album, The subtleties are what makes it so unique and significant. This album is not just something to listen to. It is an experience to immerse yourself in, to really delve into the music and see the beauty within. Something like El Cielo does not come around too often; but when it does, it can complete change the landscape and be a defining pillar of what can be accomplished.
So, you reached the end of Part I. Feeling better now? Take some time to check some of the music, and dial back in for Part II very soon! Thanks for scrolling