I really don't like Christmas, and I think I started every INTER CLAUS episode with those words, or a variation of it. Christmas is artificial jolliness, stress, and pressure. The togetherness, if honest, is what I like about it. Since Inter Claus has chosen me as his avatar, the festivities got a tiny bit better – because I can hand out albums in his name to nice little boys, girls, and non-binary friends.
Maybe I just need exactly that kind of Christmas task to get some meaning out of those days. Rules for INTER CLAUS are simple – I get a wishlist, and the lovely people get a record they haven't listened to so far and write about that. Clear? Clear! So let's go. Happy fucking Christmas.
Adapted the words of one J. Tribbiani from that one episode of you know what, Christmas is about giving and receiving. About the gifts we give, and the gifts we receive. We give, and we receive. Then, we can just take our heads out of our asses and replace the word 'Christmas' with 'life', and we're suddenly closer to reality; what is life if not giving and receiving? We give, and we receive.
Anyway. I'm taking part in our annual Inter Claus feature for the first time, and am glad I signed up for it, as otherwise the joy of discovering Cheerleader by GRIM would have either eluded me completely, or at the very least be postponed to a later date when writing about it would've been out of question. So, for once this Santa-scheme led to something quite nice that, surprisingly, included very little forced consumerism met with food from famine times savoured with extended family suffering on the side throughout days coloured with alcoholism and twinkling lights that give you a headache. Yeah, I'm not a fan.
Onwards to happy things. GRIM is a Japanese one-man industrial/power electronics act that begun its tasty trek through the crevasses of dismal noise in the '80s, and someone whose doings I wasn't familiar with before getting this latest record around my earlobes. Granted that the name itself might be enough to bury an artist like this, I was rather surprised to see and realise how noteworthy the artist is, after all. They did have a brief pause of twenty-five or so years in-between, but obviously that makes no difference now. The act has been going at it steadily for the past decade, with Cheerleader being the latest testimony to this certain type of evil that somehow only manifests itself through Japanese noise musicians.
What most profoundly struck me with the album was its ingrained minimalism, and the fact that for a noise record, Cheerleader is oddly easy on the ears, and rather nuanced as such. As an entirety, it seeps in under your skin and flows out of whatever bodily hole in a discerning manner, proving to first and foremost be an unsettling and disturbing album. This leading angle is apparent from the first screeches of "MAD BEACH" onwards, and doesn't really subside until the record itself is over. Each song have their own signature motif, from the messed-up trap beats of "NIXON" to the techno pulse of "CANDLELIGHT", and from the hyper-alien-esque "HOT ROD" to the otherworldy closer "HENRY'S SONG". I could go on to list each defining characteristic of each of the songs, but what purpose would that serve? Just listen to it.
In its essence, Cheerleader is digital chaos; the aural equivalent of an 8-bit nightmare. GRIM might be a new acquaintance to me, but the fluency, brilliance, and know-how shines through the album at all times. It knows when to go all in and when to hold back, and it captures the listener to the callous and insensitive hell of its own creation. Cheerleader is a beckoning effort that punishes its endurer ruthlessly from start to finish, and lingers on for a long time after it has ended. It's the kind of music that delivers on all of these hyperbolic analogies, and is all the better for it. GRIM is the musical embodiment of a treacherous and gaping colossal maw that swallows everything in its path. Just like Christmas.
Dan Reiser was a good boy and got
released February 18 on Profound Lore Records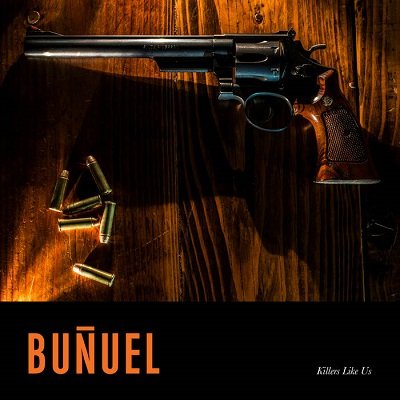 One man's trash is another Dan's treasure. That's why I love to keep it trashy. That's why I asked Inter Claus for something trashy. But, fortunately, Inter Claus' tuition is fueled by otherworldly mystical forces, and gifted me just treasure: Buñuel's Killers Like Us.
This shit is fun. It's all asphalt, blood, and leather. Just tough as fuck with random acts of audio violence, and carries such a carelessly reckless buoyant energy to it. It sounds like something that would come out of the proto-grunge post-rock-era of Butthole Surfers, Primus, and Pixies, yet aligns itself with grungier and sludgier interests such as Downward Spiral-era Nine Inch Nails, and the doom goofs that are the Melvins.
In modern terms, what Buñuel created with Killers Like Us is a fine example of death grunge (or something death grunge adjacent). It would pair well with Chat Pile, Portrayal of Guilt and the like (essentially splitting the difference). Every track sounds unhinged. The tempo never fluctuates above beach waves, but everything sounds like it's on its last fucking leg. The singer warbles between inaudible moaning or forcing slippery lyrics out amongst various vocal stressors, the percussion darts itself all over without warning like an archer marionette soldier in Elden Ring. The guitar work drags effects around like chains on concrete, implementing breaks of reverb on reverb squeals with no warning, and the bass looms in the background, with everything revolving around it chaotically like a black hole.
"Crack Shot" is my favorite track out of the ten. It bounces and thrusts angrily (essentially comparable to this, or this, or this), and brings in wild out of nowhere vocals like a drunk housefly mercilessly trying to fly. Guitars chasm, bass berates in the background, and the percussion stays in a constant state of panic. It's wonderful, joyous, reckless, and angry, and always playful. Essentially something that reflects my entire persona.
This album is such a gem. I really like being introduced to new things that I like. I think everyone does. Inter Claus must know this, giving such a gift as this. He heard me ask for trash, and said: 'Nay, for you deserve this gritty gold.'
Though I know not how, it looks as though I have been scrubbed from the naughty list, my penance seemingly served. As I wade back into the good graces of our resident gift giver, I find myself unwrapping an aptly themed reunion of sorts in the long-awaited return of Gospel, the New York screamo outfit whom have been away from the scene for more than a decade now.
I'll be the first to admit that I am not fully equipped to touch on how this sits in the greater screamo landscape, or what impact this return has in comparison to their older work, but thankfully I have been spared that by much better writers than I – see Pitchfork and The Needle Drop. I can, however, say this is one heck of a vibrant piece of work that I was not expecting to keep going with the level of energy it did for as long as it did. So let's get into it.
By virtue of the genre, I wasn't going into this looking for easily identifiable rhythms and clean structures (or clean vocals for that matter), and that is certainly true here. Neatly knit this aural tapestry is not, and it's all the better for it. Of all my time spent with these four musicians, rarely did it deem fit to sit still; only providing the necessary reprieve for the listener when truly appropriate. Even in quieter moments there is a restlessness to the underlying patterns. Four tracks in we are introduced to "S.R.O.", which leans a bit more into the keys and slower melodies, and yet it still manages to feel as if it's bating its breath in apprehension of the floodgates opening. When it sets itself free, such as on "Bravo" and "Deerghost", there is a tangible sense of energy that bleeds into every crevasse of the music.
Much of this energy is brought forth by the stellar and unbridled performance of Vincent Roseboom behind the kit. That is not to say that the guitar, bass, and vocals are not contributing their own gritty take on the musical direction, but more to say that the percussion work is something truly of note. At times it feels as if Vincent is trying to pull away, pull ahead of the rest of the group before being dialed in when a newer, nearly jazzy movement kicks in (see "Tango"). It was this element of the music that kept me glued to my seat, and the one that I think hits the hardest. Likewise, Adam Dooling also nails the vocal when both in full tilt and intentionally restrained. My only criticisms would be that I feel his voice sits a bit too low in the mix much of the time.
An element the reviews touch on a lot is the inclusion of a progressive flair thanks in part to Johnathan Pastir's keyboards. While it would be almost facetious of me to ignore the influence of '70s prog on the music, I feel the prog elements are a bit overstated. This blend to me hits closer to experimental alongside the more punk stylings. The exception to this being the aforementioned tracks like "Tango" and "S.R.O.", which have lightly extended instrumental sections. In all I think this fusion greatly helps with Gospel's identity, it's just still a screamo album at its core and you shouldn't expect otherwise.
A few highlights from the record before I wrap this up. "Metallic Olives" has this fantastic and gritty keyboard over one of Vinvent's more reserved patterns that gave the final stretch some depth. "Bravo's" gospel-like intro into Adam's unrestrained vocals hit exactly like they should, a strong showpiece to start off the album. "Hyper" has some spacey vibes on it that were a welcome variety to the soundscape. The lyrics 'an old man in an old man's body' hit a bit close to home and made me wish the lyrics were a bit more at the forefront of the soundstage. The political lyrics in general seem to hit the mark. The keys near the end of "Tango" have that music box feel that reminded me of "The Final Cut" in all the best ways. The crescendo that builds and crests at the end of "Warm Bed" was a great farewell to the record.
While I wouldn't highlight this record as one to sell you on a genre you don't normally like (ie. I am still not quite a fan of screamo, apologies in retrospect), it is a great example of a unique fusion of elements that elevate a genre to something special. When Gospel is forging its own path, truly leaning into the energy and grit of the moment, it is striking and infectious. These tracks will gladly be entering my rotation and they are worth a listen to those of you out there who have slept on it – just maybe don't crank up the volume at your holiday dinner.
Dominik Böhmer was a good boy and got
released April 15 on Stretch Music
That cheeky old fellow Inter Claus definitely has a sense of humor. Impeccable timing, too. For this year's festivities, since I was a good boy for all of 2022 (don't rat me out, guys), I asked the red-clad incarnation of music trivia for something special, something I wouldn't have picked up for review on my own terms. And wouldn't you know it, that's exactly what I got. He sent me GRIEF by American pianist/vocalist Samora Pinderhughes, a record I've been meaning to check out ever since it was released back in April but never got around to for a plethora of reasons. Well then, Inter Claus, you got me there. I guess I can listen to this if you insist.
Grief, a potent and eclectic mixture of vocal tracks and stirring instrumentals that draws from soul, jazz, hip hop, and various other sources to do what Pinderhughes does best as a multidisciplinary artist: look inside of and around himself to dissect what he sees with brutal honesty. His work mingles the sociopolitical with the deeply intimate, and this album is no different. On Instagram, he described his intentions as such:
'This album is my attempt to speak to the times we are living in. A portrait, of my thoughts & my questions & maybe even some declarations or statements of intent.'
It's titled GRIEF because it's been top of mind & heart for me in so many ways over the last couple years, and I know the same is true for so many of you. These songs are my try at expressing how grief feels in all its messiness, it's many sources, the ways that this nation-state creates grief and worsens it, and the ways that we collectively can support each other .'
Through years of training, work, and collaboration with other artists, Pinderhughes has honed his own creative voice into a precise instrument of (self-)expression, which allows GRIEF to be as affecting and poignant as possible. He hits on serious topics, often painfully on-point, but never without empathy. Politics, intimacy, masculinity, and yes, grief are some of the topics that shaped his thought process for this album, and he handles them delicately, with care and consideration. No surprise, then, that the music reflects this attitude perfectly.
"The Cry" is a short, piano-led gospel number, followed by the upbeat "Kingly" (featuring saxophonist Lucas Pino). Decrying a relationship where one party gambles their entire livelihood on the other while the receiving party is dishonest and selfish, "Kingly" could be interpreted from several angles and stand up to that close scrutiny with ease. It's a beautifully composed song that purposely swerves easy categorization to heighten its lyrical focus. Coming after the brief interlude "Election Day", "Holding Cell" could similarly speak of a personal relationship or a literal prison cell; musically, it seems to mingle classical music with jazz and '90s r'n'b, and it does so quite gracefully.
As a teaser for this 15-track album, these four opening songs do a good job, although they do fall flat in representing the complete scope Pinderhughes envisioned for GRIEF. Dotted between the more fleshed-out numbers are these brief but no less thoughtful sketches that round out the record's palette of ideas. A full review would've been in order, but sadly, that would go well beyond the boundaries of this article; I'm not the only one who wants to play show and tell with their gift from Inter Claus, after all. But take my word for it: this is a record you don't want to miss out on. As a vocalist, as a pianist, as a lyricist but especially as a collaborative spirit, Samora Pinderhughes is an incredibly gifted individual, and GRIEF is an insanely multi-faceted gem of an album.
Well played, Inter Claus.
As I pore over my fourth festive frolic at the benevolent hands of Inter Claus, I imagine the seasonal figurehead likewise poring over his naughty and nice list. While I appear to have somehow gained his approval in 2022, so has another, far more blissful and interesting name – caroline.
The UK eight-piece write intimate and inimitable music. Solace can easily be found in their lambent repetition of passages and wistful experimentalism, which lend this self-titled effort a playful, aimless tone. It bridges the divide between meandering direction, all while never being afraid to veer from the implied path at a moment's notice thanks to soothing instrumentals and lilting vocals that are happy to whisk you away.
"Dark blue" is the sound of early dawn: layers build, melding Appalachian folk with Midwestern emo to conjure colours and tones that lend nostalgic Death Cab For Cutie vibes. It also fondly rekindled fragments of my profound journey with The Gloaming. The synonymy between vocal and instrument is readily apparent on the brief duet of "desperately", as well as "Good morning (red)", which gradually peters out like a sunset. Here, a simple bassline is offset by strings that duck in and out of the mix with flourishes – some frantic, others reassuring, all welcome.
You'll sit somewhat outside of time listening to caroline – aware of the album's content, yet not entirely attuned to its continuation, the mind eclipsed by roaming freedom. That's no criticism; it was refreshing to feel unbound from the passing minutes. "IWR" exemplifies just how pleasant caroline's folky, seemingly spontaneous company can be. Shorter tracks are equally fascinating, like "messen #7", which pairs acoustic guitar with an ambient drone akin to tuning into interstellar frequencies. These techniques go a long way towards conjuring that palpable sense of refreshing aimlessness.
caroline also showcase proficient use of silence; "Skydiving onto the library roof" immerses us in warm choral openings that eventually expand into a scattered, fascinating patchwork of rattling snare, pizzicato strings, and vibrant guitar. The group comfortably weave their emotive soundscapes with brief moments of noiseless contemplation, as well as an abandon that shows not lack of care, but rather lack of fear. "Natural death" then drapes the finale in churning snare hits and a repeated, shimmering chord – an anchor point mooring us safely within the unpredictability as caroline bids us farewell with more robust choral voicings.
They say that sometimes less is more: caroline successfully exhibit their understanding of this within their craft. They've created a record that embraces the authenticity and power of 'less', and which means so much more to me as a result.