Welcome to the third episode of Emotional Overtones, a feature set out to overcome genre borders and create a more intimate relationship with music! We here at Everything Is Noise think that genres can sometimes be a little limiting, which is why I created this feature. Every episode of Emotional Overtones will feature a certain emotion (for example: Melancholy, Euphoria, Gemütlichkeit)  as its topic and four to five writers will choose records based on this emotion or based on memories that conjure this emotion in connection to this record. There are no limits to genre, length, style, or band; everything is allowed as long as the writer feels it's right and can explain their stance. This feature will be an ongoing series exploring varying emotional topics of varying complexity. By now you know the drill.
Today's episode will handle the topic of 'Euphoria'. So that everyone understands what exactly euphoria is, here the definition: A feeling or state of intense excitement and happiness. Now that we're all on the same page, I'll let our writers Jake, David, Pete, Jonce, and John take it from here and have them introduce you to the records that make them euphoric.
Euphoria all comes down to feel. For me, the epitome of that feeling is Vega International Night School by Neon Indian, synthpop/chillwave project of Alan Paloma. It's a marvel of dirty, brain tickling 80s aesthetic.
The most euphoric parts are the instrumentals which are washed out, upbeat synth pop affairs with a dark undertone. Nearly every beat is literally impossible not to move to, if not full-on dance. Chintzy 80s elements are prominent, but it's so much more than an emulation of a time long passed. A reliance on synths means Paloma had to get creative to both deviate from his established sound, and also from the plethora of other artists looking to irradiate their music with neon.
Paloma's voice is feather-light, capable of riding the hazy production he creates very well. He delivers pulp fiction tales of street-wise shenannery distinguished by cheap thrills of sex ("Smut!"; "Dear Skorpio Magazine") and drugs ("Street Level"), leaving room for more serious topics like the destructive profiteering of slumlords ("Slumlord").
Altogether, this album sounds like a party city cloaked by eternal nighttime, pocked-marked with neon signs, car headlights, and lighters flickering under cigarettes on street corners. A vague sense of danger keeps you on guard, but it translates more to a rush of dopamine than fear. It's just a headrush of an experience, expertly crafted art that hits all the pleasure points of your brain. I'd say Neon Indian can't hope to top this effort, but that would be mighty pessimistic of me.
(Content warning for some bloody, chaotic violence at a dance club)
There are some albums that make you feel invincible when you need to escape from reality. I have a handful, but there is one in particular that is literally my audio antidepressant. I first heard it at a house party on the beach in south Florida.
Menos el Oso by Minus the Bear to me is an absolutely flawless collection of music – 45 minutes of euphoric perfection. It was my first experience with indie and math rock, and it was love at first spin. Maybe it's because I was right on the beach when I discovered them, but I always want to grab a surfboard and shred some waves. And I've never surfed before. Menos el Oso is the ultimate driving with the windows down album.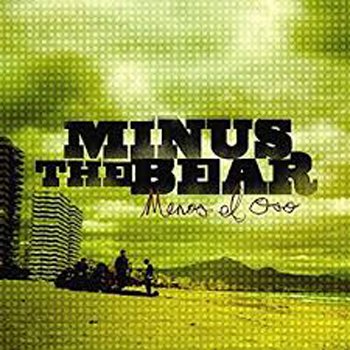 Highlighted by guitarist Dave Knudson's multiple Line 6 DL-4 pedals, the guitar takes your ears to levels they've never been before. Many of the sounds that you think are performed by the keyboard player are actually manipulations created by delaying, reversing, and glitching through the pedals. My personal MVP was always Erin Tate and his tasty shuffles. Though the music is mostly pretty chill, the musicianship is through the roof. Every song is immaculate, but my favorites would have to be "Drilling" and "The Fix".
Seeing them live is a religious experience, but unfortunately they called it quits this summer. So if you're in the U.S., make sure to catch them on their final tour.
So 'walk into the sea' and give Menos el Oso a spin!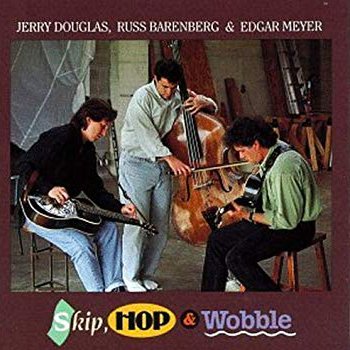 One of my chief loves is folk music. Beginning when I was very young, I was exposed to some of the premiere American folk artists. Tony Rice, Bela Fleck, and Alison Krauss were mainstays of my youth and their talent is such that that one genre simply couldn't contain them. They and their peers dabbled with jazz, funk, and more, fusing together their own brand of predominantly acoustic music that often defied classification.
Among this group of musicians, one of the premiere talents is Jerry Douglas: the world's most notable resophonic guitar player. Often referred to as a 'resonator guitar' or 'Dobro', this instrument sounds like no other, and Douglas has taken it farther than anyone ever has. In 1993, he collaborated with guitarist Russ Barenberg and bassist extraordinaire Edgar Meyer on an instrumental album of original compositions: Skip, Hop, & Wobble.
With 11 tracks, this record is broad enough to showcase each talent in a variety of ways. The opener "Big Bug Shuffle" is a percussive and danceable tune that manages to kick even without drums. "Monkey Bay" is a bombastic tune that guests mandolinist Sam Bush and showcases some fantastic divergent melodies. The standout track, however, is the seven-minute centerpiece of the record, "From Ankara to Izmir." It's an atmospheric and spacious track that gives way to an incredibly punchy mid-point with a bowed bass solo that gives me chills to this day. I have been listening to this album for 25 years and, even though I know and anticipate each note played, it never fails to get me high.
Euphoria is an emotion I ensure I feel in my day-to-day. For this feature I've had to look back to music from an era where I was still discovering my route to happiness. In 2011, I found a thirty-minute mixtape that featured a song by the glitch-hop duo Virtual Boy, titled "The Future Holds a Beat". This track was electric, off-beat, and full of pure joy. I had to have more.
The next day I deconstructed the mixtape and grabbed the full EP Symphony No None. I was expecting much of the same as "The Future Holds a Beat", but over the full four tracks, Virtual Boy managed to tear asunder the very fabric of what I considered electronic music. Symphony No None opens with "Thrust", a song that uses contrasting sounds to build to a euphoric climax. Staccato, thumping kick drums play off twisted organs and synths throughout its four-minute run time, engaging the serotonin receptors and pushing your happiness into overdrive.
The second track is a soft, dreamy song which lifts your mood higher, before you're dropped into "The Future Holds a Beat". The 'chorus' of the track makes you move even when you're seated on the bus, its punchy drums and brilliant high pitched synths dispelling the mere notion of sadness. Then "Mass" hits, arguably one of my favorite electronic tracks ever. The three others songs were the refuelling and ignition processes of my euphoria rocket, and "Mass" is the blast-off sequence. Violins, harpsichords, pianos, and the gorgeous bass whomps used by the duo blow your mood into the stratosphere and leave you wanting more. I can't think of a song or indeed EP that is more uplifting and emotionally rewarding than "Mass" and Symphony No None.
If you're unfamiliar with FlyLo, the title to his seminal album You're Dead! may not sound like a euphoric statement. But when I thought of albums to write about for this segment, this project was the most obvious choice that came to mind.
I have a multifaceted relationship to euphoria, and I think about that relationship quite often. For nonbinary people such as myself, gender euphoria can be difficult to attain, but a welcome relief from a barrage of self-doubt and strife. I also love to travel to different places, and I definitely feel euphoric in a new place seeing something profoundly alien. But sometimes, euphoria can come from something as simple as watching dust collect on your ceiling. I think most monks refer to this practice as 'meditating'.
You're Dead! is a journey through a wormhole of feelings, sensations, and experiences in regards to death. Personally, that musical journey itself is euphoria, exploring the many nooks and crannies of my musical history. The running guitars on "Cold Dead" remind me of times spent with my grandparents listening to old-time radio. "Turkey Dog Coma" is like the soundtrack to a Kingdom Hearts-inspired daydream I would often have when I was 13.
Ultimately, this album is a way to reclaim lost memory, to relive and reinvent lost times. Listening to You're Dead! renews my trust in my own brain to point me in the right direction. I learn who I am anew, and if that knowledge is not all-encompassing euphoria, I don't know what is.