More often than not nowadays, I find myself needing a little emotional pick-me-up to get through each day. The most reliable way in which I can get that fix is through music. There are plenty of artists out there can easily lift my spirit sure enough, but that entirely depends on the precise mood that I am in; so the emotional relief that these artists may provide varies from time to time. In the instance where I don't quite know what kind of mood I am in, or straight up just need something really moving, that is where I refer to select artists that guarantee a 'perma-boost' to my emotional state of mind; Time, The Valuator is exactly one such artist and Everything Is Noise couldn't be happier to have them as our Weekly Featured Artist.
As I was saying, this group is one that stimulates a surge of serotonin through my brain with every listen to their music, without fail. Time, The Valuator is the type of band that never fails to get my blood pumping and my spirits up with its blissfully positive and hopeful charm that radiates throughout their refreshing take on atmospheric progressive rock/metal. They have a penchant for crafting these tracks that interweave technical complexity with undeniably contagious melodic simplicity/effectiveness all into a tight package. It's a one-two hit combo that always has me head over heels for the music as it allows me to indulge in both the thick and juicy instrumentals and beyond passionate vocal performances that effortlessly worm their way into my head. Their choruses live in my head, rent-free on a daily basis and this isn't something I would ever complain about. In fact, I encourage it.
Hailing from Germany, Time, The Valuator started to garner attention quite rapidly around the world despite only having a few singles out at the time (now they have an LP and additional singles out; more to come in the future!). With that debut single ("Elusive Reasons"), they really started to turn heads with their infectious pop sensibilities overlaid with some sweet riffage; goes to show you how far a well-written song can go! Guitarist Cedric Dreyszas is here to provide a little history while also reflecting on the rapid upward trajectory of the band from the release of their first single back in 2016:
'The band itself started out in 2015 as Phil's (Bayer, former vocalist) solo project. He quickly teamed-up with Rene (Möllenbeck, guitar) and the writing chemistry was just there from the get-go. After the release of "Elusive Reasons", we were completely overwhelmed with the reception. We did not expect to grow an international fanbase that fast. It is still pretty mind-blowing for all of us if we look on our statistics and see how many people from so many different countries listen to our songs on a regular basis, even though we haven't released any new music since over two years and we are utterly grateful for this!

'Fun fact about the band name: The initial idea we had was Time, the Destroyer, but that was scrapped pretty quick since it is not really the message 'time' should be delivering. As long as you do not live next to a black hole, time is the only physical value that cannot be changed, so that's basically what dictates everything you do in your life and what makes it probably the most valuable gift you own, and you have to treat it right.'
This is the first I heard about this other candidate for the band name, and now that Cedric enlightens us on this, notably regarding the concrete and definite entity that is time, I immediately hear Devin Townsend singing the opening line to "Stormbending" in the back of my mind; 'Time is a human construct'. As much as I love me some Devy, Cedric and the gents in Time, The Valuator really nail the definition and larger implications of time, something we may not necessarily think about much other than checking the current hour and so on. Time influences everything. Everything is time.
Well, why not dig into the music and what Time, The Valuator offer on a sonic level now? That is why this website exists after all, to discuss great tunes. After having listened to their only LP released thus far an unhealthy amount of times (I'd argue that over-listening to this particular band is actually very healthy!), I find it incredibly accurate to describe the music based on the color palette and aesthetic of the album artwork for their debut record, How Fleeting, How Fragile. The gentle pink and blue tones that blend together to create this fragile glass rose perfectly encapsulates the gentle and ethereal soundscapes you'll hear throughout the entirety of How Fleeting, How Fragile. Instrumentally, this band exercises an extreme amount of discipline as they easily could've gone overboard with the prog metal instrumentals as most of their counterparts do, but they prioritize writing compelling songs that are balanced in every which way.
There is a natural push and pull between those heavier moments (as you'll hear prominently on "Onryo", "Fugitive", and "The Violent Sound") and the airy, arpeggiated guitar leads absolutely drenched in reverb present on virtually every track, but for the sake of an example, refer to "Terminus" or "How Fleeting". On top of this musical reservation when it comes to the instrumentals, there's also plenty of vocal dynamics, from mastodonic choruses bursting with emotion ("Fugitive", "Elusive Reasons", "Heritage", "In Control") to more tender, stripped back linear passages that build into these massive musical tidal waves later on in the given song (ala "When I Meet Death", "Starseeker", "How Fragile"). All of this together ultimately creates a perfect musical 'middle ground' that bridges the gap between technical prog metal with infectiously harmonious pop.
Right from the very start of their career as a band, they hit the ground running with stellar single ("Elusive Reasons") after stellar single ("When I Meet Death), all leading up to their incredibly impressive debut which was released in 2018. Their post-hardcore/pop twist on atmospheric prog metal makes for a musical amalgam that has a strong gravitational pull, causing me to spin this record on a regular basis. It fills the hole in my heart that was ripped open when Daniel Tompkins left Skyharbor. Unfortunately following this debut release, vocalist Phil Bayer departed from the band. Since then, they had recruited Rafael Andronic, with whom they released a single ("Vibrant"), but eventually with the hectic nature of life, he departed the band. Cedric provides more background regarding the shifts in vocalists following the release of the debut leading up to where they are now:
'As mentioned earlier, everything was going pretty fast with the release of "Elusive Reasons" and "When I Meet Death". We already knew that there was a huge interest in the band to go places and to become more and more popular, there were even requests regarding a full-time commitment from different labels. Not only that, the personal monetary investments that we each had to make in the early days of TTV were significant. Due to this situation, we could not keep the full line-up together after the first two singles. There was no bad blood or whatever, but for some of us it was not possible to commit to the band on this level back then and the rest of us totally understand and respect this.

'The production and release of How Fleeting, How Fragile was extremely demanding. We were completely stressed-out in that time, having to record the album, organize designs, shooting videos for "In Control" and "Starseeker" simultaneously on the same weekend while preparing for our first European Tour in 2018. There was so much going on in that time and we really felt a huge pressure on our shoulders since the expectations were so high for the release. This ultimately led to a lot of tension between us, which is absolutely normal if you consider the amount of work we had to put into this project all while still having regular jobs, university, etc. Right after the tour we sat down with Phil and he told us he was to leave TTV since the band devoured all of his private life. Unfortunately, it was a bit unlucky for us since we had a huge show at Euroblast coming up 6 weeks later.

'We had to find a fill-in vocalist very quick. Luckily our good friend Timo from Our Mirage recommended Rafael [Andronic] to us. Rafael learnt our full set within 2-3 weeks and we had just one rehearsal right before Euroblast due [to] Rafael living 5 hours away from us. He absolutely nailed it and saved our butts on that day. He also brought a lot of positive energy back into the band, [that's] why we stayed with him and finally made him a full-time member. We had a good vibe going on and "Vibrant" was the first outcome. We played a lot of shows in that time and as a result, the writing came a little bit short in that period. When we finally decided to step back from playing live again to focus on our new album, we realized that the situation was not ideal for us anymore. Rafael moved to Berlin, making it even more complicated to write new songs. Over the time, it got more and more frustrating for everyone. We reached a point where almost everything stagnated. So Rafael and us decided very heavy-heartedly that we need to part ways. The whole situation already started to affect Rafael's private life. So it just did not work out in the end as we hoped it would. But we still love this guy and he deserves all the best in his future career!

'This leads us to our third restart. We made it clear to ourselves that we need a vocalist who fits our style perfectly, who commits to the band, and is able to be with us on a regular basis. We wanted someone with a lot of character and someone who can be easily recognized. We got lucky again, because Electric Callboy (formerly Eskimo Callboy) announced the departure of their vocalist and started an online audition. We checked out a few entries and found Daniel among them. He also had a Youtube channel and did some great covers. So Yunus sneaked into Daniel's DMs and we started talking and we are extremely happy to have him with us now. With Daniel, we found new confidence in the new material and we are very happy with the new songs. We cannot wait to finally bring this piece to life in 2022!'
As Cedric walks you through the ups and downs that Time, The Valuator has gone through when it comes to balancing the band with their personal lives and their daytime jobs, it makes you appreciate this group (and many others) even more. I can't even imagine spending so much time in a passion project that doesn't even come close to yielding the financial outcome in order to sustain yourself and family, yet despite that, these artists (Time, The Valuator included) do so because they genuinely want to; if that isn't inspiring, I don't know what is. They're committed to going above and beyond what is expected of them and their daily lives to deliver such high quality tunes for us to jam and relate to.
Going back to the music (since I'm human and went off on a random tangent), the absolutely luscious piano that you hear across their catalog cement themselves as a staple and essential foundation of Time, The Valuator's sound. Acting as a centripetal force, the piano beautifully ties everything together into one beyond soothing entity that just wouldn't exist or be the same without it. These enchanting piano melodies and bouncy rhythms masterfully tie together the contrasting nature of the intricate yet speedy instrumentation and the soaring vocals. Listening to tracks like "Heritage", "How Fleeting", and "Starseeker" are gorgeous examples showing off their exceptional songwriting and technical prowess, all while still maintaining a 'healthy' level of simplicity making it digestible for any listener. Those tracks I mentioned in particular also do tone it down quite a bit, allowing the band to flex their compositional proficiency with these spacey tracks.
Now that Daniel is officially on board and injected this revitalization into the band after the chaotic past few years we've had, Time, The Valuator are moving forward when it comes to new material.
'What we can say is, that the writing for the new album is done. The drums are already recorded and we are shooting a new music video this month. Everything is on its way, but there is still some work ahead of us. Lyrically, this new album will be about personal topics, your surroundings, or anything else that is immediately related to our lives. Musically, we tried to explore some new territories as well without drifting away too much from our 'baseline'. There might be some new electronic elements that we did not have on How Fleeting, How Fragile, you'll have to wait to find out. Some songs are shaping up to be heavier compared to our older stuff, yet we still want it all to be catchy and diverse. You'll still be listening to Time, The Valuator!'
Check out this teaser snippet below for a taste of what Daniel has to offer on a new song that will grace our ears in the near future!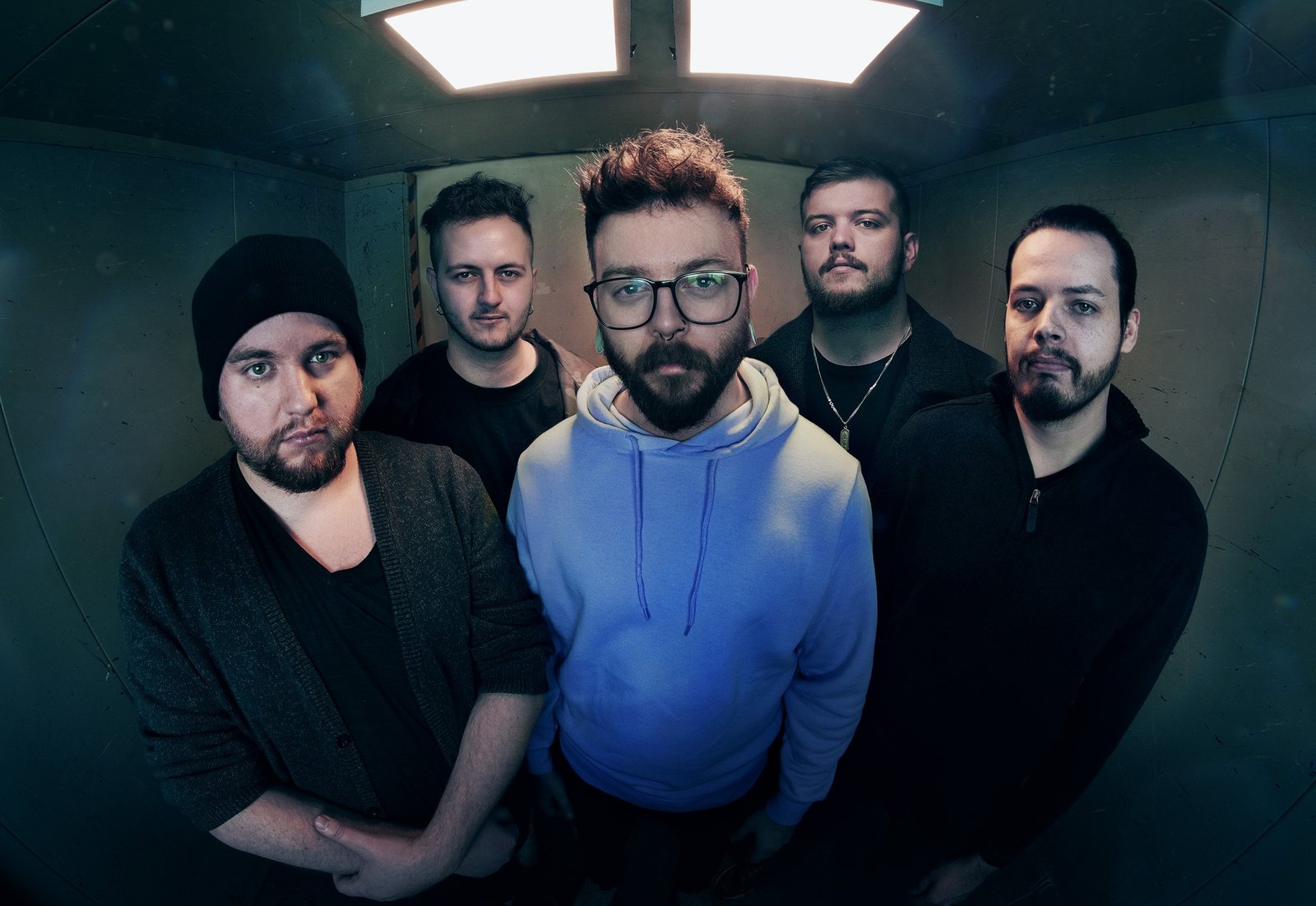 Time, The Valuator is:
Daniel Moczarski – Vocals
Rene Möllenbeck – Guitar, Piano
Cedric Dreyszas – Guitar
Ryan Voosen – Bass
Yunus Proch – Drums
Time, The Valuator bring to the table everything that I love about music, satisfying my musical sweet tooth in every which way imaginable; luckily this won't ever give me a cavity so I am free to spin their music to my heart's content with no repercussions other than annoying the ones around me with my incessant listening habits. Time, The Valuator will mark their triumphant return later this year, so follow them on Facebook and Bandcamp or even swing by their website in order to stay in the know! If you haven't listened to How Fleeting, How Fragile, here is where you can do that!