In the music industry, there's no shortage of exceptional vocalists; I think that much we can all agree on. What I would like to see (or rather, hear) more of is exceptional vocalists doing exceptional things with their voices, by which I mean straying from the beaten path of established musical formats associated with singing and using their talents in unique, unexpected ways. There aren't that many people of that caliber who come to mind right away, but this glaring gap is exactly where our latest Weekly Featured Artist, Japanese vocal performer/composer Hatis Noit, fits most comfortably.
Hatis Noit is the name for the stem of the lotus flower, which she has chosen as her stage name because 'in Buddhist folk stories, the stem of the lotus flower connects the physical world and spiritual world. I thought it was the perfect name for making music as I believe music does the same that lets us connect to the other world.' Under this moniker, she has released a handful of projects thus far, including her 2018 EP Illogical Dance. Most of her earlier work hasn't seen international release yet, with her upcoming album Aura (June 24, Erased Tapes Records) being her first official international full-length release.
Drawing inspiration from Japanese classical music, opera, Bulgarian and Gregorian chants, as well as performers such as Meredith Monk, Lisa Gerrard (Dead Can Dance), and Ikue Asazaki, Hatis Noit weaves a mesmerizing vocal music that is as uniquely expressive as it is technically impressive. Realizing that her wide vocal range was entirely self-taught came as a bit of a shock for me, although her own explanation of how she came this far makes it feel almost inevitable:
'I'm just so in love and curious about human voices. So I always look for and enjoy any style of vocalisation. Just kept listening to them, eventually started mimicking them, and at some point, I started combining them into songs that are something I really want to listen to as a voice enthusiast.'
This isn't the story of a path to vocal mastery assigned to her at birth; her true calling to the world of singing came a bit later in life than one might expect given her obvious mastery. When asked about the exact circumstances, Hatis Noit had the following to share:
'It was at the age of 16, I was with my mother who is a Japanese teacher and she worked in Nepal as a volunteer for our summer holiday. During our time in Nepal, we went for a trip to the Buddha's birthplace, Lumbini. While staying at a women's temple, one morning I heard someone singing. I got out of the room alone to look for where the voice came from, and I found it was a female monk singing Buddhist chants, alone, in a tiny modest oratory.

The sound moved me so intensely that I got to be aware of the visceral power of the human voice; a primal and instinctive instrument. And that made me realise that this instrument let us connect to the very essence of humanity, nature and our universe.'
Throughout the journey she has undertaken ever since, her path has crossed those of many outstanding musicians in the form of artistic collaborations. Among those are Japanese vibraphonist and Erased Tapes label mate Masayoshi Fujita, American vocal music collective NYX, Lubomyr Melnyk, as well as the sought-after electronic music duo Matmos. Obviously I had to ask if collaboration is a main focus of her endeavors, and if there are any artists she would love to work with in the future, to which she replied:
'Since I'm quite shy and not very good at communicating by words, music has helped me so much to communicate with people in my life. Collaboration, especially when it's improvisational, allows us to get to know each other without words, very deeply, instantly. I find Meredith Monk is the one who does it amazingly. I'd love to collaborate with her one day.'
In order to further her career, Hatis Noit made the decision to relocate to London from her native country, a move she has said was necessitated because 'I found it was quite hard to be myself as an artist and develop my art further there. There was not enough place for experimental music and it seemed like female artists were forced to be 'good women' to be sold for the industry. I wanted to see what is going on outside Japan for ambitious artists.' Now signed to London-based label Erased Tapes, she has been 'inspired and empowered' by her label mates' 'dedication to art and music, their bravery as a performer and sometimes their struggle due to their artistic purity'.
As I have mentioned earlier, Hatis Noit's début international full-length release Aura will see the light of day on June 24. Naturally, I had to ask her a few questions about it, which you can find below – along with her full answers, of course.
Everything Is Noise: Your new album Aura will be released on June 24. Please tell me a bit about the recording process.
Hatis Noit: I recorded almost all of the voice material before the pandemic happened – in Berlin, in Francesco's studio. I actually ended up using their kitchen instead of a studio, which was really interesting. I already had the songs composed and had a few shows before recording them, which made me feel more comfortable in the recording. In Berlin, it was so hot, and the heat made Francesco's vintage microphone go a bit crazy. We struggled to deal with the audio issues and we almost gave up, but I'm glad we didn't.
The pandemic forcing us to stay local meant we had to continue working locally and we met a great engineer Marta Salogni. We explored our local community and it was really fortunate that we got to know the person who looks after our local church. She kindly offered us the church to record in. Robert (Raths) came up with the idea that we re-amp the voice material from Berlin in the church. I struggle with artificial reverb, I don't think it's right for my music, so that was the moment that changed everything for the album.
Before the church, everything sounded quite artificial which I didn't really connect with, but since we re-amped the material in a physical organic ambience, everything was brought to life.
After that moment things went much quicker and easier and we all got a shared idea about where to go with the album.
EIN: Is there a specific meaning to its title, Aura?
HN: It's the term that was used by German philosopher Walter Benjamin. He used this term to describe what makes something art, and to distinguish art.
He lived in the war time and died by suicide in the Swiss alps because he was Jewish. When he used this term 'aura', he criticised reproductive technology over art because it meant art or information could easily turn into propaganda. Art should be outside of mass reproduction – happening only once.
During the pandemic I really struggled. As a singer, I'm not very good at working in the studio, I much prefer doing live performances in physical spaces. Being with people and being in the audience, sharing the space with them and feeling the atmosphere of a space inspires me every time. To me art is that – that moment that happens there with people in a physical space.
EIN: In a perfect scenario, how would you like your new work to be received, and by what audience?
HN: I feel the world needs a space to feel yourself – who we are, what the core of us is, and how vibrant our life is originally. I believe when people have a secure space to find themselves, the world will become more kind and compassionate. If I can provide some space to find them by music, it would be more than amazing.
After this current pandemic situation cools down – whenever that might be – Hatis Noit wants nothing more than to finally her music to the stage again in front of her audience, saying: 'As I love doing live performances so much, I'd love to bring my music live to as many places, spaces, and people as possible.' I would like to give the last word to the artist herself; when asked if she wanted to say something directly  to our dear Everything Is Noise readership, Hatis Noit responded as follows:
'Let's shout out that we are alive here and now and make the most out of our limited life on this beautiful planet :))'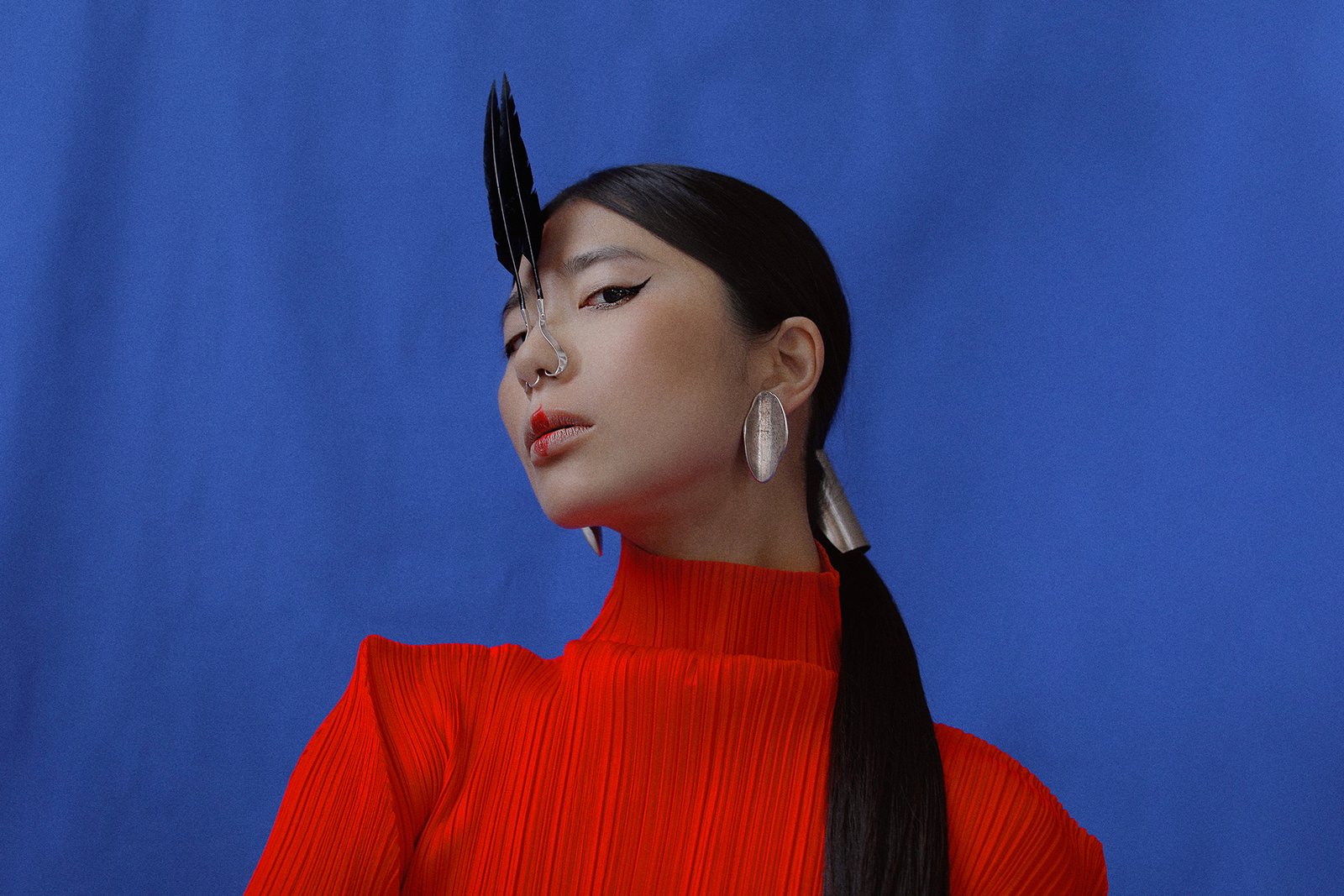 Picture courtesy of Özge Cöne
Hopefully this article was able to arouse your interest enough for you to go and check out Hatis Noit's work for yourself – I swear you won't regret it! You can give her a follow over on her social media (Facebook | Instagram | Twitter), or have a look at her official website here. Her back catalogue can be perused on her Bandcamp profile, along with her upcoming album Aura, which is set to release on June 24 via Erased Tapes Records.