There is a band that has built a singular experience with their music, which seemingly strives to be the biggest hit in a galaxy light years away. A band that has reached for the stars in a transcendental, yet epic and grounded fashion. Everything Is Noise welcomes Flesh Of The Stars as our new Weekly Featured Artist.
Flesh Of The Stars consists of Mike Fox, Travis Marmon, Matt, and Nico Ciani. It all pretty much started because Matt Ciani willed the band into existence. He worked with Fox in previous projects and was friends with Marmon via an old high school friend. Marmon was recruited for his skilled bass playing and as the 'true metal consultant' of the band. At the time, it seemed difficult as two members were living in different states[,] but as soon as the demos were presented by Matt Ciani, the band was motivated to make this project come alive. The name of the band comes from a mock-up porn site from the movie Knocked Up and Matt Ciani had the following to say about early inspirations: '…I was in love with the Dopesmoker remaster and spent too much time watching Omen sequels'.
But of course the bands influences go way deeper than this. Fox's love for 90s slowcore, prog rock and house can be clearly heard in the meditative and ambient parts of their music, while Matt Cianti always had a soft spot for doom metal (as well as some liturgical chant music) and loves operating synthesizers. Marmon fittingly states that metal was always his bread and butter, though it isn't anything to wonder about when you look at the musical background of the members. Fox's mother trained to be a classical pianist, Marmon's father had a classic rock collection he dug through, and Mat Ciani's parents were always very supportive of his hobby.
So what does Flesh Of The Stars actually sound like? Well, I once saw a comment describing them as 'If Pink Floyd did funeral doom' and that proved to be spot on. Synthesizer-filled ambiance that clashes with droning repetitive riffs. Flesh Of The Stars is excellent at conjuring otherworldly atmospheres and writing memorable pieces of music you surely have never heard this way before. Subtlety and intuition are their bread and butter, and the influences of all the members are hard to overlook. Ranging from purely ambient soundscapes the listener can explore almost endlessly to the crushing void of occult-driven, filthy riffs, Flesh Of The Stars does it all.
Their influence for their latest record Anhilla is an episode of Twilight Zone, Blood Meridian and classic horror movies. With influences like this you might think it should sound uncomfortable, scary, or violent even, but the band manages to push the occult into a place of warm comfort and a state of zen.
While none of the members work full-time on the band, they all agree that were it not for the project, they didn't know what to do with themselves.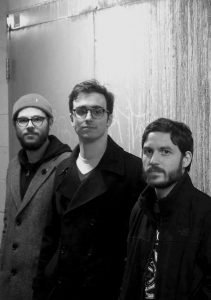 Flesh Of The Stars consists of:
Matt Ciani – guitars, vocals, synths, wurlitzer & vintage vibe electric pianos, percussion
Mike Fox – guitars, vocals, synths
Travis Marmon -bass, vocals
You can follow Flesh Of The Stars on Facebook and on Bandcamp.