As we reach the middle of October, with the air getting cool and the parties hopping all over, and Halloween nigh on arrival, it seems only fitting to ring in the season with a little fun legend known as Big Gorgeous. As the story goes, the Big Gorgeous (the singular member within the trio) was born in October of 1861, disappearing into the woods of San Francisco, California…where it grew 'bigger, stronger, and goddamn sexier' for 101 years until its discovery in the fiery mines of Centralia, Pennsylvania by Young Potatoe, as pointed out in the band's "Intro" track on their Perv Pop album. But today, for the first time in public, the Big Gorgeous have graced Everything Is Noise as our latest Weekly Featured Artist! So strap yourself in for a real treat, as we delve into what makes this theatrical, enigmatic trio so alluring, and why you don't want to be missing out any longer…
As I get to sit and speak with Young Potatoe, he fills me in on both the conception of the band, and what brought them all together. Not to mention, we are let in on some of the influences they collectively draw from, as well as what the band is all about. Having been touring all over the United States and elsewhere, the group has covered a lot of ground since their 2018 debut. With so many visual, theatrical, bizarre, but nonetheless entertaining elements to what they do, Big Gorgeous coin their 'perv pop' style with a unique blend of indie rock, synthpop, metal, punk, and other sounds thrown in to maximize a live experience worthy of a whole Broadway play.
'We are a Perv Pop band with a fun and theatrical live show. We all did something on a stage in our 20s. Shirley Sugarfoot was a musical theater major, Big Gorgeous has been in punk bands, and Young Potatoe was a professional wrestler. For music [influences], we like bands like Rammstein, but most of YP's influences are quirky people like Pee Wee Herman, John Waters and Jim Varney.'
…on the conception of the term 'Perv Pop', which is also the title of their debut 2020 full-length…
'We think our music is very good, with catchy beats and very danceable. Our lyrics are very raunchy. We hear people ask bands all the time what their genre is and it's a stupid question that no one really likes asking so we decided to coin our own genre. It's funny seeing people's faces when we tell them.'
My introduction to this band involved a show with them and former dancey, indie-rock tourmates of theirs, Founding Fathers, in June of 2019. I remember seeing their name on the flyer and looking them up to see what it was all about, with the music video for "Puddles", a single they had released in promotion of the Perv Pop record that would be released a year later, being one of the only available songs to check out. Not even a minute into the video, I was almost instantly a fan. Not only does the song have a great, electronic, catchy vibe, but the lyrics center around Young Potatoe's unfortunate (and 100% true) scenario of a date night gone horribly wrong: 'I saw a girl, fell in love, and then she shit on my floor. I stepped in it and all the love went away'. Needless to say, the humor factor of this band was both apparent and dialed up to 100, with the live act that followed only expanding upon their comical, yet well-rehearsed musical and performance genius.
'We think our music is great but feel our live show separates us from other bands. When we started this project, we wanted our live show to be unlike anything anyone has ever seen. It takes a lot of time to rehearse to get all the timing down. We typically rehearse for 15 hours a day for about a week, the week before our tour, and then we go out and do the show. It's fun for everyone, but with all the costumes and props, it is a challenge to set up every night.'
Regardless of the challenges faced with making an act as costume-change, prop-oriented, and themed from song to song as theirs is come together, Big Gorgeous consistently put on a high-energy, completely original, massive-sounding performance night after night, winning over audiences everywhere with their quirky, goofy, oddly sexy, and bizarre antics. From stripping down to speedos, singing a ballad about the history of 'gerbling' (absolutely do not Google that), and having the crowd clapping along and laughing for all 30 to 45 minutes of the experience, the band has a mantra of sorts for not pulling any punches. All in the sake of good entertainment and lightheartedness, it is reminiscent to my discovery of a band such as Psychostick from ages ago; Where even if every song followed a parodic style to its composition, the live presentation and performance was always taken seriously and virtually perfected down to the smallest details. Any artist that can take even the goofiest possible idea and give that much attention to their craft and pull it off with as much ease as Big Gorgeous seem to is much deserving of some form of appreciation, at the very least.
'We started as a joke. I (YP) was in an Icelandic band. I played a BG demo, they like it and asked us to open for them. We had a 20 min show that wasn't very good but people seemed to like. So we decided to take it seriously and now we feel our show is great. It has come a long way. Most people really like our live show and tell us how great it is, it's very rare that someone doesn't like it. We are not political and say that we bring people together by offending them. We used to do a song call "Perhaps" where I ask the audience to stick their middle finger up their ass, and it has happened on several occasions.'
Beyond the perfection of their live act, the hilarious (yet well-produced) subject matter and variety of instrumentation in their material, both live and recorded, and just how down-to-earth the band as a whole are, I think what makes Big Gorgeous so infectious has a lot to do with how involved they are with their fans. Perv Pop is currently the only full-length album available by the band, but they have worked up a number of singles and videos for said singles over the last few years. To name a few, the latest is the hardcore punk-driven "He Ate Right Through It", which features long-time friend, videographer, and collaborator Kay Day, as well as tracks "Psychic Surgery" and the fan-oriented and inspired, "Too Much Love".
Each track practically has audience participation built into it, and when each is performed live, that's exactly the kind of connection you witness from the audience to the band, sometimes without the trio even needing to ask for it. Even a gander at their Instagram page provides evidence to how inviting the band is; With various videos of the members trying new foods, Young Potatoe reviewing amusing park rides and Halloween haunts, the Big Gorgeous providing a little sneak peek into his workout regimen, and even some places and ways Shirley Sugarfoot prefers to unwind – oh yeah, and lots of promo for shows as well as hangouts with near-and-dear friends, family, and fans, can't forget that!
'Everyone is 100% invited to the party, and we truly mean that. Nothing makes us happier when we see a diverse crowd who we know probably doesn't agree a lot with each other, but when they put all that aside and just enjoy the show, it really is a special feeling. I had someone tell me they were very depressed and we gave them a reason to live. Another girl said both of her parents died a few months ago and our show was the first time she laughed.'
Big Gorgeous are currently in the midst of their first big West Coast tour with The Cult of Nasty, with only five dates left to go across Phoenix, AZ, Albuquerque, NM, Denver, CO, Omaha, NE, and Madison Wisconsin! If you find yourself in any of these areas between October 17th to 21st, don't miss out on the party. Other than this big tour, it appears the band has lesser plans for runs or too many live events in the next year, and more along the lines of cooking up something hot and bothersome in the studio. With three years having passed since the release of Perv Pop, it certainly feels time to stop the edging and release something fresh into the cosmos.
'We are in the middle of our first ever West Coast tour and it has been filled with some ups but also some downs. The crowds have been great every night, but it's really hard getting people to shows who don't already know you. We love the Nasty Boys and would not be where we are without them. Next year we desperately need to get out a new album, so that is the goal. We are only planning one tour; We have been touring a lot the last 6 years and need a break.'
Don't miss out on the big, sexy, open party that is Big Gorgeous any longer! You're invited! So slide your way into their DM's via Facebook, Instagram, YouTube, and website! Be sure to check out their phenomenal music on Bandcamp! There's plenty to go around and lots of room for more!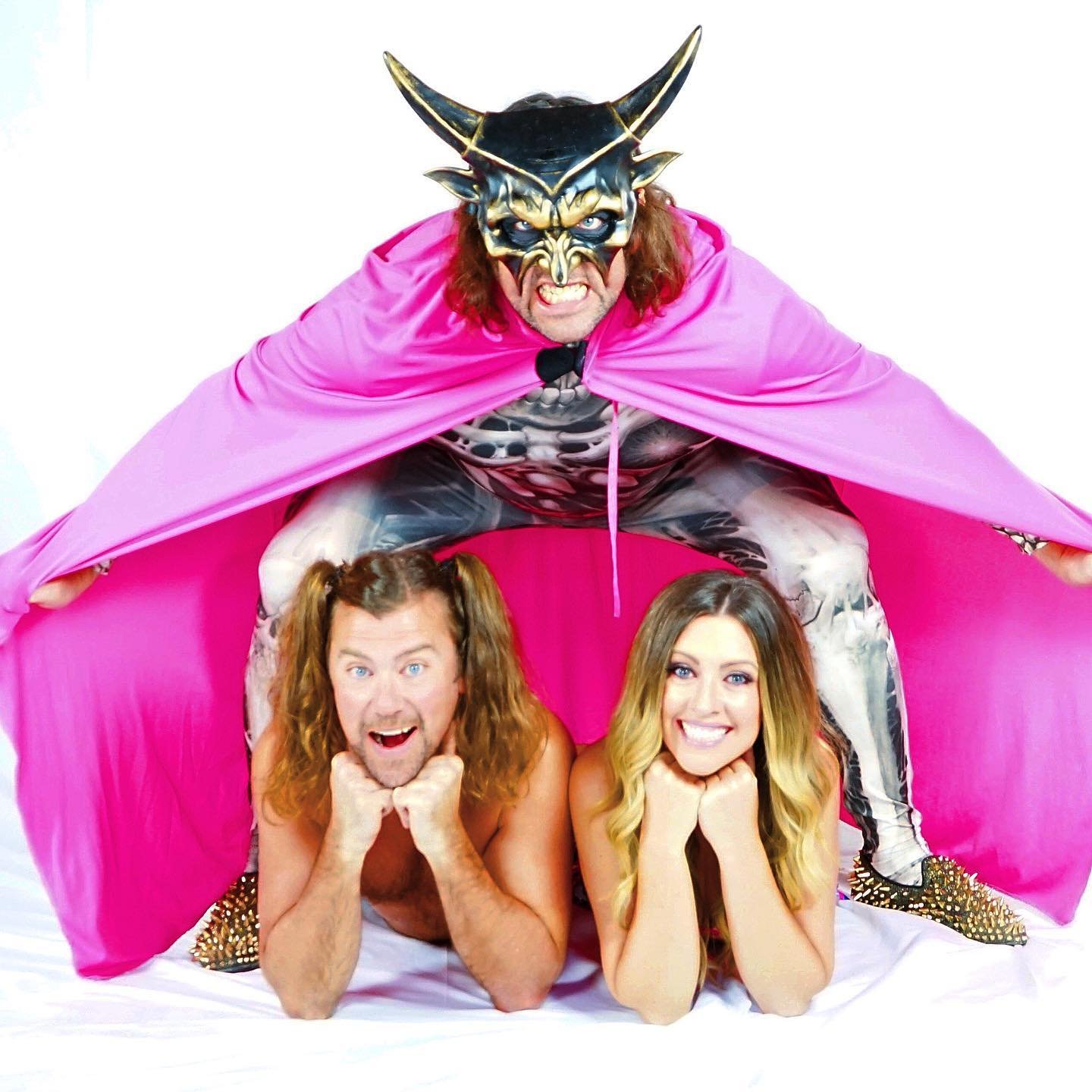 Big Gorgeous is…
Big Gorgeous – The Big Gorgeous, guitars, vocals
Young Potatoe – vocals, trumpet, keys, charisma
Shirley Sugarfoot – vocals, smiles, cheer