Born Ruffians is composed of Luke Lalonde (guitarist/vocalist), Mitch Derosier (bassist), and Steve Hamelin (drummer). Having played music together for 15 years now, JUICE is their sixth full-length album. The Canadian band started in Midland, Ontario, and later moved to Toronto, where they found more success. They have a tour planned for 2020, where they are set to be travelling to France, Germany, Switzerland, and the United Kingdom. I can imagine Born Ruffians putting on a very lively and animated show with their energetic sound.
This album is playful and versatile. It involves a taste of different styles, going from a jazzy sound in "I Fall in Love Every Night" to a more acoustic approach in "Hey You". JUICE flows effortlessly, starting with a lively song that features saxophone and ending with a gentle, nostalgic track. It is evident that the placement of each song was chosen carefully, which makes the listen very enjoyable. Along with this, there are multiple occurrences in which a track runs smoothly into the next one, adding to the effortless flow of the album.
My personal favourite song is "I Fall in Love Every Night", which features horns and has the overall feel of a march. Opening JUICE, the track introduces the album in a tasteful way and immediately reels the listener in. With a heavy snare, brass section, and authentically unpolished vocals, the song presents an unpredictable listen for the eager ear. About three minutes in, the track sounds as though it is coming to an end, but then carries on for another energetic minute. Ending with a strong drum beat, it bleeds into the following track "Breathe". Currently the album's most popular song, "Breathe" seems to build up during its entire runtime, which is due to the ascending vocals throughout the song. The guitar matches the vocal line in the chorus, giving it a very full sound. Being a fairly guitar-heavy song, it features multiple zany guitar solos.
The concept of memories is a common theme in this album, and "Breathe" touches on the subject as well:
'Breathe

Do it again, do it again
Take a deep breath and hold it, hold it in
Wait around all night to strike the match
But all the fumes have wandered home
So what should've been an inferno
Is a faint nostalgic glow
Pretty good grease for frying memories

Strike a bolt of lightning into me
Surfing on a sea of ecstasy
Wonder how this all could come to be'
I find myself getting lost in this album with every listen. Around the fourth track, "The Poet (Can't Jam)", I relax and fall into a listening trance. The album starts to slow down here, taking on a more mellow feel – it transitions into an acoustic sound and sends the listener into an indie music daydream. The tempo of each song slows down and the drums become sparser. During the first few songs on JUICE, the bass guitar is often playing eighth notes, which moves the tracks along swiftly; as the album progresses, it follows the mellow feel and transitions into a more relaxed style. Referring back to the placement of each song, the energy's progression throughout JUICE adds to its steady and natural flow.
The last track on the album, "Wavy Haze", is inspired by the band's new record label, Wavy Haze. Born Ruffians switched record labels after their previous album and decided to dedicate a track on JUICE to this new partnership. The track is about the perception of others through memories and how great yet hazy remembering the past can be. "Wavy Haze" does a great job of closing the album with a feeling of blissful satisfaction.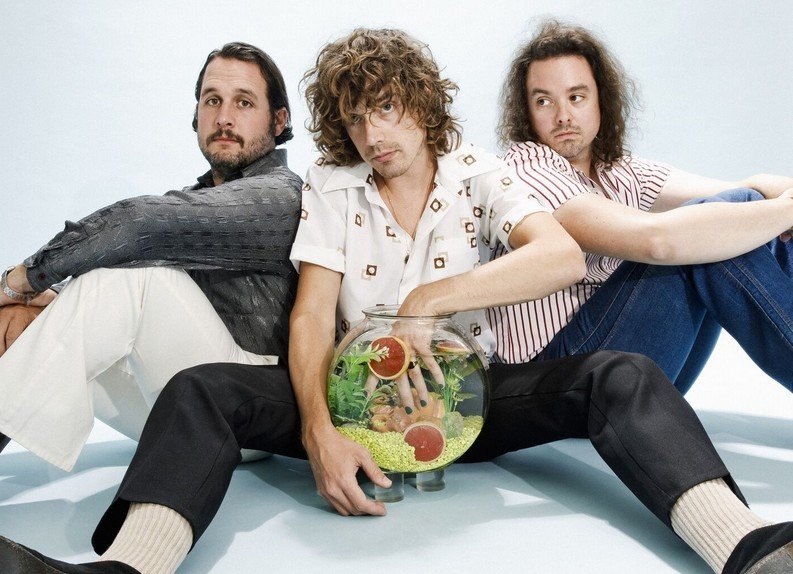 Born Ruffians create a very natural and genuine feeling with their music. JUICE includes energetic love songs, playful guitar riffs, and nostalgic lyrics. Having 70's influenced beats in songs such as "Dedication" and a horn section in "I Fall in Love Every Night", this album demonstrates how versatile and smooth this band can be. Having such a big sound, I am impressed that Born Ruffians is only a three-man group. With the strong bond from their many years spent together, their versatile sound, and their creative imagination, Born Ruffians are definitely a band to watch out for.