TONIGHT I'M GONNA PARTY LIKE IT'S 1999! And NOISE UPON A TIME is back, this time we are covering 1999. It was a weird year: Napster got released, Spongebob premiered, Lance Armstrong wonhis first Tour de France (that didn't age well) – and a bunch of really horrible things happened as well.
Musically – yeah, also weird. But with tons of great stuff. Let's get into some stuff!
Tom Waits – Mule Variations
released April 16, 1999, via ANTI- 
revisited by Landon Turlock
I've been with my partner for over 10 years since I was 18. One of my early favourite memories of the first few months of us being together was sharing music. I was squarely in my metal elitism phase, but I did my best to be open-minded. One of the CDs (I know, I'm old) they gave me was a ripped copy of Tom Waits's Mule Variations. Though the record was nearly fifteen years old when I put it in my car's CD player (yes, my car is old too), I had never been exposed to the kind of music Tom Waits plays.
At the time, mostly being into pristinely produced djent and polished pop punk, Waits' decidedly raw, gritty, and blues/country/rock/folk amalgam was at odds with my tastes then. And yet, I really liked it. Perhaps it was growing up on blues and rock music. Maybe it was trying to impress my new partner. But honestly, I think it's because Waits is unabashedly himself and knows what he's good at, and Mule Variations is an excellent example of that.
"Big In Japan" is a tongue-in-cheek album opener that is about as good at making me laugh as it makes me hum along. "What's He Building?" is a creepy but also cheesy mixture of sound design and skit that seems to poke fingers at the judgments and assumptions of others. "Get Behind The Mule" is groovy, gritty, and bluesy in a way that has since shaped much of what I enjoy in the genre.
But groove, grit, and humour aren't all that makes Mule Variations Tom Waits' most commercially successful album. I'd say it's the heart. "Hold On" is one of Waits' biggest songs. Sure, it has a good hook, and it's well-constructed. Its percussive, syncopated interplay of muted guitar strums and arpeggios gives a gentle back-and-forth underpinning Waits' signature gravelly talk-singing. But it sounds authentic, hopeful, self-aware, self-deprecating, funny, and aching in a way that resonated with me as an 18-year-old kid, and now as someone rapidly approaching 30. Songs like "Georgia Lee" carry that same heart-breaking story, while closer "Come on Up to the House" feels like a hopeful invitation to be together in a hard world.
These facets of Mule Variations hint at what Waits apparently called "surrural," touching on rural America and early blues. In many ways, Mule Variations feels like Waits' Nebraska, somehow resonating at the same frequency as a hard-to-pin-down facet of our collective identity. Of course, a lot on this record deserves consideration and critique with how Waits portrays other people, women, and cultures. The fact that this record resonated with so many people also forces us to reckon with those parts of who we are. And we should.
Mule Variations tells us something about how many people were in 1999. I've learned a lot from this record over the past decade about songwriting, production, folk, and blues, and I think it will continue to teach me more as I continue listening.
Method Man & Redman – Blackout!
released September 28, 1999, via Def Jam Recordings
revisited by David Rodriguez
Dynamic duos have been a thing in rap since time immemorial with a DJ and MC hooking up to bring the tenets of hip-hop to the masses and make people move. Even cooler than that is when two MCs hook up to form something arguably greater than their individual efforts, something to really shake up the scenes they claim. This is exactly the kind of thing that Wu-Tang Clan member Method Man and the Wu-Tang associated (though not official affiliate) Redman accomplished with their collaborative albums.
Blackout! came out in 1999, a time in rap's history that I find some trouble connecting to like I can others. It wasn't wack – there were plenty of rappers making big noise around this time – it's just the hardest to get into with hindsight. Songs, and especially entire albums, didn't age as well as those from the golden age, or even the later years of the bling era or the following blog era. Maybe that's why Red and Meth's Blackout! albums stand out so much – they didn't really fall into the tropes and trends of the time.
What you get with Blackout! is two rappers very much in regular GOAT conversations doing GOAT-ass things. There's bars for days – Method Man keeps his trademark edge that he honed over two Tical solo albums and two Wu-Tang albums with a third in the making for a 2000 release. Redman, a vet by this point, dropping fire-ass albums since 1992 absolutely seminal Whut? Thee Album and three more following that, combines Brick City street toughness with funny punchlines the likes of which would start becoming a lot more popular with the impending millennium's stars like Ludacris, Eminem, and Lil Wayne.
Production was handled by legends like Erick Sermon, RZA, Mathematics, and Redman himself, sometimes credited to his government name, Reggie Noble, depending on where you look. I won't lie, the beats are mostly serviceable these days; they definitely feel like a product of their time, but not enough to mar the album overall. I only have hindsight when it comes to this album since I didn't discover it until the early 2010s when I was playing massive catchup on older rap I missed out on.
The standout hit is "Da Rockwilder", produced by Rockwilder himself and has Red and Meth really laying down some of their most memorable bars of all time (Redman's 'you ship off keys and we ship grand pianos' is still an all-timer) over a somewhat unconventional beat. It's legendary, being remixed and jacked several times, though Red didn't like the beat much at first (same), which explains why the song is pretty short, with each rapper only doing one verse each on the final published version even though two each were written.
Redman is without a doubt one of the best rappers when it comes to skits as well. Mostly a thing from a bygone era, around this time it wasn't uncommon for a rap album to be 1) well over an hour long (Blackout!'s original release is just past that threshold), and 2) filled with skits breaking up the action. Here, we get one skit that humorously tackles something else happening in the '90s: white suburbia's adopting – and appropriation – of hip-hop music and culture. Though it was Eminem that Trojan horsed the uncompromising realness that rap had to offer into white America's homes with The Marshall Mathers LP and The Eminem Show, it was long since seeping into popular culture.
Here, we get a Redman-style skit where unassuming white guy Mark talks about his life in a predominantly white neighborhood with predominantly white friends and went to a predominantly white college, but at night when he's alone, he bumps that HARD SHIT, that GRIMY DIRTY IGNORANT SHIT that he really shouldn't identify with at all, but here we are. It's fun and funny because it's rooted in truth, and the back half of the skit which turns into more of an interlude of sorts has Red and Meth talking mad shit before getting into the rest of Blackout!.
There's a good amount of standout moments on this album besides those – the title track is a rugged and rough thesis statement for the collaboration. "4 Seasons" is a great four-way posse cut with LL Cool J and Ja Rule joining in on the fun, really melding the older school and then new school on a song. "Maaad Crew" is a bassy little jaunt with Red and Meth interacting more in their verses, trading bars or finishing each other's line (awwww, cute :3). "Run 4 Cover" is a Wu-Tang meeting of sorts with Ghostface Killah – Tony motherfucking Starks in his prime who would release Supreme Clientele one year later – and Wu affiliate Streetlife joining the fight on some four-player co-op brawler shit over an anxious jazzy beat.
For better or worse, mostly better, Blackout! is a relic of the late '90s, affirmed in its style, yet defiant in ways that make it worth covering in a feature like this. I'm also incredibly biased because Redman's probably in my top five rappers of all time. The only negatives to speak of with this album is that it's a product of its time in many ways, most egregious being some of the more outright homophobic bars, but finding a good rap album devoid of that from the '90s is nearly impossible. An unfortunate symptom of hardcore rap, teeming with shit-talking and masculinity – another topic for another day, likely from a different writer.
Funnily enough, I think Blackout! 2 is even better. Released a full decade after the original collab album, it felt a lot fresher and still had Redman and Method Man in top rapping form (a modality hardly either rapper aren't heard outside of). Still, you didn't have to wait long for Red and Meth to reconnect in some way. On Limp Bizkit's smash-hit album Chocolate Starfish And The Hot Dog Flavored Water is a remix of their MTV-hijacking track "Rollin'" with both rappers and DMX – I still maintain it's a great track because of those features. No sign of a Blackout! 3 yet, though it's been teased as being in the making as of 2020 by Redman himself. I'll believe it when I hear it – even though both rappers are in their 50s, I'd still expect it to come as hard as any other album they've put out in the last three decades.
The Dillinger Escape Plan – Calculating Infinity
released September 28, 1999, via Relapse Records and Hydra Head
revisited by Dylan Lawson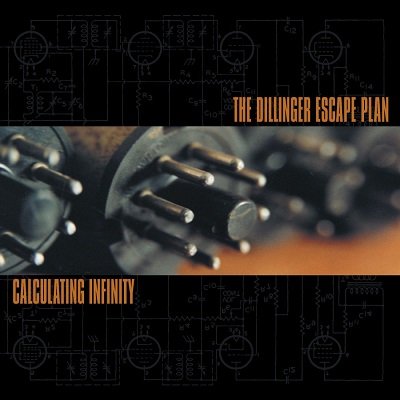 1999 was an insane year for bands pushing boundaries and coming into their own. Incubus, Rage Against The Machine, Limp Bizkit, and Slipknot are all some names that come to mind, either releasing their debut or another piece of a masterful catalog – things were getting intense just before the 2000s would be rung in. Then, there was also the mathcore, chaotic, mind-boggling musical mastery of a debut that was The Dillinger Escape Plan's Calculating Infinity. For all the best and (perhaps mostly for venue owners in and around the East Coast and elsewhere at the time) worst reasons possible, this album and band would change the game forever.
Starting off on one of the most memorable, hyped-up, adrenaline-inducing tracks ever crafted, "Sugar Coated Sour" is practically a cult classic. Ask any punk, metalhead, or otherwise mathcore aficionado – everyone remembers the iconic tapping guitar intro to this song, especially those who heard it live years later at Virgin Megastore in 2005. As if the album couldn't just start on a strong note off this track alone, it is followed by what is likely one of the band's most recognized and praised riff waves ever written, "43% Burnt". Look up any video spanning from the time of this album's release up to the band's dissolution in 2017, and you will see how visceral and passionately received the beginning and ending alone of this song was by any and all crowds brave enough to show up for the devastatingly sporadic 5-piece's performance could, and usually would, be.
Being one of my personal favorite bands of all time, there's not really any particular place in their discography that I don't find myself in appreciation of. Many people I've spoken with regard this, and essentially all of the Dimitri Minakakis era of the band, where their interest stops. For me, everything they did during then and after, with Greg Puciato on the mic, only got more and more innovative and fun. Even if the technical rampage that broke them out on Calculating Infinity slowed with each release after, it's hard to not appreciate a band with as bold and unapologetic an approach as The Dillinger Escape Plan notoriously upheld from start to finish. Just go watch back at their performance at the Golden Gods Awards in 2013, and you'll get a fine depiction of how this band was always 'real'.
Most bands' debut albums have a sort of trial and error element to them, or at least something to takeaway from it and expand upon it in future releases. I won't say Dillinger were probably any major exception to this philosophy, all artists find places to push further in some way; but even in this, their earliest days, we get crushing, sonic experimentation from beginning to end, atop unforgettable cyclones of pure mathcore fury. Personally, tracks like "Weekend Sex Change" and "*#.." always stuck out to me for their atmospheric, cinematic style and sound, too. The Dillinger Escape Plan penned unforgettable music throughout their career, and it indeed started with both their demos and Calculating Infinity's release.
Opeth – Still Life
released October 18, 1999, via Peaceville
revisited by Thomas Mendes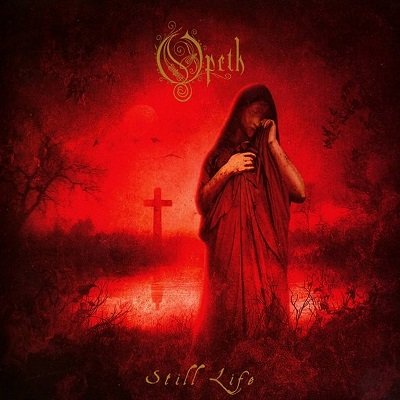 It's wild to acknowledge that 1999 saw the release of two records that changed the landscape of progressive metal: Dream Theater's Scenes From A Memory and Opeth's Still Life. While Scenes certainly made a more significant cultural impact on the mainstream, I'd argue Still Life was a bigger landmark for the genre that year. I say this because Dream Theater had already created their trademark style by then, while Still Life finally saw Opeth fully hit their stride as they developed their personal brand of progressive death metal that is so recognizable today.
Previous Opeth albums already featured some progressive elements, but Still Life was a defining bridge between their earlier, Candlelight Music Group works and their more modern approach that concluded with 2008's Watershed before they redefined themselves as a progressive rock act. Still Life saw the merge between their extreme metal roots with Mikael Akerfeldt's known taste for '70s prog (those influences have always been there, people) become seamless and natural, with a truly refined level of songwriting. Filled with the aggression you expect with death metal and calm, intricate acoustic passages, perhaps the one element that made Still Life quite unique within Opeth's discography was the aura of mystery and mystique that surrounds it. Sure, the sorrowful melodies are present in most of their music, but Blackwater Park and later works saw the Swedes embracing progressive metal in a much more direct way. Still Life carries a haunting atmosphere to it that the band wasn't quite able to capture in the same way. It is a bridge between eras that was a cornerstone for them and for the whole world of progressive metal.
The very first few mellow notes of "The Moor", followed by its short acoustic passage and exploding into one of the band's most recognizable riffs ever, are just a sign of all that is to follow. This track alone already features a sort of power that Opeth had not showcased before. "Godhead's Lament" still figures amongst fan favorites, and one of those songs everyone wished would return to their live setlists. "Benighted" showcases an amazing evolution of Mikael as a singer, and easily one of the songs that best encapsulates the sorrowful side to their music. "Moonlapse Vertigo" may be one of their most epic songs, a solid deep cut even among the most diehard fans. "Face of Melinda" may be one of the band's most recognizable songs, and a live staple for many years. "Serenity Painted Death" has one of their greatest choruses, no question, and is a death metal hymn. "White Cluster" may have one of THE best riffs ever. For many fans, Still Life is peak Opeth, perhaps due to how cohesive it is compared to their previous work and how original it is compared to their later work. It was a band hitting their creative stride that would shape their sound and firmly define their identity.
Blackwater Park, while having received much wider attention from both media and scene alike and being the one album most people directly associate to, was more of a continuation of what was presented and worked on Still Life. It became the template for what Opeth would deliver in what many would claim is their golden era, and where many, many bands would draw their inspiration from. When a band calls themselves progressive death metal, you're more than likely to hear something that kind of sounds like the Opeth that began with Still Life. Modern progressive metal titans like Leprous, Ne Obliviscaris, and Soen have this sound as part of their core DNA, influences transcend the genre as well, with many extreme metal bands becoming more nuanced and following in Opeth's footsteps to shake things up.
Ironically, Still Life is one of the Opeth albums I come back to the least. Not because I don't enjoy it, but because it feels so distinct from their other albums that I don't consider it an Opeth fix. When I want Opeth I generally go for Ghost Reveries or Blackwater Park. I go to Still Life when I crave its specific mood, its special mystical atmosphere that makes it stand out so much. It is very unique to me and revisiting it with care and attention for this piece makes me remember when I was first delving into the world of Opeth, the band that opened the doors to extreme metal for me and so many others. The originality, the passion, the songwriting, the sense of endless wonder. Everything that made the band legendary is here in its purest and rawest form, an essential piece of music that will forever stand the test of time.