One thing I've always thought about is how festival curation works. Like, how do you decide which artists to bring along to a few full days of musical extravaganza? Sure, there are many festivals out there, each one with a different purpose and goal, and that answer depends on the festival's goals. Bigger ones tend to book the biggest artists out there to get thousands of people to come along. Others look to the current scene, and try to feature whatever is growing in popularity these days. I do, however, have massive respect for those festivals that not only try to feature smaller scale artists, but also try to create some sort of narrative with the roster they've assembled. And I feel the 2023 edition of Amplifest did exactly that.
A festival that's been around for about 10 years now, Amplifest has quite a nice reputation in the indoors festival community. Set in the very beautiful city of Porto, its line-ups always focused on featuring the very vanguard of underground music, often being compared to landmark gatherings such as Roadburn. Following an absolutely bonkers line-up on its 2022 edition, which was stacked due to pandemic postponings, Amplifest 2023 returns with a smaller in scope, albeit very focused proposal.
The very first act to be unveiled was also the biggest one: Sunn O))). As soon as they were announced, the festival sold almost all of its available weekend tickets. While I was never that into them and drone music in general, I got myself a ticket since I trusted the festival curation and I was gonna be around Porto during those days anyway. Even when the whole lineup was announced, I actually didn't knew a lot of the bands. However, I do think I made a good choice with that one.
There was a lot of thought in these bookings, trust me. Picture: Amplifest
While Amplifest, like other similar festivals, aims for diversity and different music offerings in their line-up, I do feel that the booking of Sunn O))) really influenced the curator's choices for the whole line-up. Featuring drone and noise-adjacent acts such as Candura, Hilary Woods, and Divide and Dissolve, and some other folky acts like David Eugene Edwards, Ellereve and Sir Richard Bishop, Amplifest 2023 felt to me like a big exploration centered on the possibilities that the guitar, as an instrument and noise generator, can offer, and perhaps no other proposal could fit the festival's name better than this one. And to me, that idea and theme resulted in a very focused and interesting festival that truly felt like a carefully crafted experience for all attendees.
Warmup day (droning it up)
Before the two full days, the festival featured two warmup acts: a special collaboration between Candura and Rui Chafes and a small, intimate concert with Mat Ball from Big Brave presenting his solo album, aptly named Amplified Guitar. Like I said before, I was not that much into drone music as a whole, but I went with an open mind to these acts. Candura managed to create a very unique atmosphere with From Ruin, which could be described as dark guitar and piano music accompanied by a very striking statue, evoking very intense emotions. I truly felt a bit afraid and distressed during it, even cold, I would say. It's hard to call it fun in any way as that is totally not the point, and it says a lot about the festival that they choose something like this as the very first act. It was quite unique and theatrical, and managed to keep me interested during its runtime.
Mat Ball was also a different choice for an opening act. His solo work is true drone music, and like I said before, seemed like a nice fit for a line-up with Sunn O))) as the last act. It didn't do much for me personally, but I started to get the appeal a little bit.
A striking opening for the festival. Picture: Vera Marmelo/Amplifest
Saturday (a very massive mass)
And so the festival truly began. This was actually the day I was looking forward to the most, and was probably my favorite, overrall. A good thing about Amplifest is that the festival's setting, Hard Club, has two stages, and that allowed for two full days with zero clashes and short, 15 minute intervals between each set. The production aims to create an environment that is as confortable as possible, and those intervals were more than enough for everyone to leave the stage, get a drink, go to the bathroom and even sit down for a little while before the next act. This allowed me to see almost every show in the festival, something that in my opinion adds a lot of value to the ticket and makes for a nicer experience. I hope more festivals should take notice to create this level of comfort.
The day started off with Big Brave, focusing on songs from their latest output nature morte. I had some mixed feelings on it, to be honest: the more intense and 'musical' moments from the set were really, really great, but when it shifted to the noisy side, they lost me for a bit. All in all, it was a cool enough start for the day. They were followed by Ellereve, a German musician that treads in that 'folky sad rock' subgenre that Emma Ruth Rundle fans know and love. I really, really enjoy her debut album Reminiscence, and seeing most of those songs performed live, with even more emotion and intensity, was a beautiful experience. If you enjoy your real sad hours music, do check her out.
Ellereve delivered the feels in spades. Picture: Vera Marmelo/Amplifest
Back to the main stage it was, to see the monumental Ashenspire. A truly unique band, it's really hard to pinpoint a specific genre for them. What is certain, though, is that they create absolutely intense and engaging music, dealing with heavy lyrical subjects about urban decay and the frail state of our modern world. Those lyrics are delivered in a poetic, preacher-like way, and their latest album Hostile Architecture is a must-listen for pretty much anyone. I've heard many people praise their live performance, and I can now attest to that as well: it truly is something to behold, and as the songs' catharsis are much more powerful and heartfelt in a live setting. It was an amazing show, and I can't wait to see more of Ashenspire soon.
Next up for me was Mutoid Man, much to my delight. While one could say that their playful approach to prog/hard rock is a strange fit for the festival, I retort: Mutoid Man is a great fit for any festival ever. To me, they have perfected 'fun' in their music, and their live show is a testament to that: exploding in energy and the band just having a good time and rocking out. I actually saw the first show in their tour as well, and this one was even better, with a tigher performance and a more thoughtful setlist order. We got treated to songs from Bleeder, War Moans and their most recent album Mutants, one that has been in heavy rotation for me since release. So yeah, this was a perfect rock and roll interlude in a day full of niched music.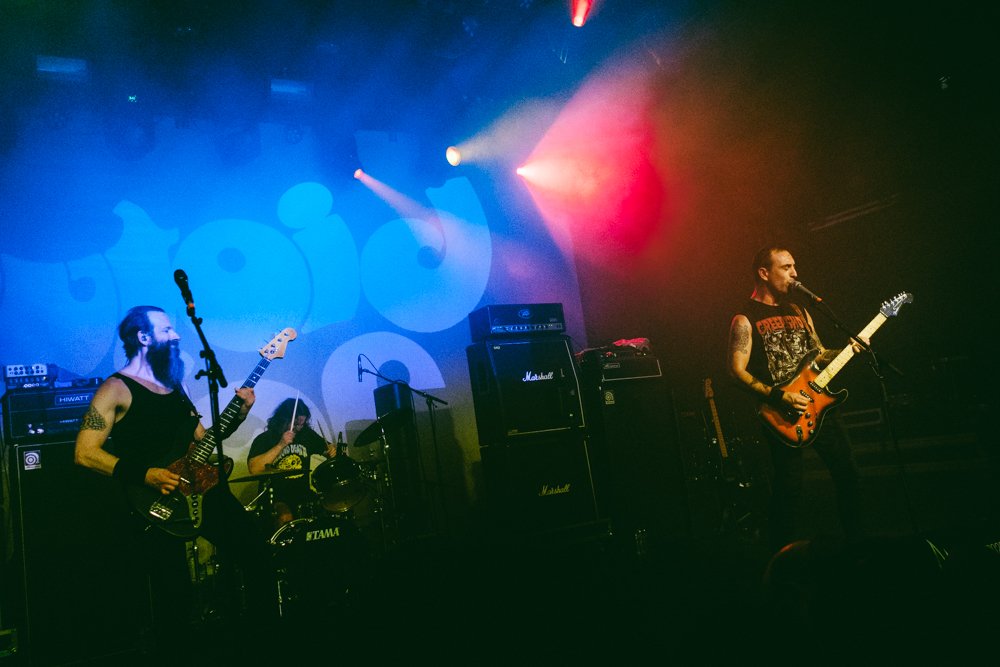 Mutoid Man is all the fun you need and want. Picture: Vera Marmelo/Amplifest
I then saw Sir Richard Bishop in a very intimate show of expertly played acoustic guitar, one that really fits that 'ways of the guitar' theme I talked about. Somehow with both tons of virtuosity and atmospheric passages, his music sounds like the soundtrack to a somber and action-packed western, if that makes sense. It was a nice little interlude before a massive tonal shift with Celeste tearing up the main stage. Their approach to blackened hardcore is one that I find really appealing, and their show more than lives up to their studio efforts. Accompanied by their unique presentation with headlights, it made for an awesome experience that made my neck hurt.
The main act for the day was Amenra, once again proving why they are considered one of the best live acts in heavy music nowadays. Despite having just seen them recently at Prophecy Fest, they still managed to impress me for the entire duration of their set. There is just something about the energy, sound quality, the presentation that they achieve that makes their show stand on its own tier of live music. Yeah, their albums are good, but the live mass is the actual, real Amenra experience. This was the highlight of the whole festival for me, and honestly, the more I see of them, the more I enjoy and appreciate them on a deeper level.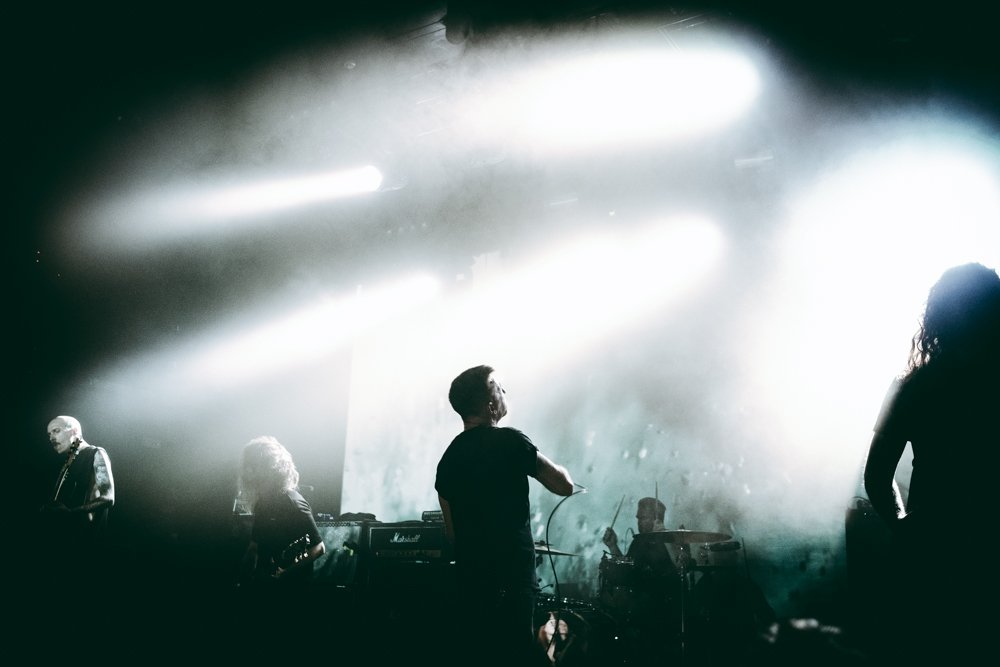 Amen to Amenra. Picture: Vera Marmelo/Amplifest
The day was not yet over though, as Amplifest has a nice little 'after party' act. For the first day, we were treated to a performance from the Portuguese duo NECRØ, with some dark electronic music for everyone to dance to. Following an intense act like Amenra with a full-on dance party is actually a perfect idea, and NECRØ made sure everyone spent all the energy they had left for the day.
Sunday (Everything Is Noise, indeed)
The second and last day of the festival was upon us, and not without its big moments. I started my day getting shouted at by Aeviterne, an American band that play some very interesting and out there death metal. A good warmup for another day of neck abuse, I'd say. The next show was completely different, however, as we got to see David Eugene Edwards of Wovenhand perform his very particular and interesting brand of experimental Southern rock. This show was the first opportunity to hear songs from his recently released solo album Hyacinth, and despite not knowing those songs and not being familiar with his work, I was sold. His music is deeply interesting and a perfect example of how acoustic music can be just as dynamic and full of layers as plugged music. It was a great discovery for me, and I've been playing a bit of Hyacinth for myself ever since.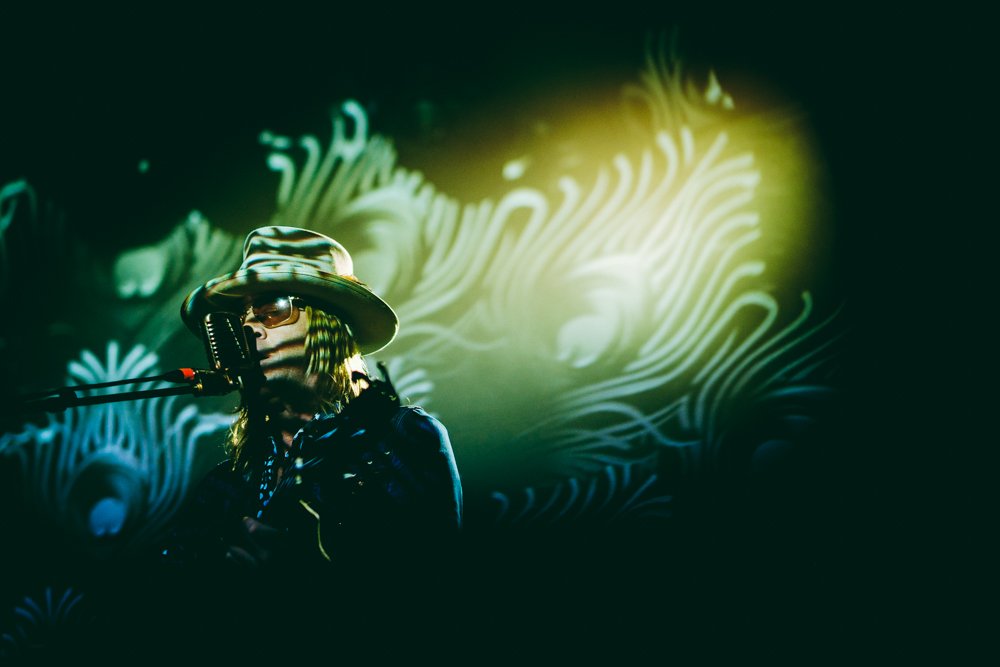 David Eugene Edwards knows his stuff. Picture: Vera Marmelo/Amplifest
We were back to the drone realm with the next act, Divide and Dissolve. Now, they are a exception to what I said before: their mix of drone with doom music is very unique and I find it deeply engaging. Systemic is one of the most interesting albums I've heard this year, and the juxtaposition of slow, eerie saxophone with their intense guitar wall of sound makes for quite a journey, and it all hits even harder live. Plus, Takiaya Reed just seems like the most fun person ever, addressing the crowd with a huge smile on her face before she hits you with another wall that almost makes you hit the floor. She also spoke about the band's important anti-colonialism and anti-white supremacy message, something that makes Divide and Dissolve even more meaninful than it already is.
Divide and Dissolve is huge, both on their sound and their message. Picture: Vera Marmelo/Amplifest
Up next for me was KEN mode. I've always thought they were an aptly named band, but after their show, I am sure of it, as I have seen few shows that were as intense and just huge as theirs. I've never headbanged that much before in my life, and this was the first occasion I seriously thought about joining the circle pit. Their raw approach to aggressiveness translates incredibly well to a live show, and their stage presence is out of this world. Despite being a bit tired before the show, as soon as they started I was fully back up again and songs like "The Shrike" and "Doesn't Feel Pain as He Should" had me going absolutely crazy and, well, KEN mode. Hands down the best show of the day, and really close to Amenra as best show of the festival.
The final show before the big one for the day was from Hide. Let me tell you: I've been to some weird shows, but nothing as weird as this. It's a very different type of electronic music (if I can even call it that) and it took a while for me to actually get it, but eventually I vibed to it. But man was it weird.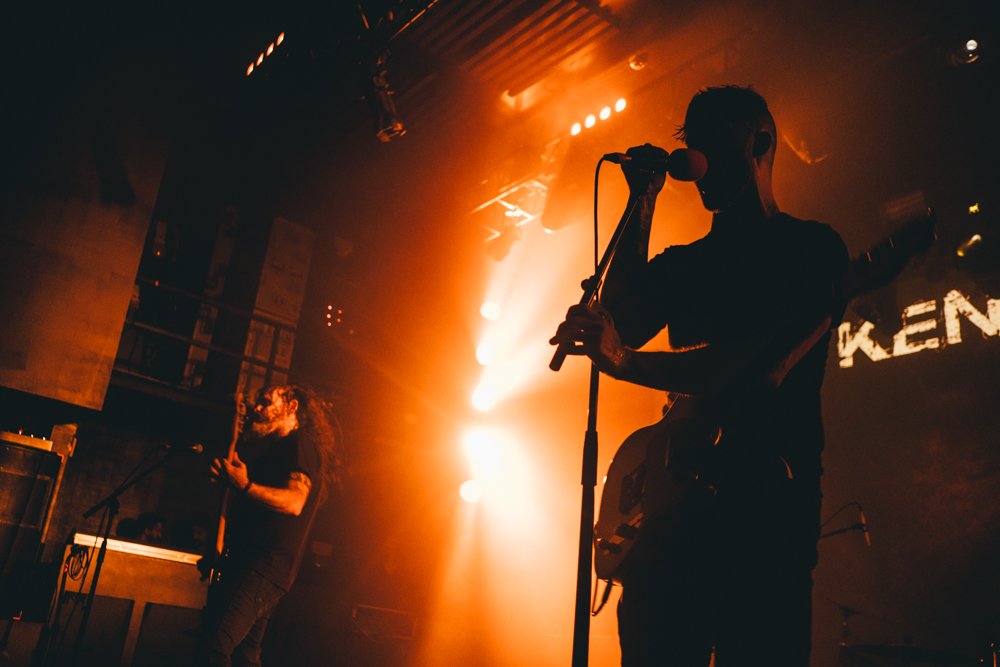 KEN mode goes even harder than expected. Picture: Vera Marmelo/Amplifest
It was then back to the main stage for two full hours of Sunn O))). When I had previously tried to get to know them, way back in my musical journey, I never got it. It was just noises to me. I always respected them, though, and promised myself I would give another try after exploring more of the deeply vast music world. I went into their show without expecting much, as I wasn't even sure on how a live show of this type of music even worked. When I walked into the stage, and saw like a hundred amplifiers creating a wall, I was thankful I got some nice earplugs, because I would need them.
When the show began and the first notes were hit, I started to get it. Sunn O))) creates waves. Big, thick and hypnotic soundwaves. Sure, this is probably obvious to a lot of people, but I now understand that their music needs proper gear to be actually experienced the way they want too. In a live setting, with all of their own equipment there, they are able to present the true Sunn O))) experience that feels like a big group meditation. The notes shook the entirety of the stage, and feeling them not just with your ears, but your whole body is a very unique experience and I now understand not only the appeal of this type of music, but why the band are regarded as highly as they are.
This is not for everyone, but every single sound enthusiast would just be in awe of what they can achieve on a technical level. It's wild to think that those sounds came from a guitar, and when I said that Amplifest 2023 was about exploring the possibilities of the instrument, Sunn O))) is the perfect example of one end of that: a single note, distorted into oblivion, and morphing into something that could sound like the mating call of a Lovecraftian entity. Not every festival would have the balls to feature this kind of music, but Amplifest understands and celebrates all of this in spectacular fashion.
The way Sunn O))) goes BWOOOOMMMMM just hits different. Picture: Vera Marmelo/Amplifest
After the show ended and our ears got some much needed rest, we still got a nice farewell gift from MДQUIИД. Just like the last day, the aftershow was marked by tons of dancing, this time to the grooviest rock music ever. I loved MДQUIИД., and it was a fantastic end to two great days of very out-there music.
I took a gamble on making Amplifest the very end of my first-ever visit to Europe, and I feel like it was a perfect capper to the biggest adventure I've been too. It's a carefully thought-out and very well-organized festival that goes all the way to create something that engages and rewards its attendees. I treated this one as a very discovery-led weekend, arriving with an open mind, seeing some artists I'm not familiar with, and left not just with some new favorites but also with a deeper knowledge and appreciation of the droney side of things. Everything Is Noise, indeed (sorry I had to make this pun), and Amplifest proves that even the loudest and weirdest of noises can carry much meaning and beauty with them.