I've spoken quite a bit about regions and their relation to the art produced either within, around, or about them plenty in some previous Weekly Featured Artist pieces, but when it comes to Indiana, it's easy to see the state as a virtual factory for great minds in music. Take for example names such as Cloakroom, The Ready Set, Lotus, Haste The Day, and many, many more; All names that have left quite their respective mark on some sect of music history, both regionally and around the world. While I try not to imply that just because an artist comes from a certain region, it automatically designates them to being the next 'groundbreaking' thing in music history, Indiana is one of many places across the United States that has a great track record for strong, memorable artists as well as communities that help build those artists up. Today's Weekly Featured Artist sets yet another elegant case for that claim, as we welcome Fort Wayne, Indiana's The Indigo Society!
Fresh on the release of their September 15th, 2023 debut full-length, Diana Luna, The Indigo Society know how to write a hit. One of the first singles released from the album, as well as an accompanying music video, "Moonlight" puts you right into a dreamy, '90s alternative soundscape of catchy rhythm, gorgeous melodies, and soothing, soaring vocals that make it hard to not get in the groove while also wanting more. Don't believe me? Click 'play' above and let it run while you read the next few paragraphs. I assure you, you'll want to hear from this band ASAP.
A powerful group of strong songwriters with impeccable chemistry, the Fort Wayne pop rockers found each other through the commonplace of working at Sweetwater together, and subsequently establishing themselves in 2021. As guitarist and vocalist, Brody Evans, tells me of the band's conception, the band began hitting jam sessions together after being acquaintances for some time, and slowly pieced what is now a solid collective creating fun, passionate, dreamy and emotional music together. While generally along the easy-listening lines, the band's music is not without its embellishments and attention to detail that cuts its own path and creates a sense of finesse.
Tracks like "Rain", "Behind the Pines", and "Goodbye June" will whisk you away into a trance far from this galaxy, featuring sounds that take you back to the graceful sonic weavings of acts such as Slowdive, The Smashing Pumpkins, R.E.M., all while covering introspective lyrical content that seems to center around some of the deepest, darkest, hard-hitting emotional experiences within human exist. The Indigo Society is simultaneously the musical equivalent of the perfect cup of coffee on a cold morning in the fall, while also the perfect glass of lemonade on a vibey, mid-summer afternoon; You could almost consider them a solstice of grungy alternative rock and synthy, daydreamy indie pop.
'Nate, Bryce, Mattei, and I (Brody) worked together at Sweetwater in Fort Wayne and were good acquaintances for a while before deciding to jam one day. We all have overlapping musical tastes so it was easy for us to find common ground to work with. Eden came along after rotating a couple of bassists in and out. Although we do have overlapping tastes, our core musical inspirations are varied which is why I feel like we work really well together. For example, Mattei and Eden have a deeper understanding of more complex music like jazz and the rest of us are more comfortable with alt rock and related genres. I believe that kind of mix of influences makes it interesting for us.'
The Indigo Society's discography so far, while fairly brief, features both their debut full-length, Diana Luna, as well as an EP from October of 2022 entitled Daisyface. Both releases are enriched with beautiful production value as well as the band's aforementioned brand of robust songwriting and structure. As Brody mentioned, the melting pot of influences only work to keep every aspect of the music flavorful, well-seasoned, and somehow with no shortage of cohesion as you start from one end of the album to the other. With Daisyface, we are given some of the earliest impressions of the band's sonic crafting, where tracks such as "You're So Cold", "Marigold", and "Paisley Blue" walk you through a blissful flight of alternative rock at its peak. In Diana Luna, this aura is only artfully expanded upon, as the band have quickly established their name and come into their between these two releases.
'Diana Luna was recorded over a year long period at Sweetwater Studios and we periodically booked sessions as we could afford them. And throughout the year we were writing as we recorded, so the songs recorded in our last session were written in the previous months leading up to it. I tried my best to keep cohesion in mind as I was writing because I didn't want the album to sound like it was written in separate pieces, I wanted it to feel like one cohesive piece of work. Predominant themes you'll find throughout the album include existentialism, childhood trauma, and heartbreak. Those were things that were troubling me during the writing process. In terms of sound, I wanted it to sound 'floaty'. I'm not sure exactly what that sounds like but that's what I wanted it to feel like.'
Similarly to Diana Luna, Daisyface found creation through a two-day session booked at Sweetwater Studios. Brody explains the excitement felt amongst the band members in getting to record in the kind of professional environment allotted to them at Sweetwater, and how the live feel of the EP generated a character about it that he believes furthers its overall quality. Listening back to Daisyface myself, I'm inclined to agree that it features a wholesome atmosphere about it which aids in the palpable spirit resonating off the band's music. However, even with Diana Luna apparently being more fragmented in its conception and production, I don't personally feel this spirit is any less present within the full-length, either; To my ears, The Indigo Society are simply so good at translating the rawest of their expressions and emotions into waveform, that the music seems to adequately reflect the passion embedded into it – nothing feels diminished whatsoever.
'The EP was also done at Sweetwater Studios but instead of over a year like Diana Luna, it was done in a couple days. So that meant less overdubs. For Diana Luna, almost every part was recorded in isolation and for Daisyface we laid down live tracks for all the songs and overdubbed what we could with the limited time we had. It resulted in a more live feel which I think was what was special about that EP. I have very fond memories of recording the EP because being in a world class studio was new and exciting for us.'
…Speaking on his approach to songwriting…
'When I write, I love being inspired by my favorite artists. I often find myself looking for things to inspire me whether it's a feeling a song gives me, the sonics of a recording, or even straight up chord progressions. I can't speak full for the other members but it seems to me that when they go to write their parts, their objective is to find their place in the mix and arrangement and also to glue together the different parts of a song.'
A big part of what makes me appreciate an act such as The Indigo Society is, of course, not just their music but their integrity as artists overall. The band writes with a sense of realism, with every part of their music being about what most interests them musically and what influences them most at any given time. Not to mention, the lyrical tropes Brody Evans speaks on, while quite personal to his own life experiences, are subjects I believe many listeners could find relation in. A common point of what draws people to art, and specifically the music they adore, can often be the connection made with it through that relatability.
As such, sometimes it's nice to hear someone else speak esoterically and artistically, through expressions and catchy rhythms, about experiences you may make the mistake of believing you're the only one going through. That's of course not to belittle any person's experiences by any means, but being such historically-proven social creatures as we are, it's eternally easy to get so caught up in the lowest points of your life that you feel almost isolated and singled-out by some invisible warden plaguing you with a new obstacle on the daily. Music, and in this case, The Indigo Society, are beautiful reminders that we are not alone, we all tend to 'go through it' at some point, and just because it's painful doesn't mean we can't write cool songs about it and dance overtop of it. The 'spirit' I mentioned hearing within the band's music in an earlier paragraph much entails this mantra, regardless of whether it's something totally intentional by the band's hand or not.
However, I touched on this aspect of music lightly with Brody, asking about what the most important thing within music is to him and why he believes it's so important to our world. His response gives evidence that there may actually be quite the intended dose of relatability within everything they write:
'For me music is the ultimate outlet for energy and emotion, whether I'm creating it or listening to it. It's safe to say that's true for the rest of the band too. Besides that, it's fun to play together and have a group to be apart of. The coolest thing for me is people's reception to our music. It's awesome to see people enjoying us at the show and asking for pictures afterwards. Something really cool to me is seeing strangers singing lyrics that I wrote. It's definitely surreal when stuff like that happens.'
While I did also talk about scenes and how they can help or hurt a band, Brody also mentioned that while Indiana does have a cool scene, there seems to be a lack of accessible venues for smaller artists. When I first got to discover and hear The Indigo Society live, it was in this massive space known as Stan's Room in Fort Wayne, attached to an even bigger event space as well as arcade and bar area known as Piere's. While on the outside, the venue might not look exactly like the kind of place you'd expect to see bands perform at – stepping inside opens you to one of the most profound spaces with top-notch live sound in the region. Nothing too over-the-top, but certainly quite the extravagance in its appearance and accommodations, it's easy to see Brody's point that 'it's hard to find a new local spot'.
As well-received and up-and-coming as The Indigo Society are, even they make note that in order to get to the 'bigger' spots, venues kind of have to take a chance on something they've never heard of. Thus, it's not easy for even the most talented and exceptional groups to find reach beyond their hometown, but with a little faith and plenty of modern methods of promoting and branching out, the future can still look promising – This writer is certainly invested in and vouching for the bright future of The Indigo Society and any band as hardworking, honest, and true to their passions as they are!
While Brody also mentions the band is in a sort of hiatus state, they do have an upcoming show December 2nd at Be Here Now in Muncie, Indiana, with more details to be announced! This may be your one chance to catch the band live for quite some time, so if you find yourself in Muncie around then, be sure to drop by! In the meantime, and for the rest of us, you are best to join The Indigo Society by way of following their Facebook and Instagram, as well as purchasing and spinning their music via Bandcamp and any streaming services of your choosing! Brady and company are always happy to have ya: 'We welcome anyone and everyone to come enjoy our music and we thank all of the people that have supported us this far.'
Support the art, always and forever!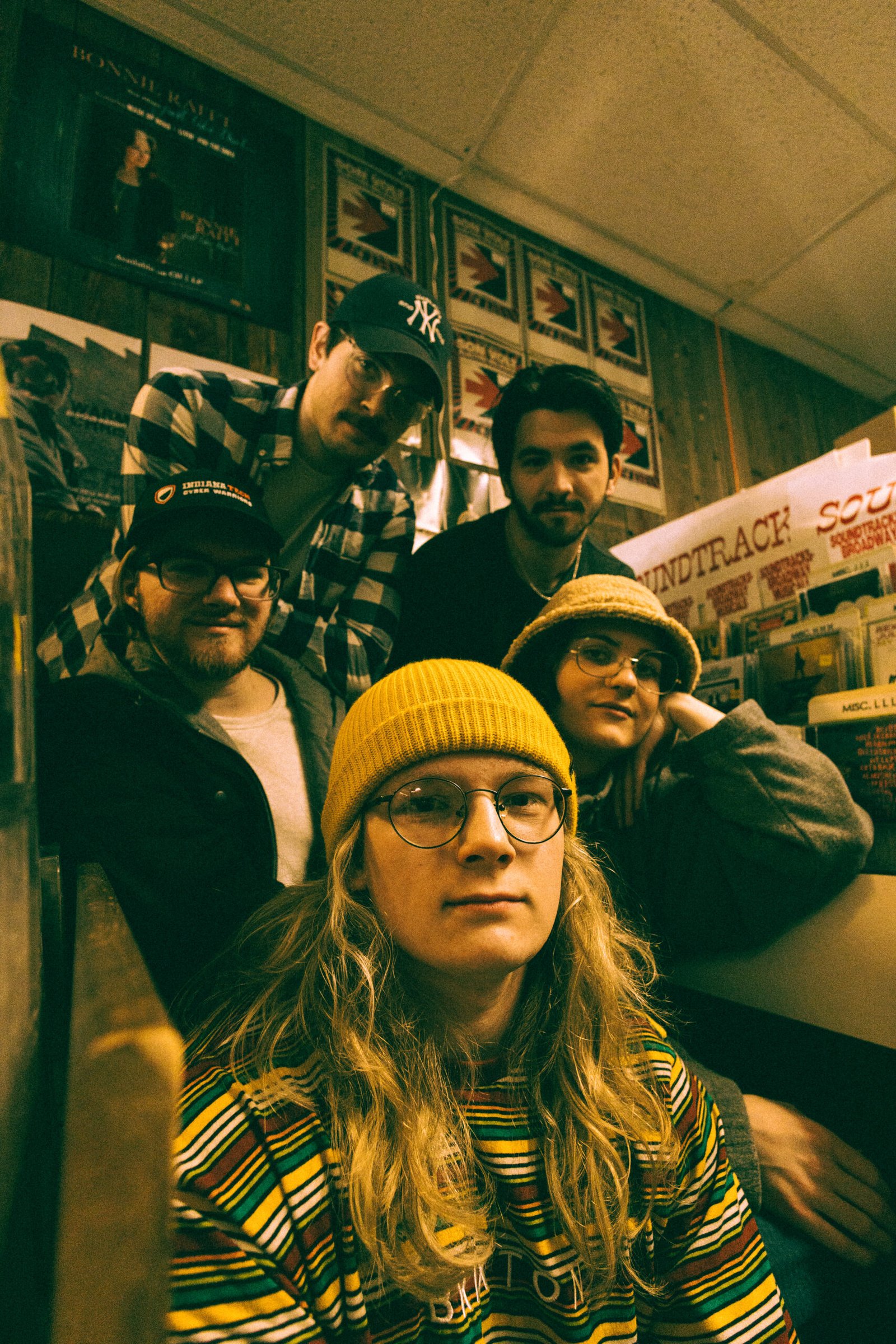 The Indigo Society is…
Brody Evans – Vocals and guitar
Bryce Murphy – Keyboard
Eden Coplin – Bass
Mattei Richardson – Drums
Nate Owen – Guitar