This weekend sees the end of a UK hardcore institution with the final, sold out, Static Shock Weekend in London. Each year has been a feast of what the UK's underground punk and hardcore scene has had to offer with a smattering of exclusive worldwide imports as well. While I can't make it down for the festival, I wanted to use this week's Weekly Featured Artist to put a spotlight on the festival before it drifts into the sunset by focussing on one of its best bands. Recent years though have seen the beginnings and the rise of one of the most vital bands to have graced the many stages of the festival, which they will have done four years in a row by the end of this weekend, this band is The Annihilated.
Formed in London in 2019, The Annihilated have enamoured punks and hardcore kids alike across the country with their breakneck style of hardcore. Taking cues from the raw sounds of some of hardcore's most underrated early bands with a fresh vibrance afforded by a line-up mixing youth with scene myth all at once. To this point they have firmly dwelled in the unlit back streets of the United Kingdom, popping up at shows and festivals in random corners wherever they could while self-releasing their unbelievable debut album Submission to Annihilation last year. To give a dimly lit spotlight to the band I've been talking to vocalist Bobby Cole about the band's beginnings, style, and thoughts about the current state of the scene.
On their humble beginnings and early influences, Cole told me:
'The band started around Summer 2019. It started with drummer Nicky and guitarist Jon jamming some bits together. Then Nicky found me – a 17-year-old enthusiastic about the underground Hardcore Punk scene in London that I had recently stumbled upon – and drafted me in on vocals. Then shortly after that, Ryan moved to London from Toronto and we drafted him in to play bass. After some practicing we play the first gig October 2019 and released a demo tape in January 2020.

'There weren't really any explicit goals in our formation from what I remember, we just to take the great Hardcore classics that we loved (Crucifix, YDI, early Agnostic Front, The Fix, Headcleaners etc) and mould those influences into our own sound.'
While they formed out of ever vibrant London scene, The Annihilated describe themselves as a band from nowhere as they're not the group of white, British men you often get in punk and hardcore bands. Not only are they more varied in terms of backgrounds, but the members bring experience from legendary bands and while in band have expanded to more key bands in the scene. Drummer Nicky Rat (who also designed their album artwork) is somewhat a veteran having earned his stripes in the mythical New Wave of British Hardcore band Arms Race, in addition to currently being in London punk band Subdued and the cross-Atlantic platoon Nosferatu. Bassist Ryan Tong similarly brings an energetic track record from his previous time in the grindy S.H.I.T..
On how their diverse background influence the band's sound and work as a group, Cole explains:
'It's not something I've thought about very hard over the years but I feel like our multicultural backgrounds does help inform our particularly abrasive form of expression – especially with both me and Ryan being people from racial minority backgrounds. We may come from different parts of the world (Jon and Ryan from Canada, Nicky from Belgium, myself from the United Kingdom) but ultimately the thing that unites us is our fanatical interest in Hardcore and Punk music, and the anger that we have for the modern world is expressed loudly and clearly in the music we make together.'
Whatever it is that unites the band and brought them together, it's undeniable they have brought a much-needed urgency to the table in the live setting with ferocious live sets at Static Shock Weekend and other hardcore festivals and at venues up and down the country. What is equally as impressive though, is that they more than captured their energy and style with a memorable debut album. Released last year, Submission to Annihilation is a document of a band who quickly reached the top of their game, choosing to self-release it after a long and arduous making process. Cole expanding on this, saying:
'The making of the album took quite a long time due to several different factors, COVID included obviously. Almost the whole thing was written while the world was still in lockdown, and on possibly more than one occasion we tried recording it separately during the pandemic (Nicky recording drums in London and later Jon recording guitars back in Canada) but that fell through. Ultimately, we finally recorded the LP all together the very same week non-socially distanced gigs were allowed in this country again. After that it took quite a while to get it released but we finally got it out there at the tail end of 2022. The idea for self-releasing it came I believe after we recorded it – we had gotten a lot of people ask to put it out and we decided instead to do it ourselves but speak to those same people about helping distribute it. I'm a bit out of the loop beyond that as, by the time the album came out, I had moved away from London so Nicky, Jon and Ryan handled most of the legwork. And it is very important to state that, even though the record was self-released, we received A LOT of help from our good friend and our biggest fan Paco of La Vida Es Un Mus. Without his help it might not have even came out at all.'
Listening deeper than the pummeling rhythms and razor-sharp guitars, Cole's voice rips and punches across the 19 minutes. He uses his limited time and platform to call out the world we live, both at home in the UK and across the planet. We hear about the invasive 'democracy' of the countries like the UK and the US using their military power to liberate and back governments in foreign lands as well as police on home soil abusing their own power.
The theme that most strikes me is that which takes on the oppressive and continually invasive capitalist system we live in. While we face a cost of living crisis, forced by the demand for profit by big businesses such as energy companies, we see more and more interference in hardcore by brands and money. Whether it be the expansion of Outbreak Fest to include major artists like Denzel Curry while being sponsored by Fritz Kola or bands like Scowl and Militarie Gun following in Turnstile's footsteps with Taco Bell ads, it's more and more common. The Annihilated are the antithesis of this, Cole himself runs a DIY label and puts on regular shows in independent venues and DIY spots across his adopted hometown of Leeds. Some of these featured an interesting banner which reads 'Death to Capitalist Hardcore'. On this, Cole unequivocally states:
''Death to Capitalist Hardcore' is my thing. Kind of. I stole it off of an old EP by Sore Throat. But in terms of what the phrase represents, to me it represents what real Hardcore is all about – a do it yourself ethic. It means a network of friends operating outside of the industry standard. Over the past few years, I feel like we've been losing that a bit. More and more bands are signing to bigger labels, getting management, booking their gigs through booking agents – it's all bullshit. Complete bullshit. Hardcore Punk music has been going strong in the underground for roughly 45 years now with little to no interest from the higher ups. We didn't need them back in the beginning, why do we need them now? We do not. I feel like it's almost like a betrayal in some ways… a betrayal of the anti-corporate ideals and mindset that Punk has basically always had. People can do what they want and operate in any way they want to – I'll do what I want and I'll call whatever I view as needless bullshit exactly that. And if that offends whoever, they can just go back to playing Outbreak or whatever bullshit festival and blissfully disregard all the DIY ethics that paved the way for all of us to be here in the first place.

'On another note, that homemade 'Death to Capitalist Hardcore' banner got lost at Damaged Goods (the Leeds DIY venue) a few months ago and I'm still pretty bummed about it.'
One festival which has adopted and followed a similar ethos throughout its time is the aforementioned Static Shock Weekend. Run by the independent punk label Static Shock Records, home of former Weekly Featured Artist and UKHC legends The Flex (who also play this year's festival), it has been putting on rising bands across great, independent venues since it began. Previous years have seen international artists such as the New York punk legends Warthog, Queercore stalwarts Limp Wrist, noise hero Pharmakon and the Japanese d-beat finest 21st century export Kriegshog. This year sees a mostly UK affair with a headline set by Oi! band The Chisel with Pest Control, Stingray and Churchgoers among the local highlights. Touring bands include Spirito Di Lupo (whose phenomenal debut album I reviewed in July), Delco MF's (who play an exclusive Northern show in Leeds ahead of the festival put on by none other than Bobby Cole) and Poison Ruin after their European tour around Roadburn in April. About the festival's past success and final edition, Cole continues:
 'We actually first played it in 2020 – a band called The Annihilated were supposed to play it in 2019 as a one-off but it fell through (Nicky was the only member of our band involved in that and he decided to reuse the name for this instead). We've played Static Shock Weekend three editions in a row, which I believe is a pretty rare thing, and it's a real honour to be playing the final one. It really is the most wonderful time of the year and I feel like there's gonna be a massive void in the UK Punk scene once it's gone, which is a real shame. But it's been a fantastic run and Ellis, Ola and the entire Static Shock Weekend team have earned the right to bow out in the sunset after 11 years of delivering hit after hit. But Ola (and our own Nicky) is also still doing Damage Is Done Fest which is always a blast."

'The Annihilated is 'headlining' the Thursday show at our spiritual home at New River Studios – my new band Pleasure will be opening it and I will also be playing two other sets over the weekend so it'll be busy busy busy!'
The Annihilated are a band to watch then, they continue not to inhabit a singular place, but their singular sound is one of urgency rivalling any other current band and bringing new life to the legendary bands they look up to. They've taken their influences and their own experiences to concoct a truly noxious form of hardcore. The scene is as strong in the UK as it's ever been, with or without outside interference and even without festivals like Static Shock Weekend, West Yorkshire has Donor Records Weekend coming up in October while the 3rd edition of Damage is Done is coming in March having already announced its first wave of bands. The Annihilated are at the forefront of the true underground of the UK hardcore scene. It remains hardcore for hardcore, no frills, no games, just unadulterated power and punk.
On that note, Cole has just one thing to add: 'Check out our other bands! Myself: Churchgoers, Pleasure, Accusation, Motive. Nicky: Subdued, Nosferatu. Ryan: S.H.I.T., Second Death'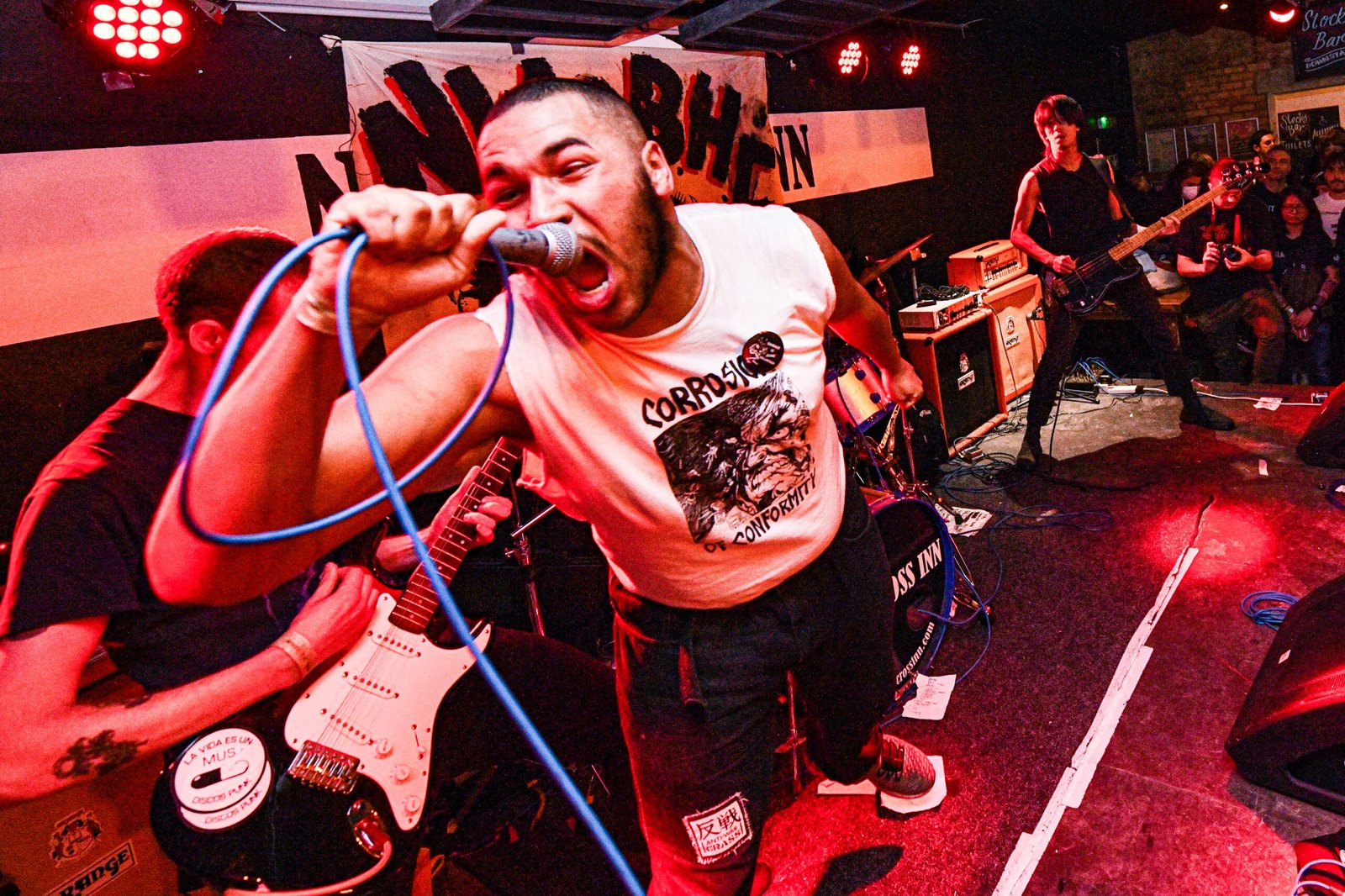 The Annihilated are:
Bobby Cole – Vocals
Jon Whittle – Guitar
Ryan Tong – Bass
Nicky Rat – Drums
You can find The Annihilated on Bandcamp here.
Header photo taken and kindly provided by Meline Gharibyan