A Sense of Rest is the soundtrack of someone failing, despite their efforts, to find any semblance of peace whatsoever.
Release date: December 12, 2018 | Corpse Flower Records | Bandcamp | Spotify | Facebook | Website
---
Seattle, Washington has been the home to some of the best music ever made in our human history. Due to this reputation it often feels like good art has to happen in the state of Washington and of course; it often does. This time, the good art is coming from self-described noise makers and bone breakers, Great Falls. The band is comprised of Demian Johnston on vocals and guitar, Shane Mehling on bass, and Phil Petrocelli behind the drum kit. It is worth noting that Petrocelli also plays in the touring line up of iconic post-metal band Jesu as well as the live band of the baddest woman in all of noise rock, Jarboe. All things considered, the record sets one's expectations pretty high before it's even been heard, and whilst it suffers certain shortcomings, overall serves as a welcome addition to the band's already tensile and challenging discography.

Boasting its varied color palette and broad emotional spectrum in the longer cuts on the album, whilst retaining its brazen and box cutter style brevity throughout the shorter tracks, this record feels like the most human of documentation. Never relenting for a moment in its mission to stain the listener and their deeper neurosis. With self aware lyrics tackling the futility of choosing existing over living, the album imposes its title almost as a sick joke, or the latter part of an otherwise incomplete sentence. A Sense of Rest is the soundtrack of someone failing, despite their efforts, to find any semblance of peace whatsoever.
Often I find that the best albums coincide with the artwork chosen to represent them. In order for an album to be truly memorable to those that heard it, it must also create imagery in the mind in the way that a good book is capable of doing. Suffice it to say, Great Falls do a superb job of planting images into your head like hypnotists by making use of their limited ensemble. A beautiful illustration courtesy of artist Farel Dalrymple is the face of this LP. An image that sees a young child trying to take the hand of a deflated and defeated adult in a reversal of the roles of protector and protected. The two appear to be running away from or worse yet, towards a monolithic city shrouded in smoke and debris.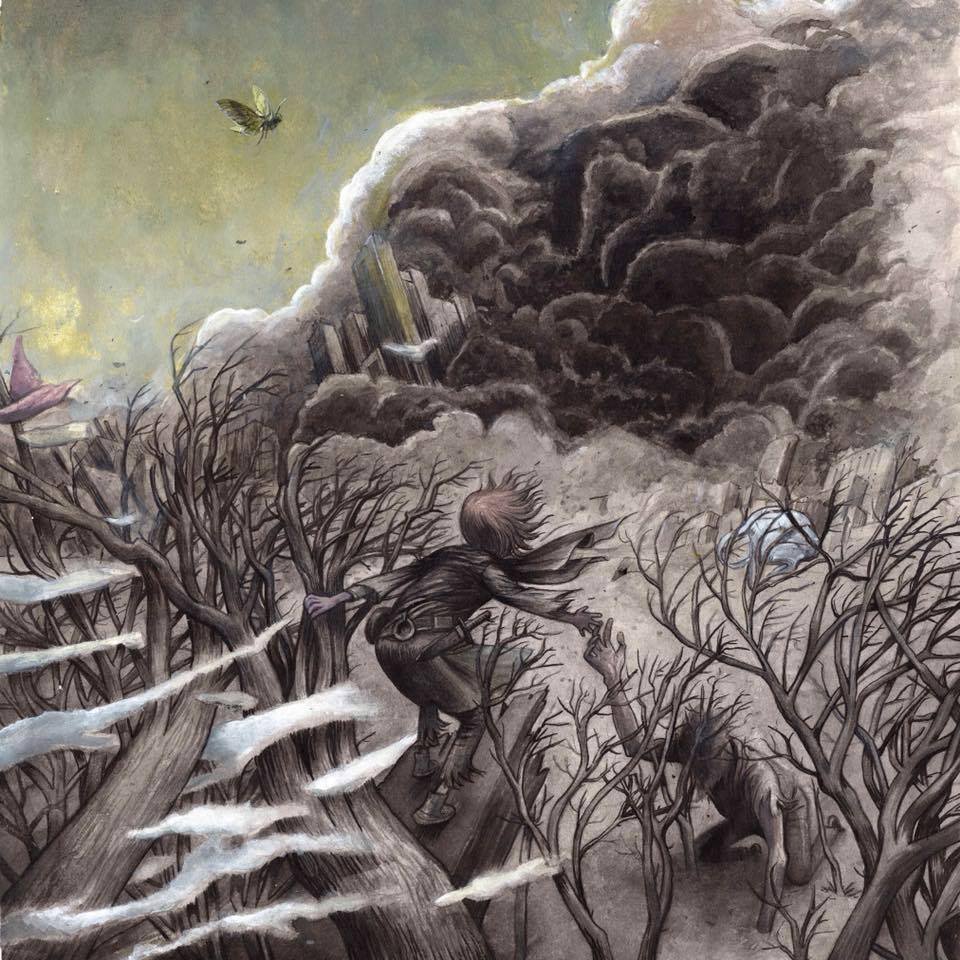 When the band decides to indulge their interests in shoe gazing and atmosphere, we the listeners are consumed and doused in gasoline only to be ignited by whatever frenetic and unnerving matchstick of a riff shortly follows. Cuts like "Kettle Logic"  enter through a cloud of feedback and then begins the disjointed-sounding guitar work the band is known for, paired with rhapsodic, unpredictable drumming from Petrocelli. Songs such as these serve as the sonic equivalent of a claustrophobic stuck on an underground train during rush hour as they see a crack of light through the narrowly opening doors, their legs thinking before their mind, carelessly scuttling through the horde.
My only criticism of this record is that I believe whilst implicit melody appears occasionally in the vocals, it is always left up to the ensemble to convey the more serene and delicate side of the band's personality. The dichotomy of harsh, screamed vocals over guitar arpeggios is one that does become stale after too long. I think by the time the band reaches album number five, if they aren't finding a way to include some kind of hook melody into their songs, their status as an underground band may remain that way permanently.
Good artists should never write according to what they believe the listener may want, but it is evident throughout this LP that vocalist Johnston has an ear for catchy melody and it's starting to make its presence known. Perhaps it is time the band embraced it. To the ears of many, this album will sound like it only captures one fraction of the human emotional spectrum, that of course being anger. To the ears of those who choose to hear the album's more subtle cries for help, this records sings of a fragility so human, and so bound to snap at any given moment.

This album has plenty of replay value and sits comfortably within the band's discography. Perhaps it is no more challenging than their previous work, but it does edge us closer to what feels like the alignment of disparate stars. Album number five could quite possibly be the record that pushes this band to the same status as some of the groups affiliated with Great Falls. A compelling listen, expertly produced and executed.