Today's the first Monday of this decade, and while many are probably still enjoying music from the 2010's at the moment, there's already some new material coming out as well! We're happy to premiere the brand new track from Aronious from Wisconsin. The band recently signed with The Artisan Era, and are going to release their debut album Perspicacity in March.
"Inconclusive"
The 13-song album will also be Aronious's first concept album, as the band comments. This song, which will act as the album's closing track, starts with heavy and fast guitar riffs, while the instruments interplay in a 7/8 time signature, creating a truly techy atmosphere. There's also a lot of melody going on in the very first minutes of "Inconclusive"; here, the song calms down a bit, showing that Aronious' music also works at a slower pace. This break section seems way more powerful and epic than what preceeded it. Considering "Inconclusive" as the album's last track, it makes a lot of sense that it turns really huge before having an oriental-sounding guitar melody sum it all up. We even hear a violin taking over the lead melody!
Overall, "Inconclusive" is a wild mixture of progressive death metal and tech death. But in comparison to "Delusions Of Superiority", the first single off the upcoming album, Aronious also show their ability to slow down. The band already exists since 2011, and already released an EP called Truth In Perception, which was released in 2014. Some songs on Perspicacity were already written before this EP, as the band comments:
'Perspicacity is our debut concept album that has been in the works for quite a long time. We are happy to announce the long-awaited album for release in early 2020. We tracked all the instruments with our guitarist Nick Weyers at his studio and produced the album ourselves prior to sending it to Mark Lewis for mixing and mastering.'
See the full tracklist of Perspicacity below: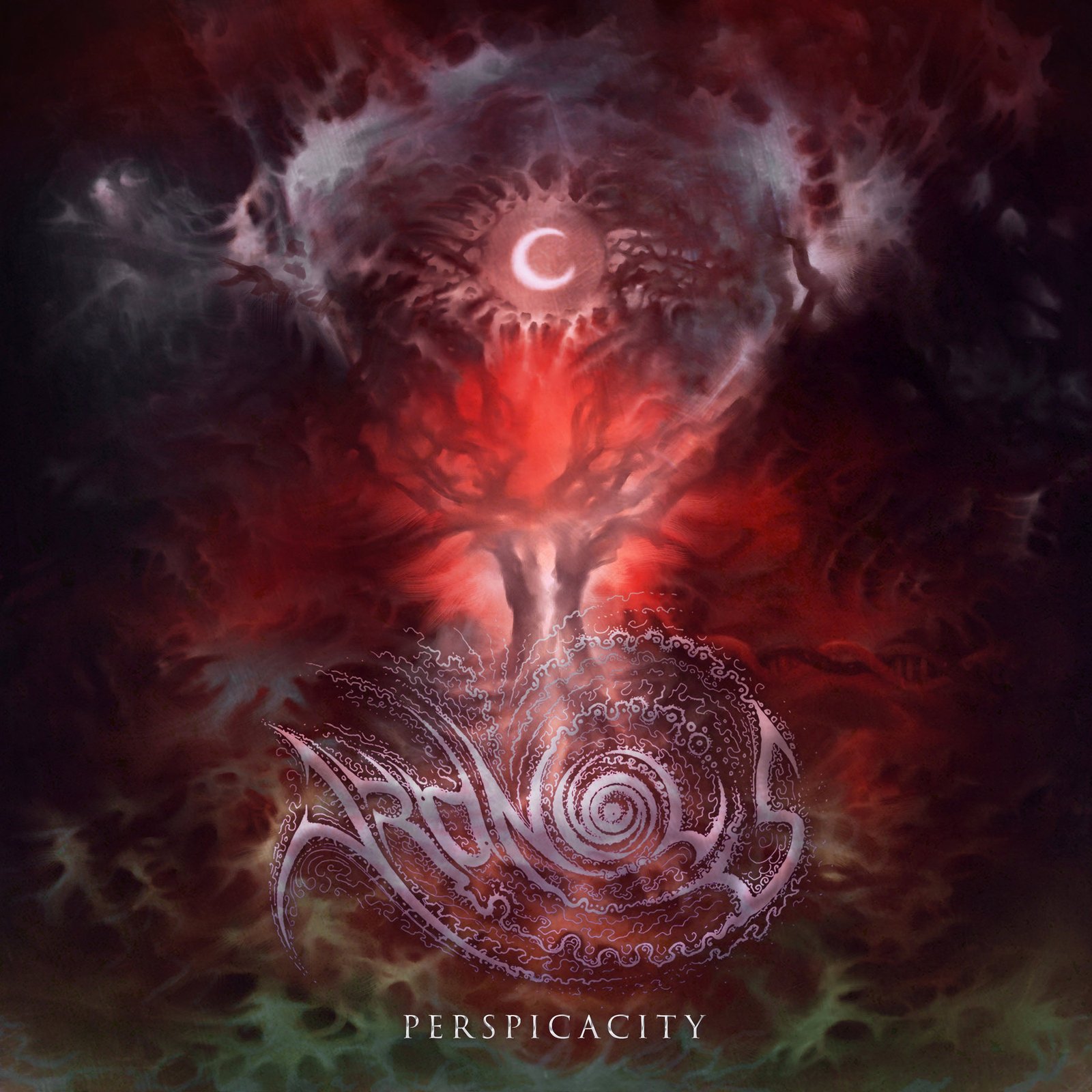 1. Perspicacity Part 1
2. Perspicacity Part 2
3. Somatic Evolvement
4. The Passage of Knowledge
5. An Assembled Reality
6. Modernity Part 1 (Instrumental)
7. Modernity Part 2 (Instrumental)
8. Eternal Subjugation
9. Self Induced Affliction
10. The Digital Age
11. Delusions of Superiority
12. A Grim Fate
13. Inconclusive
The artwork was done by Sam Nelson, known for his work with Virvum, First Fragment, Vale Of Pnath and more.
Furthermore, the band had the following to say:
'The recording process was a long and tedious one. Meticulously analyzing each section to be sure we brought something we felt to be very special to all who have waited and to all who will discover us with this new release. We are excited to bring you our most ambitious musical effort yet.'
"Inconclusive" is a wild mixture of progressive death metal stylings, while also delivering some straight-up tech-death tunes. It already shows the direction Aronious will take with Perspicacity. The album will be released on March 13 via The Artisan Era; you can pre-order it here! Also, make sure to follow Aronious on their socials (Facebook | YouTube | Bandcamp).