In the midst of spring, with thousands of eager music aficionados descending on the southerly province of North Brabant in the Netherlands, the commencement of one of underground music's biggest music festivals has begun. Roadburn Festival has long resided within the historical industrial city of Tilburg in the Netherlands since 1999, initially promoting music of the  stoner rock and doom metal variety. Originating from a worldwide music zine of the same name by Jurgen Van den Brand and Walter Hoeijmakers, co-founder Hoeijmakers – along with managing director Frens Frijns and Becky Laverty, responsible for PR and the diversly curated side programme (more on that later) – have sought carefully and diligently over the years to expand Roadburn's musical and communal identity. It has seen this once small-scale music event expand its musical and cultural parameters to include a broader spectrum of experimental music, including subgenres like sludge metal, drone doom, noise rock, hardcore, darkwave, post-rock, and power electronics (all genres of which we heavily engage with here at Everything is Noise).
Not only has this community-reliant event become a vital platform that has hosted numerous prominent underground artists recognised within various underground music scenes, but Roadburn dives deeper into the niche aspects of creativity, community, and curation to offer a truly authentic and exclusive experience of heavy music. This entails many facets of musical performance, discussion, and communal activity that bring both an international and local community together. Notably, Roadburn recognises the need for music native to the region in which it's hosted with Artist in Residence shows, that allow emerging artists to exhibit their craft to a contemporary audience with the aim of bringing new musical and artistic ideas forward; commissioned projects, a component of Roadburn since 2018 that sees the organisers hand-pick several projects buried deep within the global underground to produce distinct performances exclusive to the festival; the festival side programme, hosted alongside musical talents to shine a light on some of underground music's contemporary debates and reflections on an ever-growing music scene. There are also many collaborative endeavours with a range of labels, venues, theatre projects, and art galleries that exist in both a global and local capacity.
Underground music certainly appears to be experiencing a sustenance of communal growth, musical input, and cultural recognition over recent years and Roadburn is proof of how the platform for this type of music is expanding. What follows therefore is an account of the 2023 event from the perspective of an attendee reviewing much of the festival's key moments and highlights over an eventful five-day period.
Photo Credit: Paul Verhagen
Wednesday (The Spark):
As a pre-warm up for the many travelling Roadburnees, pre-festival activities commenced on the Wednesday with a handful of musical acts kicking things off in Tilburg's 013 venue, the largest music venue in the southern region of the Netherlands. 'The Spark', as this day of the festival is habitually referred to, feels like a ritualistic experience in which us fans are able to get a glimpse into the cathartic energy of what feels like an opening ceremony for extreme, unconventional, and peripheral musical performances. Toni Cutrone, aka Mai Mai Mai, got things going and made it clear that this is a festival that dosen't hold back, with a barrage of noise-induced, power electronic-inspired sonic aura surrounding the performance, pulled out through some dark-folk and neoclassical melodies to elevate the brooding atmosphere. In a shift of momentum, next up came Leeds, West Yorkshire's psyche-noise punk gremlins The Shits, a new addition to the Rocket Recordings catalogue, whose persistent onslaught of dissonance made for a chaotically ferocious show. Closing out The Spark, keeping the somewhat hardcore mode in check, was post-hardcore/darkwave lo-fiers Poison Ruïn unleashing a hard-hitting ambush of punk rock energy.
Thursday:
This is where things truly go into full swing: Thursday is the first official day of Roadburn, and the crowd is always hungry for the first act of the day. Opening for the Terminal stage, Swiss experimental blackened droners Yrre preyed upon a packed-out crowd with sinister atmospheres and vicious, horror-stylised mounds of noise and tension. The festival's first commissioned project, John Cxnner, was a bestial sci-fi experience that featured a flurry of guest performances to showcase a cinematic degree of enormity with a heavy, electronic textural visionary stage show that paid unique homage to the Terminator franchise. This was one performance that certainly felt like a highlight early on for the day and was by far one that many who experienced it will remember. Amongst some of the smaller but equally as packed stages, you could also lend an ear to some exploratory acts such as hardcore instigators Norna, who appeared at the Engine Room stage, or maybe on that neofolk side with bands like OvO, Grift, and Osi and The Jupiter, whose performances were noted for their Pagan-esque, ritualic cosmetic journey. Speaking of folk-inspired performances, Alison Cotton was on hand to deliver a haunting set full of chilling experimental folk atmospheres.
On the heavier side of things, there was no shortage of sludge, drone, and black metal on this day either. An extreme immersion of blackened sludge was vented through the collaborative efforts of the musicians behind Predatory Void, who unleashed a gutsy performance of their recent album Seven Keys to the Discomfort of Being that maintained an uplifting rift of abrasion and density. Crouch alternately came to grace the neighbouring stage, unleashing bellowing ferocity of penetrating heaviness. But undoubtably one of the weightiest and astoundingly heavy sets of this day had to be awarded to Body Void. A fathomless wall of feedback and crushingly brutalising riffs enmeshed the audience in a vacuum of abysmal volatility. On the psychedelic side of things, numerous bands such as The Hanged Man and Bo Ningen contributed to conceiving a mind-bendingly hallucinatory experience, capturing that translucent unconscious spectacle in the minds of listeners, whilst atmospheric voyagers Esben and The Witch and France focussed on offering their listeners vast layers of sonic articulation that explored various folk-drone hypnosis and shoegazing susceptibilities. However, I think the band that stood out for the day in this capacity was Finnish psyche outfit Enphin, whose walls of spacey, synth-drenched sounds felt like a bizarre trip into the vast ocean of the cosmic abyss, an auditory exploration of the mind and body.
Nearing the end of the night there was much evidence that things weren't quite ready to slow down. You had an electric performance by Julie Christmas, a highly anticipated set that did not by any means disappoint. Joined by Cult of Luna guitar and vocalist Johannes Persson, Julie made for an exciting and emotional performance that felt truly heartfelt and raw all at once. If you happened to be over at the Hall of Fame stage, though, the festival's first Artist in Residence set was taken on by Sangre de Muérdago performing a metamorphosing Nordic-themed folk showcase of their latest album O vento que lambe as miñas feridas. At the 013 stage, commencing one of two very special performances was Deafheaven, who began with playing their treasured 2013 album Sunbather in its entirety to a very appreciative crowd gathering the reverb-soaked textures, emotive blackened atmospheres, and impassioned melodic hooks that we've all come to admire from first listening to these songs. If you weren't ready to call it a night after experiencing such a tight and well-executed performance, fans had their choice from a few late-night sets. Following on from Deafheaven on the main stage, The Soft Moon was present to deliver a colourfully dark exhibition of immersive post-punk, industrial, and darkwave sounds from his latest release Exister. But for other, myself included, a night of raw, ferocious black metal was in store on the Hall of Fame stage with blackened visionaries Spirit Possession and Antichrist Siege Machine, both demonstrating aggressively bleak and stripped-back forms of black metal that left many queuing for extended intervals just to get a glimpse of these raw performances first hand.
Friday:
Friday is the day when things are really off in motion at Roadburn, and everyone is comfortably settled into the organised chaos of surrounding heaviness and experimentation. If things weren't avant-garde enough already, first to open at the Terminal stage were Italy's malicious death sludge technicians Ad Nauseum. They introduced a foreground of heaviness and their rendition of bleakness by performing their 2021 sophomore album Imperative Imperceptible Impulse with much harsh retention. Continuing form with this combination of bleak yet avant-garde musicality, Roadburn turned their attention to the Swedish underground for their next commissioned project. Derived by self-proclaimed 'home of the weird' label Hummus Records were heavy collectives Trounce, whose original compositional piece The Seven Crowns and Arias of the Empty Room was such an intense experience that if one were to experience it on some sort of hallucinatory drug these musicians had the power to put your mind in a sonic-induced coma. Now comes one of the toughest clashes of the entire weekend with two excellent bands that put on two very different, yet very impressive shows. First, dark folk-tinged jarring black metal anarchists Ashenspire delivered a high-octane set filled with dissonant riffs and avenues of exploration from transcended sax solos and spoken word passages. Over on the main stage, though, funeral doom veteran two-piece Bell Witch's debut of their latest release Future's Shadow Part 1: The Clandestine Gate was something of a cinematic masterpiece to behold. The way in which both of these bands were able to conjure such forms of artistic imagery solely through music output alone was some privilege for the Roadburn crowd.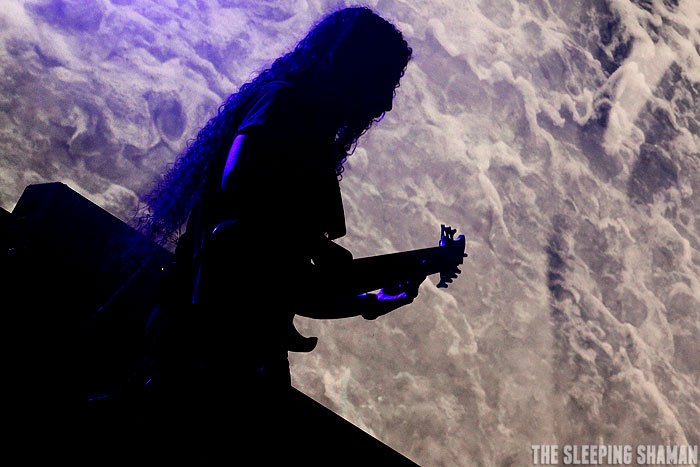 Photo Credit: The Sleeping Shaman
In the build-up to an anticipated late afternoon of heaviness, many could be lucky to enjoy emerging and established talents throughout the day, be it the multi-instrumental handlings of Marlene Ribeiro and Storefront Church; the atmospheric dissonance of Maud the Moth and Spiritual Poison; or the platonic blend of sounds from either electronic nomads Teeth of the Sea or jazz rockers Nordmann. This all seemed to flow effectively into Wolves in the Throne Room's performance of Shadow Moon Kingdom, that promised to give listeners a formidable projection of atmospheric black metal with excellent precision and animosity. This set was special in its ability to resonate cathartically with an audience who were getting more than they bargained for with the selection of songs that were utilised in the set. Next on the main stage was something a bit different: making their debut at the festival was Belgian post-hardcore trio Brutus. Their set consisted of stunning immeasurable musicianship and communication between each of its members and to the audience in powerful stratospheric enormity. If that wasn't enough for some, over on the second stage was the Arabic-inspired experimental project Jerusalem in my Heart that maintained tension in its Eastern-tinted atmospheres, dark visuals, and mindless noise-heralding electronics.
Now, to wash down that taste of extremity and experimentation we come to the closing period of the day, but that didn't signal a drop in pace for many. Hardcore punk always has its place at Roadburn, and Friday evening was no exception with anarcho-punks Bad Breeding and Portrayal of Guilt producing catastrophic energy with their respective sets. If you were one of the lucky few to notice, Roadburn began their series of secret shows this year with an intimate early performance of Chat Pile at the Hall of Fame stage, which served up a treat (but more on them later). Speaking of secret sets, anyone who was waiting for Giles Corey's debut set on Saturday was potentially in for a surprise when Dan Barrett and Tim Macuga graced the 013's 'Next Stage' to deliver an emotive setlist as Have a Nice Life – a soulful and poignant performance was in store for anyone lucky enough to be there and chant 'arrowheads' at the top of their lungs. Returning for a second day was another much-awaited performance of Infinite Granite by Deafheaven. Although this may have been an excellent set in its own right, it felt more lacklustre in comparison to the band's earlier show, but maybe it's a matter of musical opinion as there certainly was a crowd open to Deafheaven's newer and more mature material. Regardless, the visuals and sound were crisp enough to allow for a respectable set. On the other side of the festival site, however, was the Artist in Residence set enacted in collaboration by Under The Surface and White Boy Scream in a rather confined musical setting that regained a tribalistic musical and communal otherworldly experience.
Whilst a gargantuan thunderstorm might have hindered the outdoor festivities, this didn't prevent Roadburners from flooding into the Terminal stage for what was arguably the finest show of the day, if not the weekend. when Zambian-Canadian rapper Backxwash made her mark with such an impressive performance that utilised some of the artist's most creative and effectively devised musical assets. This was only the beginning of two uniquely curated sets exclusive to a Roadburn audience, commencing with MA NYIMBO YA GEHANA, the heavier and more provocative of the two. This set the artist in motion, allowing her to showcase her immensely destructive vocal range, lyrical majesty, and awesome divergencies into industrial, metal, hardcore, and electronic territories. Closing the bands for the night, crowds seemed to have dissembled to ensure they got a diverse listing of repertoires, from the southern bluesy rock-and-roll theatrics of Dewolff, who elevated optimism in the 013 arena with homages to 1960's psychedelia and sonic Deep Purple worshipping; post-rock goodness fuelled by the creative minds of atmospheric enforcers Elizabeth Colour Wheel; or just downright electronic trudgers Holy Scum on helm to short-circuit your brain into a convoluted mess of sludge and noise.
Saturday:
The penultimate day of Roadburn was a call to arms for travelling fans in which the momentum was amplified. Opening on the Engine Room stage were mathy hardcore Brits Pupil Slicer, who relayed the dissonance utilising chaotic breaks and disarraying tempos to their advantage to get the early crowd going. Keeping the theme of chaos in motion, Canadian noisecore collective Ken Mode made a malicious impression on the crowd; their sonic template of sludgy ambiences and inharmonious volatility made these experts of their game worth a watch. Other early standouts included a third instalment of Sangre de Muérdago, in which they finalised their residency with some folk-inspired medieval meditation; fellow residents Under the Surface returned with an ancestral exhibition of warm textures played through traditional instrumentation; and uncompromised brutality of blackened death riffage from Deathless Void. Into the late afternoon now, another excellent display of variety could be deduced from the 013's first commissioned project of the day, with a collaborative set from Nairobi afro-grind electrolytes Duma and experimental noise trio Deafkids. This was evidently a well-executed move by the organisers to piece these two acts together, as the creative input and chemistry between these artists was well timed, from electronic portrayals of tribalism to acoustic exhibitions of ritualistic African drum element. This was certainly one of the more diverse performances of the weekend.
A Roadburn favourite up on the main stage next, as Texan noise rock/sludge metal torchbearers Chat Pile made their way through a finely disjoined and engaging show. Not once did the band refer to a setlist or take a step back from the whirlwind of noise and discordance that surrounds their sound; this was just a straight-up apathetic attack of confrontational musicality that hits different when you get to see it up close. For others, a melancholic and transcendental afternoon was on the cards: Sowulo's Viking-esque sonic expedition blending traditional and contemporary folk music springs to mind; Kathryn Joseph's minimalistic piano-based swells of tranquillity also raised many hairs on audience members' skins. On a much grander scale, David Eugene Edwards was welcomed at the 013 with a similarly minimalistic performative approach, but this time instilling a rather more swamp-like form of American roots folk music that touched on elements of Americana and blues rock to accompany the artist's contemporary storytelling narratives with spiritual conveyance to his audience.
Photo Credit: Paul Verhagen
Getting heavier now, and with a shorter but by no means sweet set was Candy, who unveiled an agonistic barrage of hardcore, industrial, and noise so menacing and hate-fuelled you could feel the wall of sound as it came forward and spat in the spectator's face. On before them were High Vis, whose take on heaviness felt somewhat more accessible maybe for casual listeners at Roadburn. Nonetheless, their set seemed pretty unique in comparison to much of the other kinds of things going on around them, with this working-class British punk resistance being a common trope to their performative calibre. Here for the weekend to play two distinctive sets were Cave In, who unleashed their interplanetary brand of metalcore with a special performance of the band's more psychedelic and progressive-leaning tendencies, Interstellar Mixtape, and a haemorrhaging of metallic hardcore added for good measure to ensure a wide catalogue of the band's most loved songs were laid bare. On the other side of the way, Backxwash was back to unleash a more sinister second performance with Nine Hells, in what the artist described as 'a musical equivalent of the vibe conjured up by the movie Suspiria'. It certainly was, and the artist's recital of dark timbres, old-school Sabbathian and folk horror film references, and poetically strained lyricism conveyed a sort of Satanic horror soundtrack to the lost '70s VHS tapes hidden away in obscurity.
Whilst some might have been fortunate to get a taster of what was about to come with Giles Corey, after HANL's secret set the day prior, many were still overly eager to watch the collective's debut set with an ensemble of musicians, making for an emotionally charged showcase of talent. Whilst a lack of repertoire might be a bad thing for many artists in formulating an appropriate and convincing setlist, Barrett and Macuga arranged each song in a curated fashion to ensure a deep connection was felt between artist and audience alike, with the classic self-titled album being the core material for the set. It was also nice to hear a couple of tracks taken from the artist's back catalogue with the song "Wounded Wolf" from the EP Hinterkaifeck and a HANL cover of "The Icon and the Axe". Going more contemporary on the main stage, however, was Boy Harsher. This offered an alternative vibe to some of the artists which I personally had experienced on the Saturday and therefore it felt quite nice to see things being shaken up a bit. With a dark spin on EDM and post-industrial music, the New England duo had a confident stage presence that allowed them to disperse a range of translucent electronic beats that sent audience members to the edge of their seats with wild results. To close things off, what could be better than ending things the way they started that day? Show Me The Body made an impression with their off-tune, agitated form of contemporary American hardcore. The three-piece, consisting of drums, bass, and tenor banjo, successfully got the crowd into full swing. After a long day of Roadburn festivities, spectators must have been exhausted, but didn't show it for this set as there were bodies flying and stage invaders making that clear. Otherwise, closing things off more densely were Iron Jinn, playing into the early hours of the morning with their ethereal brand of rock'n'roll that, when played live at this time, only makes it a sacrificial rite of passage.
Sunday:
The final day of Roadburn proved to be as tremendous as the first, and to make that clear for anyone who didn't get the memo was New York's avant-jazz black metal metropolitans Imperial Triumphant. An excellent and ambitious choice for that main stage opening slot, the unorthodox three piece were on a mission to transport the crowd into the blasphemous realms of multiplicity, performing their 2022 album Spirit of Ecstasy in full. From semi-freeform song cycles to additional backing from the underground's finest musicians, to, at one point, dousing the audience with the premium champagne that top floor luxuries can buy, you could say the weirdness had fully been restored for one last day. Earlier, many also saw the return of Elizabeth Colour Wheel, this time teaming up with Primitive Man exclusive Ethan Lee McCarthy for the final commissioned project of the festival. Those who were there to experience it were in for a set fuelled by slow, trudging doom metal that melded into disorienting and ghostly sonic textures – much fiercer and more brutal for the former band than their first set, it must be said, but nevertheless passionate and well-rehearsed. Remaining in black metal territory for the Sunday, Decline of the I and Ossaert constituted the more abrasive side of things, giving the audience a straight-up nosedive into eerie, distorted atmospheres and pummelling riffs. These guys, along with other European black metal warriors who appeared such as native Tilburg atmospheric-leaning Witte Wieven, the cinematically protrayed Iskandr, and Danish misanthropists Afsky, proved why Europe still waves the flag high in the underground world of black metal. Over on the main stage again and many were waiting to see what Montréal Americana-drone masters BIG|BRAVE had in store. Another unique set saw the French-Canadian trio perform their latest album nature morte in what was a beautifully carved performance that blurred the line between austere velocity and elegant timbral dynamism.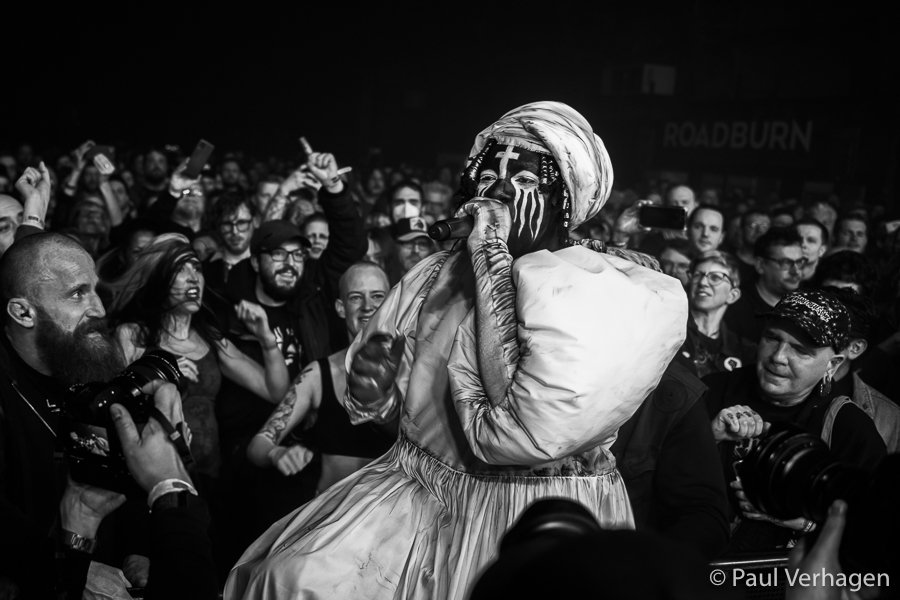 Photo Credit: Paul Verhagen
Whilst pummelling riffs and harsh sonic exploration may have seemed a staple of the Sunday with the majority of bands, other acts present across all stages allowed for some diversity, like acid rockers The Sonic Dawn and the psychedelic melting pot of The Golden Grass – proof that the underground is rich in its musical variability. This could also be said about Circuit Des Yeux's performance that exposed listeners to a mystical blend of minimalistic grace and orchestrally imbued arrangements, leaving many in a state of wonderous confusion and admiration. Likewise, playing her second show of the weekend, Nicole Dollanganger made her presence known with a haunting and intimate vocal delivery that was accompanied by chilling instrumentation and romantically warming atmospherics, the audience could only stay silent in motion as they were brought in by the gentile images that the music connotated. Also returning to Roadburn after a five-year absence was Zola Jesus, in what was a debut performance with an all-new lineup of musicians there to amplify the singer's gothic stage facade. Although, I might note, several people were somewhat critical of a handful of sound issues that persisted in moments of the set, this didn't seem to hinder what felt less like a regular concert and more like an awakening of cerebral spiritualist ritualism metamorphosing the 013 arena into a cathedral-like ruin, permitting sounds to voyage into empty spaces of the room.
Increasing the amplitude with this next band, US folk-trodden black metal quartet Wayfarer delivered an astounding performance of Western-themed, blackened goodness titled A High Plains Eulogy. This expansive, two-part set was perfect for both familiar and newer fans to experience the best of the ensemble's back catalogue with an immersive journey into the vast open landscapes of heavy Westernised black metal. Many more on the experimental side were still to come in addition to what had already been showcased – the solo instigation of drones and guitar feedback from Mat Ball being one of them. As unusual as it was inspiring, Ball demonstrated how sonic layers can be formulated through the most minimalistic of efforts in what can best be described as sacramental amplifier worship. Deafkids also made a second appearance, exposing the audience to a maelstrom of overloaded circuit boards and prevailing distorted noisescapes; it gave one the impression of standing in a dirt-ridden warehouse in the middle of nowhere amidst the confusion of a '90s rave that's gotten itself way too frenzied.
Returning for a consecutive day, Cave In's second performance, Heavy Pendulum, captivated the band's strongest assets once again. Only, this time it seemed to remain more within the confines of progressive territory whilst still retaining their simpler traits in line with doom, metalcore, and psychedelia to give it that extra edge. What followed on the Terminal stage, however, was a brilliant performance by a band many who attended were fortunate to see, as the elusive identities of experimental black metal band Mamaleek are concealed by their ski-masks. This US-Middle Eastern hybrid very rarely perform to many crowds, but when they do, man these guys know how to stun their audience with erratic performative gestures and bizzare instrumental dynamism that shifts from dissonant blackened extremity to Arabic infused jazz fusions; this was one highlight not just of the day but the entire weekend. For some, perhaps Roadburn ends whenever they're ready to pack up and flee the nest, but for many others there is still a lot more to offer and it's down to the talents of the remaining acts to provide. This was certainly the case for industrial/noise, electro-dance extraordinaire Filmmaker, keeping the lines long full of people excited to see what was in store over in a small yet packed out stage, and to listen to the dexterous sonic palette that the Columbian sound artist had to offer. Lastly, to conclude the weekend, the many who remained were graceful enough to watch the final Artist in Residence show from the returning Oiseaux-Tempête. After their first two carefully curated sets, the French avant-gardists closed the festival with a highly explorative sonic experiment, jamming out tracks from two of their latest releases, titled From Somewhere Invisible and WHAT ON EARTH.
So, there you have it: another successful year of underground, experimental, avant-garde, psychedelic, drone, doom, sludge, black, folk, or whatever you want to call the variety of stuff on exhibition at Roadburn 2023. This has not just been an account of my own experiences, but I also tried to give mention to as many bands as I could, many of whom I caught at least one or two songs of. However, I know I will have missed a handful of bands out in this review who no doubt would have deserved praise and recognition. With the next edition of Roadburn scheduled for next April, it's clear that this unique festival is expanding its sonic and cultural boundaries outwards, vastly establishing itself as the biggest and most ambitious platform for an array of niche genres within the world of underground music.