Back for arguably the strongest line-up of its history, ArcTanGent festival is once again upon us, with the three-day festival set to take place this week from the 15th to the 17th of August. The festival is held outside of Bristol in the UK on a farm, with one of the best campsites I've experienced in the UK; it will host five stages, up one from last year, showcasing a rich blend of post/experimental/math rock, doom, sludge, electronic, post-metal, and progressive metal. Sounds good, right? We haven't even gotten to the actual bands yet…
The Setting
This will be Everything Is Noise's third consecutive ArcTanGent, and in our professional opinion, this festival only gets better and better. With solid ties to the best record companies on the continent, and bands who have played the festival and its sister event 2000trees, the festival's bill is a canvas the bookers can paint delightful line-ups upon each and every year. The site too, continues to improve, this year with an extra two fields of camping: one for the early nighters, and the other simply to expand the festival. Food stalls and side-activities have continued to escalate too; last year's exceptional paella stand something I have been yearning for all year. They will even be offering axe-throwing at this year's iteration, something I am excited to try my hand at.
I cannot begin to express my love for the sound and stages at the festival. Seperated perfectly across a half mile or so of farmland, each stage is covered and hosts PA's to die for. I struggle to remember a set where the sound was off on my previous two visits to the festival, and we're expecting much of the same again. The organisers and farm owners have also opened up a shortcut to the other stages, so traffic through the site is now optimised. After the music dies down, there is still plenty to do, with quality bars stocking great real-ale and other beverages, as well as the amazing silent disco, which turns the main stage into a hilarious singalong.
The Tunes
Let's get down to the music. In this guide we'll be covering the big acts of this section, and advising you on the gems you must try to see at ArcTanGent this year in the comprehensive list below. Whilst the festival's site is open from the Wednesday this year, it doesn't truly start until Thursday, with bands kicking off at 12pm – make sure to get down early! The Thursday is a exceptionally well-stocked day: Coheed & Cambria headline the main stage, with Carpenter Brut and Zeal & Ardor billed underneath them. Daughters are the top booking on the Yohkai second stage; Polyphia and Møl are also lending their instruments on the stages Thursday. After the main stage finishes, there are three silent disco sets by Gost, The Algorithm, and John Stanier from Battles – not to be missed!
Friday and Saturday start even earlier, at 11am to be exact. Battles headline Friday's main stage, with Russian Circles, 65daysofstatic and The Ocean providing heavy doses of crushing post-metal or experimental music prior to them. Toska and Frontierer play the smaller stages that day, and the excellent Palm Reader play as well. On the final day of the festival, progressive metal titans Meshuggah take to the stage. Their appearance was announced a year in advance to really hook punters into the festival. The bookers must have been really feeling post-metal this year, as Cult Of Luna will deliver a set to the crowd this year, just before Meshuggah get on stage. Employed To Serve, Car Bomb and Three Trapped Tigers will also play the Sunday, the highlights of an exceptional line-up.
Set times are staggered nicely throughout the day, and whilst there are some clashes which will be devastating to pick from, you'd find it a struggle not to see 20+ high quality bands this weekend. Let's have a look at some of those hidden gems.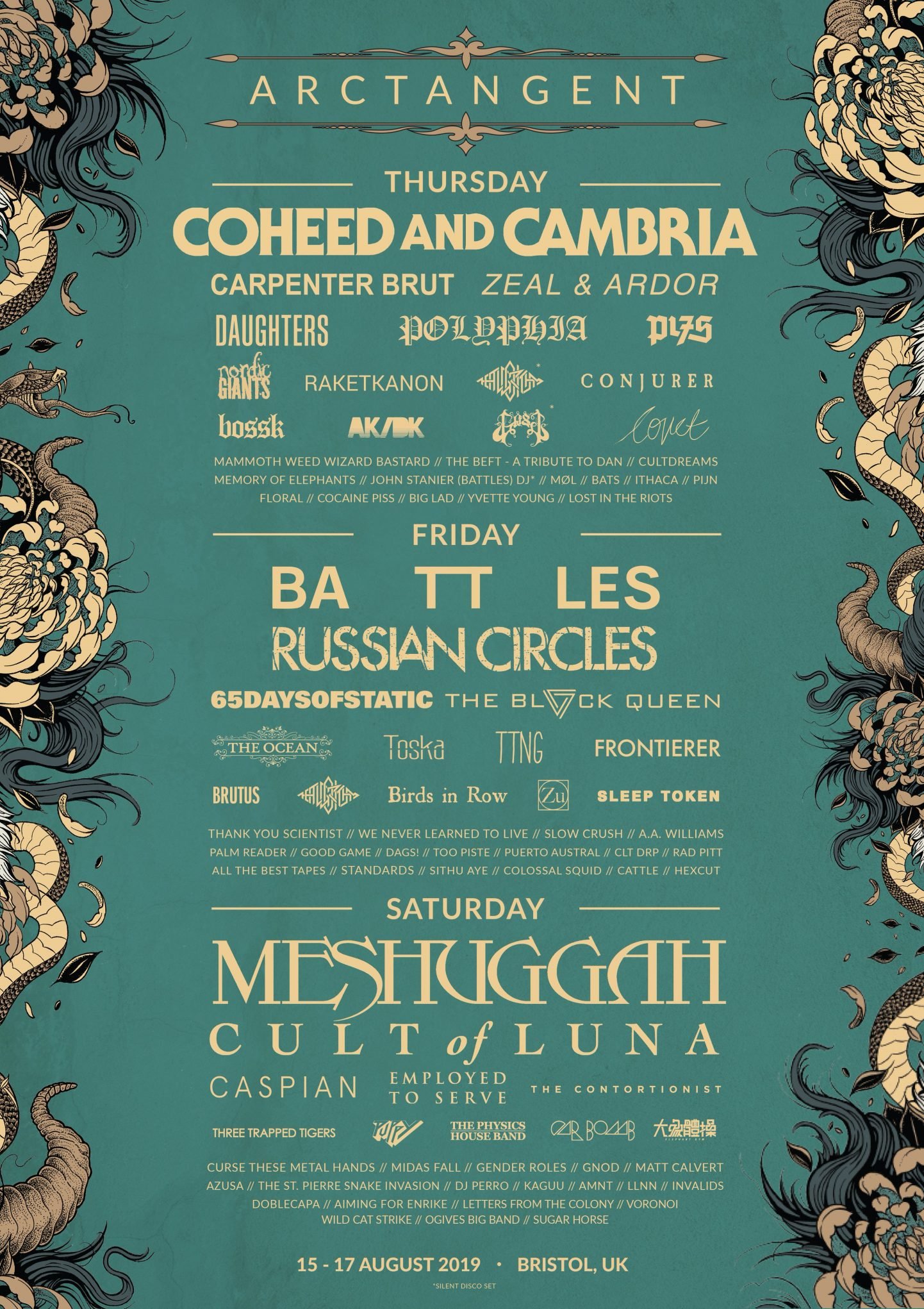 I'm going to drop recommendations for three Holy Roar Records bands in a row here, the first being Ithaca. These guys play technical hardcore, and their early billing will certainly get you warmed up for the coming deluge of bands. They have a great set of vocalists and are definitely a must watch at ArcTanGent.
Conjurer / Pijn / Pijn & Conjurer: Curse These Metal Hands
Conjurer Facebook | Bandcamp // Pijn Facebook | Bandcamp 
Set times: Thursday | 16:05-16:55 // Thursday | 19:35-20:35
Curse These Metal Hands set time: Saturday | 13:55-14:25
With an unbelievably strong tour record over the last two years, alongside critical acclaim for their debut full-length The Mire, Conjurer are a band I'd be surprised to hear you've missed. Nonetheless, I thought it worth highlighting that if you haven't heard yet, these guys absolutely shred with their technical sludge/ doom/black metal blend that is awe-inspiring to behold.
On Saturday, they will join forces with the exceptional Pijn, with the bands sharing members to create another sludge/post-metal band for us to enjoy. They played the festival last year and that was exciting enough, so with a record due out soon, this show promises to be even better!
Of course Pijn by themselves must also be checked out. Their bleak post-metal is mesmerizing, and their latest album Loss an absolute must-listen.
We Never Learned To Live put out one of the best post-hardcore records of the year so far, so turbocharging your wake-up with them early doors on the Friday is certainly recommended. This promising band deliver loads of atmosphere in their music, alongside crushing riffs and emotive lyrics.
LLNN suffer from the worst clash of the weekend for me, facing off against The Physics House Band. However, their utterly destructive sludge/hardcore will be worth your while should you manage to make the choice. Really excited to see them rip up the stage.
So there you have it! Despite the weather forecast not being too great, this is definitely going to be one for the ages. In my 10+ years of going to festivals, I have not experienced a line-up that excited me this much, whilst having such a broad range of genres. We are truly blessed by the gods of rock and metal.
Make sure to pack dry clothes, stashed in plastic bags. Do not buy a £15 single skin tent, it is not worth having to fork out double that for another tent mid-festival because yours is soaked! Bring cash with you into the arena, and make sure to buy beers inside the venue to support the festival (despite the fact you are allowed to bring cans in). There are incredible food trucks (mainly the paella stand), and giant merch tents to sort out your fashion needs.
Further information on the festival can be found below; we hope to see you all there and please let us know who you are excited for!
ArcTanGent website | ArcTanGent key information | ArcTanGent tickets