I had the absolute pleasure of attending ArcTanGent Festival 2023. This was my first ever proper big, outdoors festival, and this little weekend saw myself making, like, three lifelong dreams come true, so this was a big deal for me in every possible way. Instead of just reviewing the shows and the festival, I'd like to go over how this trip ATG 2023 came to be, so please indulge me in my little story for a short while.
Rambling on (why this was a big deal for me)
Ever since I got into heavy music, I always wanted to attend a European festival. I live in Brazil, and while we do get festivals there, most of them don't really capture my personal taste in music. Fests over here usually feature huge headliners and, if we're lucky, some 'middle-of-the-road' bands, while I'm usually more interested in niche acts in prog metal, post-metal, post-rock, extreme metal and more experimental stuff. Shout out to Overload Music Fest though, which I've attended twice and always had brave lineups with the likes of Sólstafir, Les Discrets, God Is An Astronaut and other lesser-known bands in Brazil that don't attract too many viewers, unfortunately.
For the longest time, I would look at fests like Roadburn Festival, Desertfest, Be Prog, My Friend! and just salivate at the thought of seeing so many good artists in a scope of a few days. It always felt like a distant dream, a whole unachievable reality for me and many of my likeminded music friends. So when ArcTanGent announced their first batch of bands for their 2023 edition with acts such as Russian Circles, VOLA, Brutus, Elder, and The Ocean, all personal favorites of mine, I said to myself that I had to go to this one, no matter what. This time, I had the opportunity and the means to do so, and I would no longer just dream of the European festival, I would live it. It also was planned to start literally on my birthday (16/08), so how was this not tailored specifically for me, right?
So then I got my ticket around November 2022 and planned to take my paid work vacation during those days. A couple of days after I got my ticket, I was fired. I was crushed at the thought of missing ArcTanGent, the one festival I had already decided in my mind and my heart I would attend, so I looked for a job that allowed me to work remotely, since I wouldn't have my paid vacation anymore. I got said job, and there you go! I made it to ATG! I had some bumps around the road to get there, but I did it.
About ArcTanGent (what's all this then?)
Alright, so let's talk about the actual festival for a bit. ATG is a totally independent British music festival that has been around for nearly ten years now. Back then, the lineups were mostly focused on math rock and post-rock acts. The kind of thing The Mars Volta fans were looking for their whole life: an entire weekend dedicated to music that didn't get much attention by the bigger summer festivals.
Over time, the festival grew, and so did their roster of bands and genres. Nowadays, ArcTanGent is one of the most diverse lineups you can find in the world of heavy music, with plenty to offer across progressive rock and metal, post-rock, black metal, hardcore, shoegaze, indie, and much more. If a band deviates from the norm even one bit, it could perfectly fit at an ATG bill. Just look at this year's headliners: Converge, Heilung, and Devin Townsend. All three couldn't be more different from each other, and that perfectly encapsulates what ATG is all about nowadays: diversity and genuine acts.
Look at that lineup! How could you go wrong with this? Picture: ArcTanGent Festival
The festival has also made a name for itself in building a true sense of community over the years. Some of the attendees have been on the grounds since the very first edition, making it a special and dear place for many. That passion is felt through the people, as everyone has a very positive energy and veteran bands always comment on how happy they were to be playing ArcTanGent again. Pretty much everyone I talked to was super nice and welcoming, and they love the event as much as they love the music. I met some great people on these days, and I'm very happy to officially be a part of the ATG family. You guys are the best!
Wednesday (warm-up and exploring the grounds)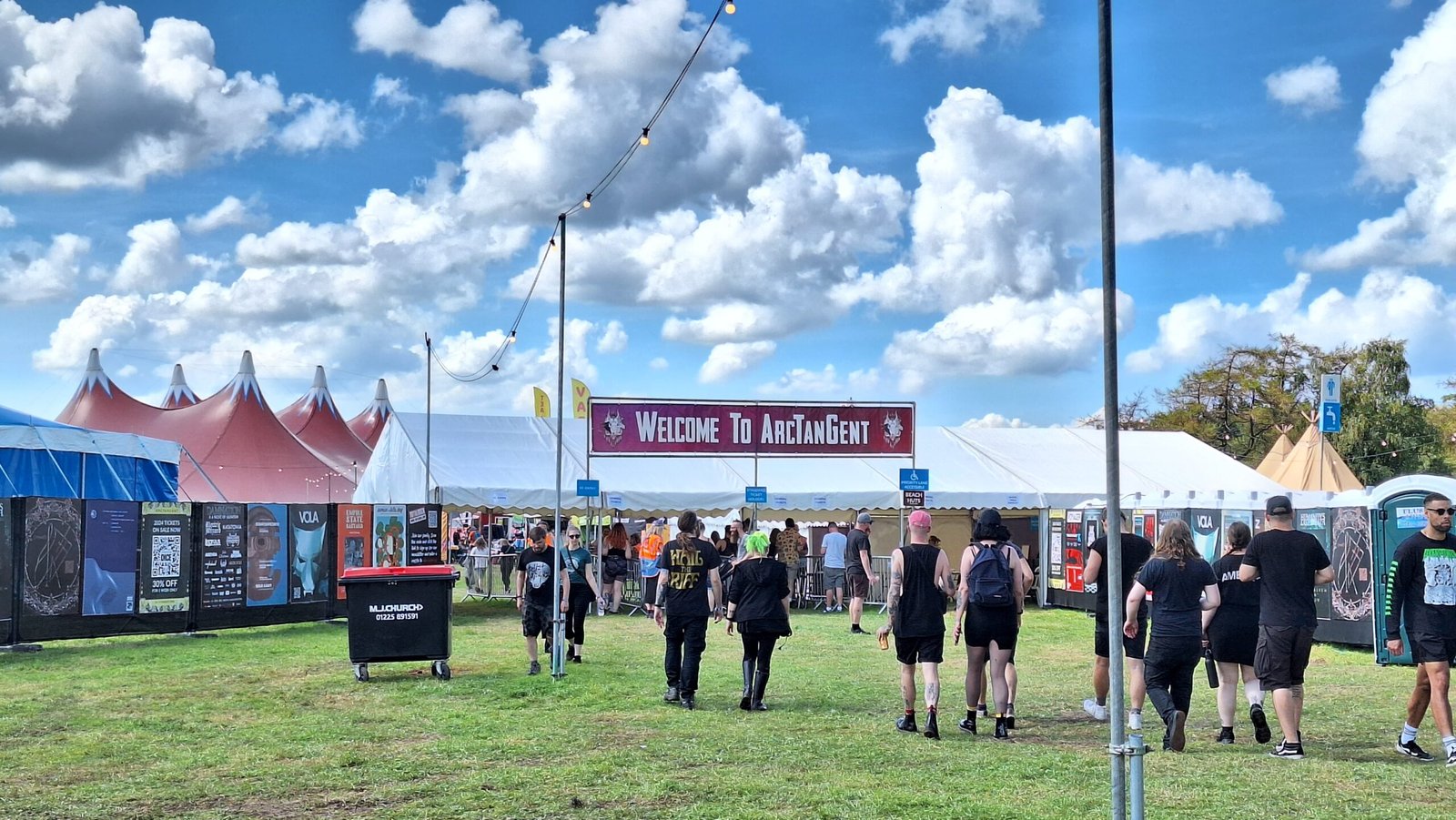 Welcome indeed, ATG! Picture: Robert Miklos
First day in, I was like on a whole new world, taking it all in. I made it to a festival! I just got around the site, tried to grasp how the structure worked and get my bearings. The first thing that struck me is that ArcTanGent is very easy to navigate. The area isn't that big so you can find every stage pretty easily and walking from one end to the other takes less than five minutes. Queues for food and toilets were pretty manageable most of the time and the showers (at least in the VIP area) were a dream. All in all, as far as camping festivals go, I don't think they can be any smoother than this one. Granted, this was my first one, but I still managed to live through it without much hassle, despite not having much experience with camping.
I arrived and left my luggage just in time to see the first act, Ogives Big Band, which I didn't actually hear of beforehand but were a good time to get me in the mood. Five the Hierophant were next, and let me tell you: when a math rock band is followed by a blackened jazz band with live sax, you just know you're gonna have a wild time. They were followed by a fun, dancy set by Bicurious, some jokes and riffs by Skin Failure, and prog metal extravaganzas by Hippotraktor. The whole vibe of the Wednesday, since it's a warm-up day, is that of a big, happy party. The first sets really felt like 'good friends arriving for a barbecue', if that makes any sense. I was able to meet some internet friends in person and also my fellow EIN alumni Rob! Great hangs and great fun.
On this first day, I was especially looking forward to Pupil Slicer since I love their newest album Blossom, which was actually the first thing I ever reviewed for EIN, so I feel like it's my baby. They didn't disappoint in any way: with a new layer of energy and passion live, those songs just hit even harder and compose a very solid show.
Pupil Slicer just has to be one of the most promising bands out there! Picture: Joe Singh (@snaprockandpop) @ ArcTanGent Festival
Dvne followed in great fashion with some delicious prog metal for everyone. I watched the beginning of their set while eating a baked potato and I was just thinking how wild that is: seeing a crazy cool band at the middle of the day while I eat and just have a good time. That is festival life! I also have to mention Conjurer, as they are as insanely heavy live as everyone says they are. At the end of their set I just had to catch my breath because it was tiring in the best way possible. My biggest highlight for the first day had to be Scalping, though! An absolutely entrancing set, that raises the bar for live electronic music. It is as organic as it is trippy, and I need to listen to more stuff like that immediately. I then went to rest because I wanted to save my energy for the days to come. But kudos to all people who actually manage to get to the silent disco parties every night: your energy is admirable!
This was when I figured something out, though: England can be very windy and cold at night. I packed summer clothes preparing for the unforgiving sun, but as it turns out, a few more jackets would have been a good call as I did catch a cold after the short trip between the showers and my tent. You live and learn, I guess!
Thursday (many tears were shed)
Thursday was the first full, official day for the festival, and I was hyped for it, especially for the Brutus set. I started the morning with some great instrumental post-metal and post-rock from Barrens and then Din of Celestial Birds, both with really cool sets to get me in the mood for a full-on day of music.
I think one of the coolest things about ArcTanGent is how it offers many possible different experiences for each person and what they're looking for. You can come and just focus on seeing most of your favorite bands who are higher up on the bill (which was kind of my personal goal for this one, as my first big festival) or you can lose yourself in the expertly curated slots for smaller, upcoming acts. Barrens and Din of Celestial Birds both are newer bands that need this kind of exposure, and the whole festival is filled with underground acts at the smaller stages for those looking to discover new music. One could just go without any plans and bump into every stage looking for something new that appeals to them. You could also come with friends, catch some beers ,and just treat the festival as your own huge party. There is no wrong way to experience the festival; you can plan your day as you like and get your own thing going – there's something for everyone.
Right after my third show of the day by Mountain Caller, though, I realized another big truth about festivals: it's very hard to actually watch every single time slot. Shows tire you out, especially intense ones, and some time to wind down is crucial. Most of you festival goers already know this, but as my first one I'd assumed I would have the energy to get all of it in. I was wrong. I took some slots to rest a bit and realized I was very ok with that, despite missing some interesting bands along the way. I guess it's better to have the energy to properly enjoy the shows you're most interested in than half-assing all of it. I was back up for more with False Hope For the Savage, Wallowing, and then Svalbard, which I was really looking forward to and didn't disappoint! Some of their songs really hit home for me and hearing them live was my first real taste in getting the festival experience I wanted – seeing stuff I'd never dreamed of before.
After that, I got to the main stage a bit late and missed the first song for the Cave In set, but man, was the rest cool. Super-solid live band and could be a great fit for any bill. After that, I had planned on watching Birds in Row, but I had to make my first big, big sacrifice at the festival. I really love the band and managed to catch one or two songs, but Brutus were going to play the next slot on another stage and I saw it start to fill up a bit. Now, this is a personal thing, but when it comes to my favorite bands, I have to see them front row. I realized then I would have to cut some slots in order to get that, so I rushed from Birds in Row to get Brutus up front. Do I regret that? Absolutely not. Brutus' Unison Life was my most played record in 2022 and some of those songs hit me really really hard. Seeing Brutus live was my first huge moment at the festival. I cried during pretty much the whole thing, especially during my personal favorite "Victoria". It was one of the best shows I've ever seen, and seeing Stefanie Mannaerts put her whole soul into every single song was just a transcendental experience that I will cherish forever.
Also, big thanks to the guys in Elder for making a side show in London the day before the festival so I could watch Brutus without grieving for missing the Elder show at the same time slot!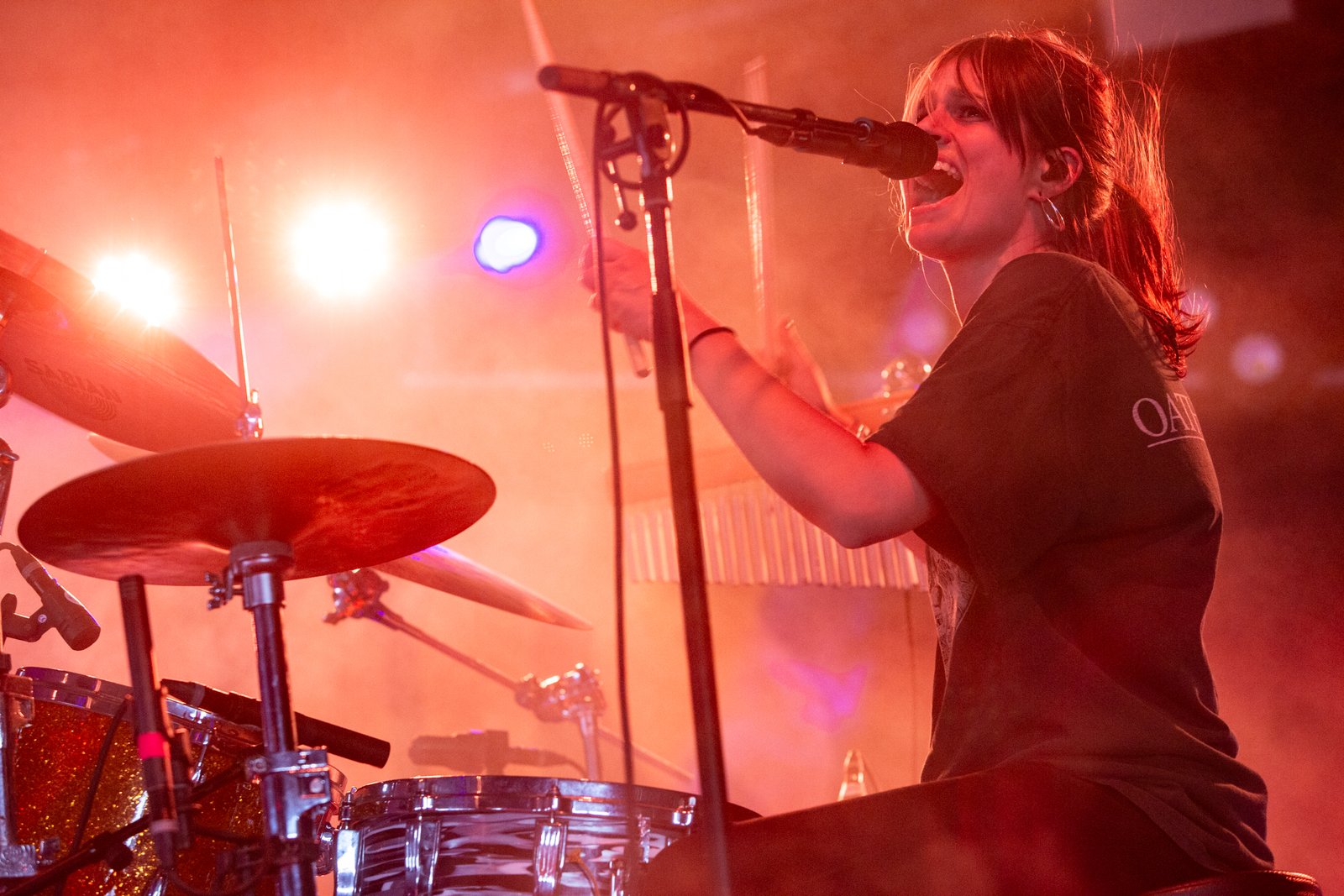 Words cannot fully express how good Brutus is live. Picture: Jonathan Dadds @ ArcTanGent Festival
The day was far from over, though, as Russian Circles tore it up right after and you don't need me to tell you they're one of the best live bands out there. Just incredibly powerful in every way, and songs from Gnosis and classics like "Mladek" hit in a whole new way in a live setting. To be perfectly honest, Brutus' set was so damn moving and special to me that I was still struck from it and thinking about it when Russian Circles started. It wasn't until the middle of their set that I managed to get my shit together and properly enjoy the massive post-metal titans playing in front of me. At least I got to bask at the full glory of their live shows in London the other day!
I stuck around the main stage for the big event for the night: Converge played a mean show and proved they're more than worthy of their legendary status. Jacob Bannon is one hell of a frontman and the band puts on a crushing show that got fans and newcomers hyped for the whole night, with many classics from Jane Doe and Axe to Fall. I managed to watch that one on the front row and not get wrecked. Don't ask me how.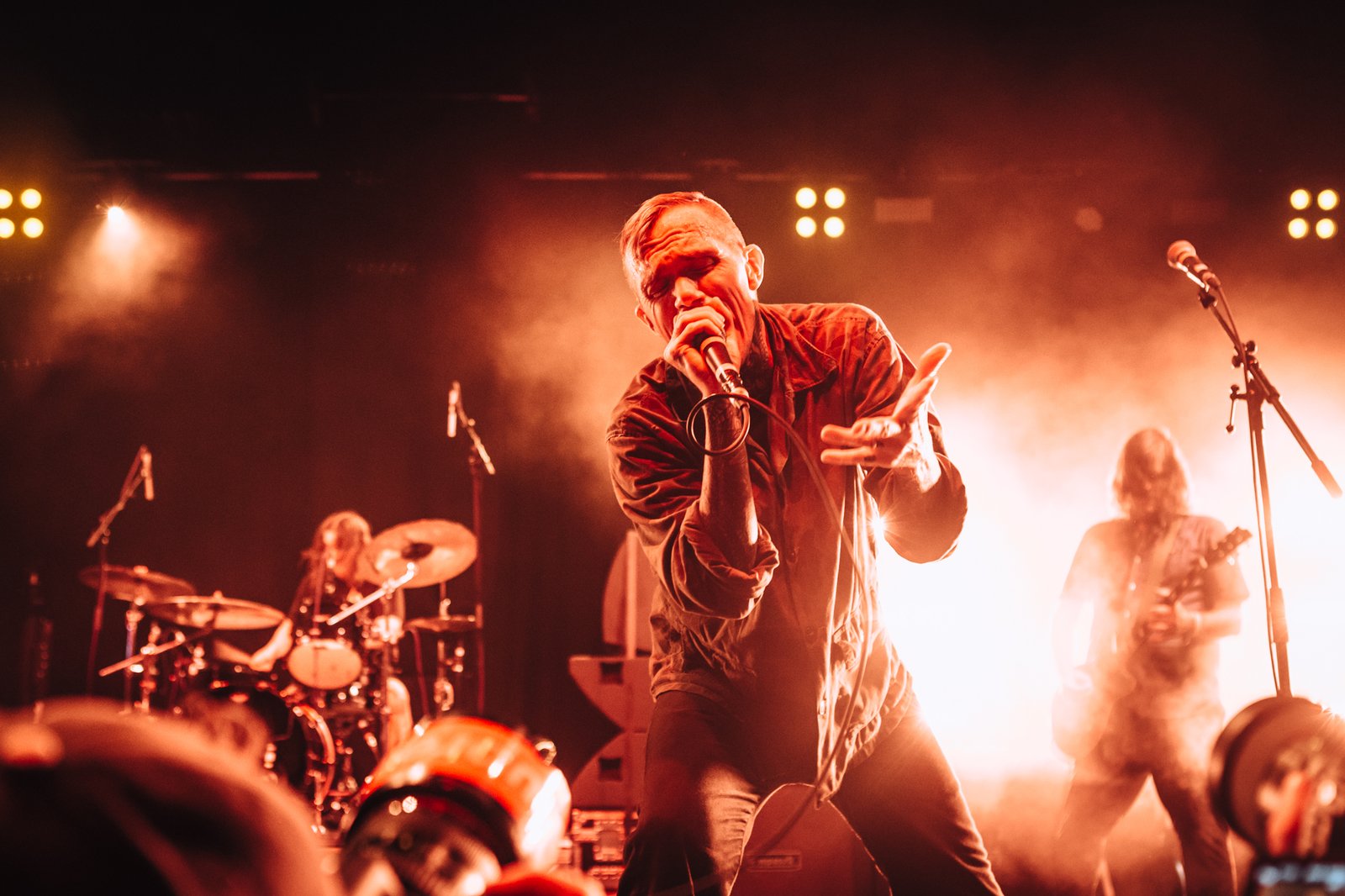 The mighty Converge earn their headline slot with ease. Picture: Joe Singh (@snaprockandpop) @ ArcTanGent Festival
Friday (how can you get jazz and pagan folk on the same day?)
Friday was here, and with it a whole new wave of great bands to see. I started my day getting screamed at by Hidden Mothers, and thanks guys! Didn't even need coffee after that one. I then saw Lack the Low as recommended by Rob and it was a good call: very solid, chill, and jazzy indie music. Helped me to settle down for all the metal goodness to come in the next moments. Curse These Metal Hands, a project from members of Conjurer and Pijn, was next and that was just the apex of a fun show. You could look at their faces and just know they were having fun playing those songs, and I hope more from this project comes out in the future, as it sure brings a ton of joy for the musicians and the public alike.
I then waited around to see Caligula's Horse up close. One of my favorite prog bands for many years, I was delighted to finally be able to see them live. It was a great, albeit short show as it was in an afternoon slot, but I was glad for the chance to cross this one off the bucket list. "Marigold" and "Dream the Dead" were big moments for me. Holy Fawn were next, the best shoegaze of this generation if you ask me, and they put on a massive show. Ethereally beautiful and crushingly heavy, they are a must-see live performance. The St Pierre Snake Invasion continued my day with some fun, fun tunes before I caught Jaga Jazzist, which was so, so fun! Let there always be a jazz break at heavy festivals, please.
Very happy to finally see some of my favorite Aussies in Caligula's Horse! Picture: Jonathan Dadds @ ArcTanGent Festival
Next up was The Ocean who, as always, crushed it. I am a big fan of them and their live show is just insanely cool, especially with Loïc Rossetti crowdsurfing and handing over the mic so we could shout along to some of our favorite songs about dinosaurs. Enslaved then got me my black metal fix just the way I like it: epic and kinda proggy. I have seen them before and will always admire the effort they put into their shows. Just insanely cool from start to finish.
Heilung closed out the night, and while I was pretty far away from the stage, I still loved what I saw. Heilung just redefines what a live show can do, being as much of a visual experience as it is a sonic experience. Their live rituals evoke something primal in you, and I was dancing and shouting by the end of it. Why did we, as a society, evolve past this? Let's get back to drumming and singing chants while wearing cool headwear again, please. In fact, the ritual was so succesful that we were met with rain and strong winds exactly as the set ended. That did create a bit of an apocalyptic vibe, and my trip back to the tent felt like an eternity as I battled the strong winds. But I endured, and so did my fellow ATG brethren.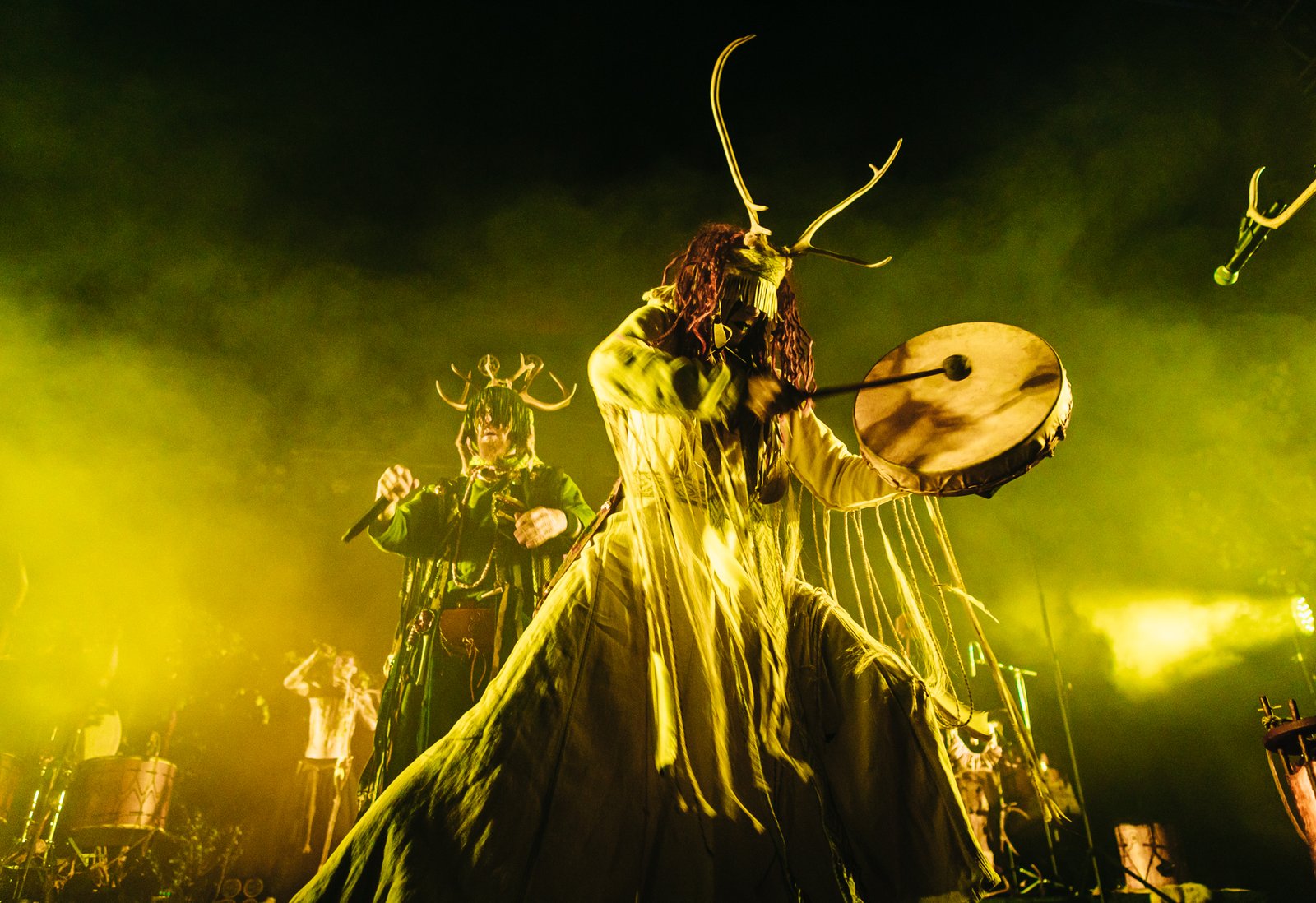 I mean, Heilung may just be the best live act ever for concert photographers. Picture: Joe Singh (@snaprockandpop) @ ArcTanGent Festival
Saturday (when dreams came true)
The final day was finally here, the one I was most excited about. Now, I won't go into much detail because it would drag on for a while, but Devin Townsend has been my favorite artist for ten years now, and I connect with his music in a deep, deep way. I've never seen him live as he's never been to Brazil, so I lost it when he was announced and I knew I'd have to be right in the middle of the front row, basking in all his bald glory.
So, my first order of business was to just hold the main stage the whole time, and not leave until the end. Unfortunately, that meant missing shows from Domkraft, Health, and Loathe, all of which I'd have loved to see. But I was a man on a mission. Besides, when you get to see Psychonaut, GGGOLDDD, VOLA, Rolo Tomassi, Deafheaven, and Igorrr up front and center, how can you complain? Despite being tired from the last couple of days (camping takes a toll on you, and I caught a bit of a cold), I was hyped to see some great shows before my personal huge event.
Psychonaut were a fire start for my day, with a short but killer slot. A girl was dancing next to me and having the time of her life during their show, which I totally get. GGGOLDDD was the one that really blew my mind, though. I love their 2022 album, This Shame Should Not Be Mine, and hearing those haunting songs live was beyond amazing. Things got really emotional at the end, as Milena Eva told us what the album was about. I won't go into detail over here, but I did not know about how it came to be and now I'll never be able to listen to it the same way. The final song of their set, "On You", was one of the most intense, soulcrushing moments of the whole festival. GGGOLDDD live experiences are something to behold, and you should catch one as soon as you possibly can.
It's hard to imagine how one could not be moved by GGGOLDDD's performance. Picture: Derek Bremner @ ArcTanGent Festival
After that huge moment, I waited around to see one of my favorite bands, if not my favorite band: VOLA. I love their music with a passion and while this was my second time seeing them, it was as awesome and emotional as the first time. I was very happy to see them play "Stone Leader Falling Down", one of their heaviest songs, as well as tunes that are already classics in my book, such as "Straight Lines" and their beautiful set opener "24 Light-Years". VOLA's live performance is just massive, and I sang my heart out to all of it once again. It's always cool to watch a nice concert, but there's just something more to watching an artist you truly and wholly connect with. I hope VOLA becomes one of the cornerstones on the progressive metal scene, because no one is doing this like they are.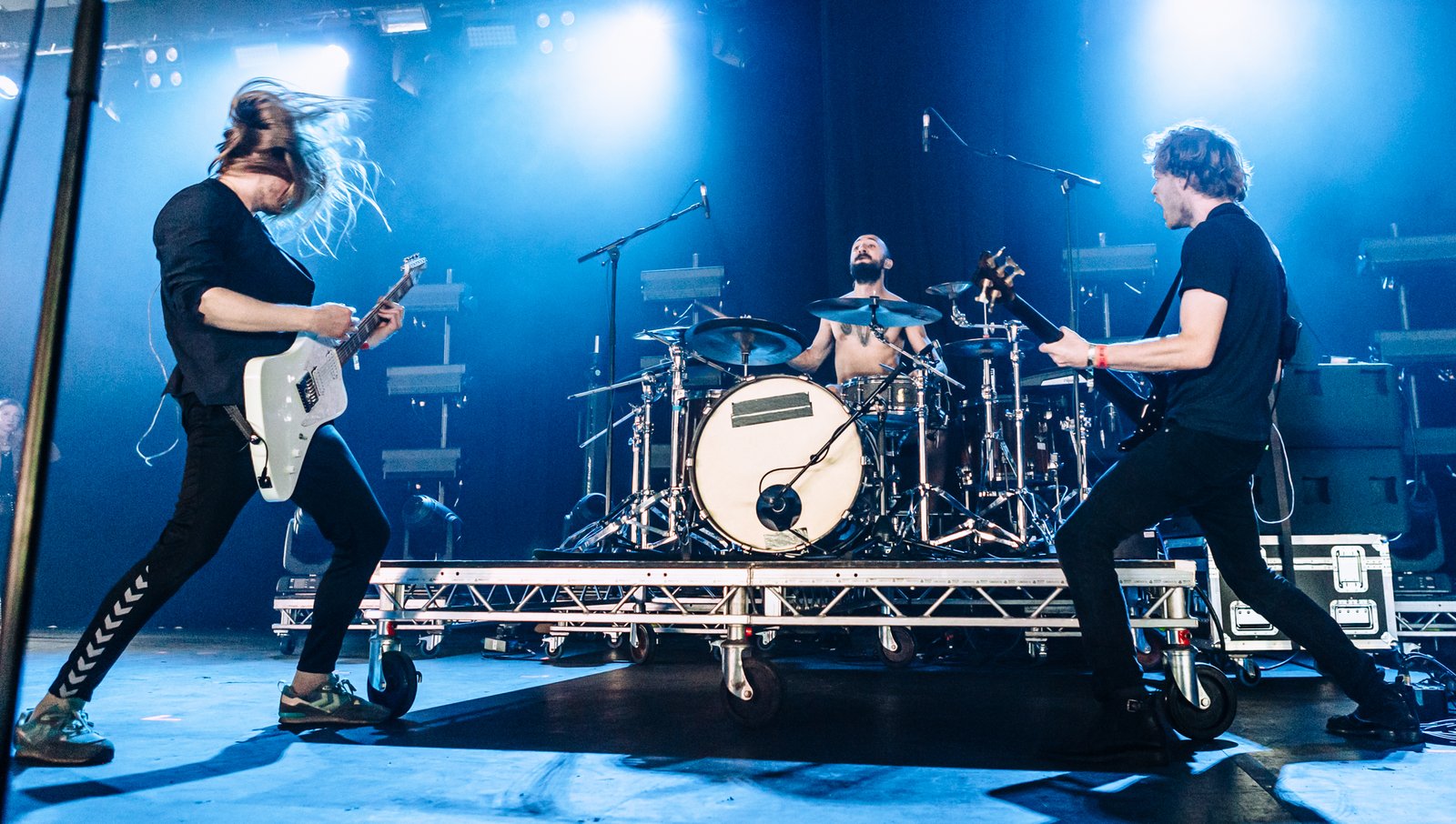 My boys in VOLA tearing it up like they always do! Picture: Joe Singh (@snaprockandpop) @ ArcTanGent Festival
Later on, I got to see an absolutely fiery and energetic set from Rolo Tomassi, mostly focusing on songs from their latest release Where Myth Becomes Memory. It was a cool and energetic performance that got the audience moving and crowdsurfing enthusiasts really going for it, always hyped by the formidable stage presence of frontwoman Eva Korman. I was a little bummed for the lack of "Aftermath" in their set, probably my favorite song of theirs, but I still had a great time at my first Rolo Tomassi show.
Deafheaven presented a special set from their seminal album Sunbather, an album very dear to many and one that made an actual huge cultural impact all over the shoegaze and indie world. While I personally prefer their more shoegazey material in Infinite Granite, I can't deny how cool it is to see how passionate the band and the audience gets to these songs. I was being crushed by everyone and crowdsurfers were having the time of their lives, so it sure was an intense, if tiring experience. Also, I did not expect how crazy people would get for an Igorrr show. The crowd is almost as insane as the music. Big shoutout to the ArcTanGent security team, you guys are actual heroes and deserve a raise. But hell yes, Igorrr rips live.
So there it was, all that was left for me was waiting an hour-ish to see the show I've dreamed about for ten years. When the man himself, Devin Townsend, got on stage, I bawled like a baby. For an hour and a half, I was the happiest person in the world. Devin just brings joy in a way no else does, with the most sincere smile you'll ever see, cracking jokes every chance he gets, and of course, his trademark wall of sound that truly lives up to its name in a live setting. His songs carry a newfound power in a live setting, and combining that with his winning frontman charisma, even naysayers have to admit HevyDevy puts on a impressive live show. But since I am an absolutely biased fanboy, I will just say this was everything I've dreamed of. I sang "Kingdom", I sang "Deadhead", I saw my favorite solo ever in "Deep Peace" right in front of me. We even got see some Strapping Young Lad classics like "Aftermath" and "Love?", which were as heavy as it gets. Every single second of that show will be etched onto my heart as one of the best moments of my life.
The most genuine smile you'll ever see – accompanied by the uncanny voice of Devin Townsend. Picture: Joe Singh (@snaprockandpop) @ ArcTanGent Festival
At the end of the performance, I was just kind of starstruck for a moment there, taking it all in. I lived it! I lived a Devin Townsend show! I lived a European festival! ArcTanGent was beyond special to me and I couldn't possibly have chosen a better place for my first proper big festival. I managed to finally see some of my favorite bands live for the first time and have the best possible glimpse at how it is to be surrounded with the opportunity to enjoy great live music. It is a place of joy and fun with the coolest people ever, filled to the brim with the best bands across most genres you can name when it comes to weird, heavy music. How could you not love this?!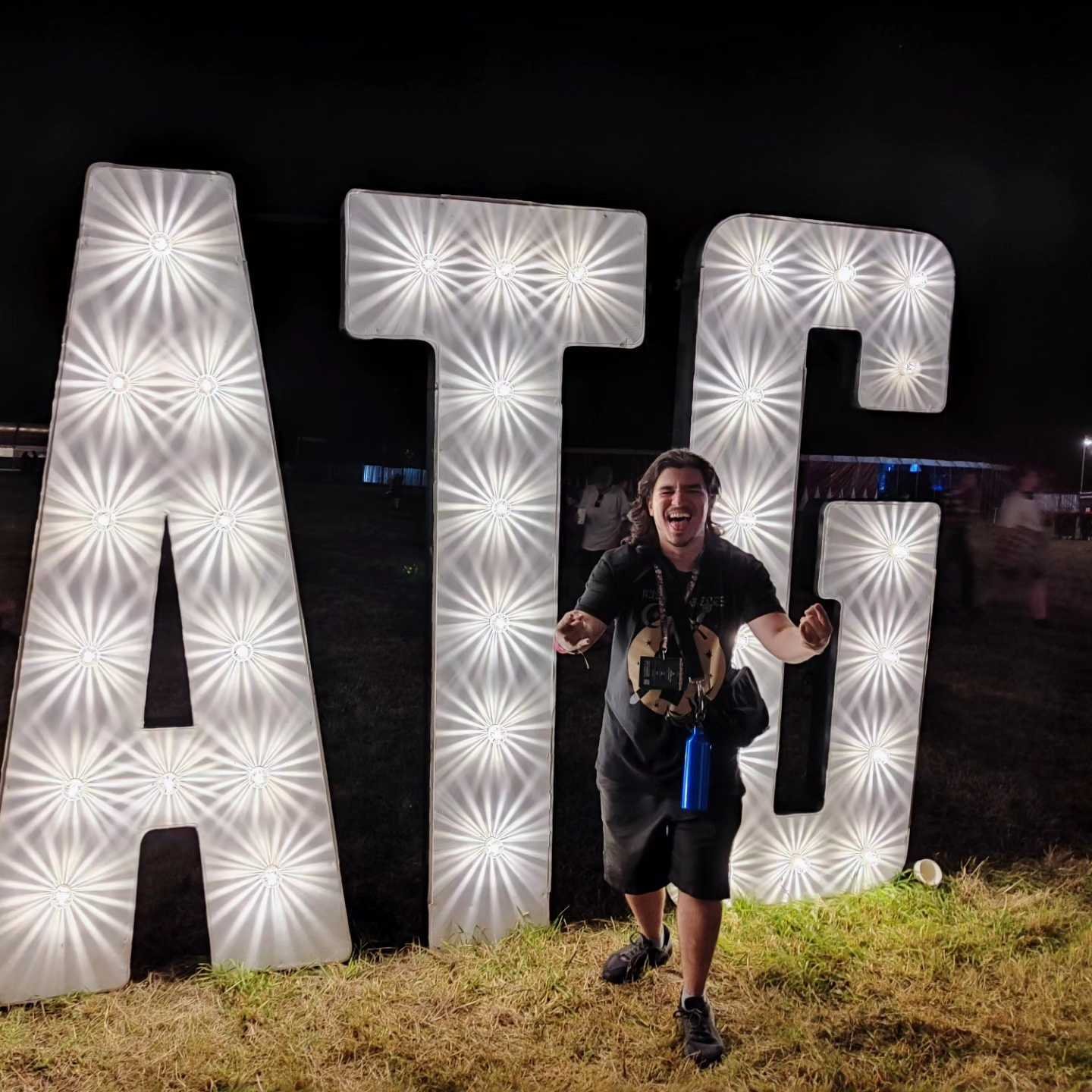 Me at the famous ATG sign! Hope to see this one again.
ArcTanGent already has a firm standing on the roster of the best European outdoor festivals, and if they can keep lineups this stacked and this level of organization in the long run, they may just take the crown. I hope to be on your grounds again in the future, ArcTanGent. Thanks for all the memories!