I'll be honest, I've never been one to listen to much bedroom pop. It's not so much that I don't like lo-fi music, it's just that I don't always like the sugariness of it. It often feels like someone is force-feeding me homemade cotton candy and Shirley Temples until my blood coagulates in my arteries. It's sweet on my tongue, but can make me feel bloated. But my woes concerning the music of this style may soon be resolved. Everything Is Noise is proud to present our first Weekly Featured Artist of 2019: The Scary Jokes. Don't be fooled: their music is indeed sweet, but filled with honest emotion. The band combines fun, saccharine bedroom pop melodies interwoven with stories that help to define a unique queer experience.
The Scary Jokes began as the brainchild of Liz Lehman, who began to make their own music in early 2014. Liz was at a low point in their life, experiencing difficulty talking with friends and feeling isolated. It was during this time that Liz found some new music that resonated with them emotionally.
'Around this time I started getting into a lot of musical acts like Beat Happening & Daniel Johnston… like I'd listen to all these cute, homespun songs and I'd cry so hard over them. I feel like at the time I was really starved for any sort of connection so the guilelessness & directness of that kind of music would hit me so hard, and it was so cathartic.'
With a background in theater and choir, Liz hadn't yet tried making their own music before. At first, they found the process of songwriting frustrating. But after embracing simpler lyrics (and realizing that not everyone can be Leonard Cohen), Liz had written and recorded the debut album of The Scary Jokes.
Liz describes Bad at Math as a simple album that allowed for emotional self-expression. I, on the other hand, came to know The Scary Jokes by their second album April Fools and the above track "Feelin' So Matryoshka". Since Bad at Math, Liz has greatly improved their songwriting skills and lyrics. The conventional chords dance merrily on the ears, surrounding words that still embrace that early simplicity, but with a cleverness second only to the Mountain Goats.
Three-ish years later, The Scary Jokes has undergone a bit of an expansion in both membership and concept. Liz incorporated both Juniper Esler on guitar and Ellie Bennett on bass. This has allowed for the band to explore more sounds for their newly-released third LP Burn Pygmalion!!! a Better Guide to Romance.
Burn Pygmalion!!! is an album three years in the making. Definitely their most diverse album yet, The Scary Jokes explores the emotions of romance that's never been this honest, nor this gay. Tracks such as "Community Gardens" and "Admire the Architecture" explore doubt and identity in a relationship that we never seem to talk about.
'I settled on this sort of feverish anxiety trip through the thought processes of this journalist character, someone who is dedicated to observing and surrounding herself with interesting people. She's forced to be alone for a long time which triggers this ouroboros of paranoid ideas – "are people using me for an ego boost? If I put emotional energy into a relationship, will they use it to advance themselves and leave me behind? Do I have an identity when I'm by myself?"….I wanted to end the album on her ultimate acceptance that there's a chance she might be hurt very badly, but that the risk is worth spending her life with someone she loves & who makes her happy.'
I'm happy to say that it's only onwards and upwards for The Scary Jokes at this point. Liz tells me that the band played their first live show recently, which was both 'stressful and a lot of fun.' They claim there are several surprises in store, so keep your eye out!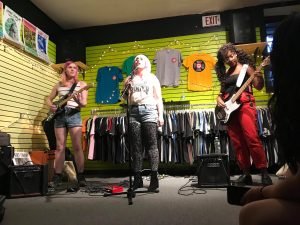 The Scary Jokes is…
Liz Lehman (they/them) – Keyboard, Programming, Vocals
Juniper Esler (she/her) – Guitar
Ellie Bennett (they/them) – Bass
Burn Pygmalion!!! a Better Guide to Romance is available as of January 1, 2019. Start your year off right and stream The Scary Jokes on Bandcamp and Spotify. Stay tuned for their 'surprises' on Facebook and Twitter.