'Shakedown 1979 – Cool kids never have the time –  On a live wire right up off the street – You and I should meet'
Wait, this is the wrong 1979. We wanna talk about the year, right? Right, So, in this newest episode of NOISE UPON A TIME, we are focusing on this exact year – Pink Floyd dropped The Wall, Margaret Thatcher became UK's prime minister, the Walkman changed music listening forever – it was a wild year.
Joy Division – Unknown Pleasures
released June 15, 1979, via Factory
revisited by Dylan Nicole Lawson
Joy Division's Unknown Pleasures was released just before the turn from the '70s into the '80s, which means it was right on the frontlines of a time when music would change forever. A staple within the goth community (although not exactly called 'goth' itself especially during its conception), Unknown Pleasures was an album released in 1979 that I felt superbly compelled to write about, especially given its relevance to me personally. R.I.P. to Ian Curtis, forever.
Starting with one of the most gut-wrenching, yet dancy post-punk tracks to ever be written, "Disorder", we are thrown right into the point of view of vocalist Ian Curtis' bleak perception of life and how the times, they were a'changing. The emotional rollercoaster doesn't stop there, as tracks like "Day of the Lords", "New Dawn Fades", and "She's Lost Control" spiral you into an introspective moment of melancholy with every passing second. But, for all the morbid, reverberated glory the album possesses, it still gives an intellectual examination on life, navigating depression, and featured a myriad of unconventional sounds such as bottles being smashed, reversed guitars, a person consuming chips, and other odd experimental bits to be included with the general music.
Martin Hannett is likely to thank for these unusual methods of production, as his approach to it involved creating more of an atmosphere and soundscape as opposed to simple, traditional application of standard timbre and instruments. But I like to believe the sonic environment crafted on Unknown Pleasures is largely to be credited to the haunting voice of a soul as tormented as Ian Curtis' was. One of only two releases in Joy Division's tragically brief discography, this one hits on a deep level; When you take into account all the things Ian Curtis had been through and would experience in tandem with everything Joy Division would do during their come-up (divorce, seizures, throes of depression, etc.), Unknown Pleasures is a beautiful disaster projected through audible art form. Ian Curtis was not writing lyrics and singing from his voice or with his hands or even simply his mind – Everything came straight from the heart and soul.
You don't take a human being whose entire life is broken on virtually every level and give them the gift of artistic expression just to get a simple, weightless album that won't devastate those who listen. What Ian, Bernard, Peter, and Stephen crafted was exactly what the real world needed; Something that bopped hard but shied none from the unapologetic, visceral messages intwined with every word Ian Curtis had to say. Both a brilliant composition and an abysmal take on the human condition and the world around us, Unknown Pleasures remains iconic (generally speaking) for all the right reasons.
The Tony Rice Unit – Manzanita
released in 1979, via Rounder
revisited by Jake Walters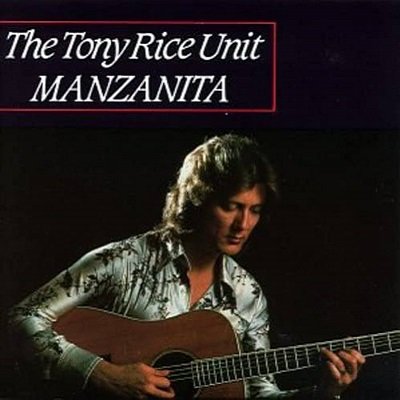 Today, I finally get to write about one of the most nostalgic and foundational albums of my existence. Tony Rice may not be a household name outside of the bluegrass and acoustic music circles in which he traveled but those who know him know that he was arguably the most influential guitarist of his generation and one of the greatest acoustic flatpickers of all time. Not to mention that voice of his. He played with everyone from David Grisman to Jerry Garcia and Doc Watson to Ricky Skaggs. While his beginnings are somewhat legendary I'll try to stick to the point of this blurb and talk about this seminal and influential album that he recorded with The Tony Rice Unit called Manzanita.
While Rice was an amazing guitarist and vocalist his prowess for songwriting mostly stayed quiet with only a few original compositions making his albums over the years and those were usually instrumental tracks. Such is the case for "Manzanita", the title track. While most of this album is considered to be bluegrass – though some would cite the lack of five-string banjo a disqualifier – the title track shows Rice's love of western-themed jazz as this dusky track is infused with aged whisky and leather, wrapped up in a turquoise sunset that feels as mythical as it does familiar. There's space in this song for improvisation, as was often the case for Rice tunes, and this one shines with solos (in bluegrass we call them "breaks") from Sam Bush on the mandolin being one of my absolute favorites.
Manzanita is filled with bluegrass standards – as is the way of the genre, much like jazz – and each one from "Blackberry Blossom" to "Nine Pound Hammer" has a unique flair laid upon them by Rice and his virtuoso friends, most of which would continue to collaborate with him for decades after. The highlights of the album for me, however, are when Rice's vocals get the spotlight. "Home From the Forest" penned by the Canadian legend Gordon Lightfoot and "Ginseng Sullivan" by fellow guitarist and frequent collaborator Norman Blake are two of Manzanita's standout tunes. These two tunes focus on interesting narratives and bring The Tony Rice Unit closer to folky territory and each player supports this approach perfectly.
This album is wall-to-wall greatness and set up the careers for everyone involved from Jerry Douglas to Sam Bush, and became a focal point of acoustic music for years. While still rooted in bluegrass, Manzanita pushed the boundaries of composition, approach, and attack and opened the door for other artists to walk a similar line, hell, Allison Krauss cites Tony Rice as her biggest inspiration. Manzanita will always be my favorite acoustic record and one that I will heartily recommend to anyone who has any interest in this style of music.