Release date: November 11, 2005 | Hydeout Productions
Where to even begin with a record such as Modal Soul? This right here, beneath our proverbial fingertips (unless you own a physical copy of it, in which case you have my envy) lies the catalyst, the true linchpin of lo-fi hip hop as we know it, as well as a masterpiece in the larger world of jazzy, sample-heavy instrumental hip hop as well. Nujabes was a quiet trailblazer, setting benchmarks in previously uncharted territory. His untimely death in 2010 should come as a tragedy, even to those outside the hip hop scene – a testament to the bridges he built while alive.
From a more personal standpoint, this record has been my first serious contact with instrumental hip hop, which, aside from the occasional exception, largely remains the only area of the genre I feel comfortable in. In that sense, Nujabes has become a home in unfamiliar lands, a beacon of comfort in trying times, and not only within the context of my listening habits. So many of his songs still make me smile, dance, and cry – more often than not out of pure joie de vivre. Modal Soul will likely never leave my heart, and that's nice to know.
I will leave you with one of the most beautiful and heartbreaking videos on the internet: Uyama Hiroto playing Pharoah Sanders' (RIP) "Farah" at Seba Jun's grave. Both Nujabes and Sanders, a huge influence on the former, will never be forgotten.
Dear Jun Seba
aka Nujabes,
I love your work. Truly, I do. You were a modest artist, who ran a music shop in Shibuya, Tokyo, as well as owning Hydeout Records. You left a lasting impact on the hip hop scene and the internet.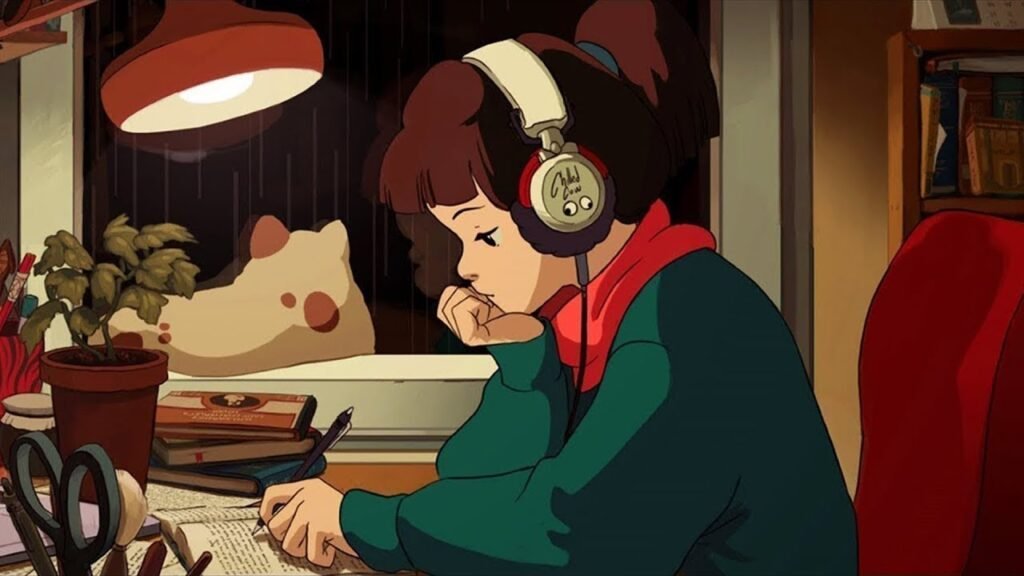 Do you recognize this image? It's probably been the thumbnail for countless lo-fi hip hop streams on YouTube at some point in many people's lives. Many have enjoyed evenings with it, relaxing with friends and having a great time. And it's all thanks to you.
To be fair, I found you differently, and perhaps that's how many others did too.  When I was 18 or 19 years old, I realized that anime could be amazing. Not the dumbed-down versions for children, but instead a diverse array of styles for all kinds of people. Despite this, it was a small anime by Shinichirō Watanabe named Samurai Champloo which put me in touch with you. The show presented a heartwarming tale in just 26 episodes, exploring themes of self-discovery, isolation, and companionship, all complemented by an exceptional soundtrack. Your work played a significant role in this remarkable score, featuring soothing lo-fi hip-hop melodies layered with soft jazz piano and a comforting rhythm that brings solace. It's as if you're back at your place. Your story quickly became apparent to me. You only put out two albums during your life. There is additional music attributed to you, but sadly it was never fully released due to your premature passing from a car accident at just 36 years old.  I hope you realized the profound impact your music had on people.
Your second album, Modal Soul, is the reason I am writing this letter today. Modal Soul is one of your greatest accomplishments. It has your unique sound, that has been copied many times. Do not worry, nobody can replicate your magic, you continue to remain the king. You worked with the right people and delivered a warm, soothing vision of lo-fi hip hop. At times, it can be wild and jazzy, and at others, it has a simple beat with great bars.
It doesn't matter what specific topic I write about in this letter. Your music carries great significance to me, as I mentioned earlier. I know this letter may seem fanboy-ish, but your art inspires me. Your passing saddens me, imagining what could have been. However, your work will continue to inspire for years to come, possibly until the end of time. You will never be truly gone long as people remember you.
Sincerely,
Someone you helped