Music, above all, is about life and its innumerable forms and shapes. Songs can be about giving life, blessing it, conflicting with it, or even taking it. The widespread expressive spectrum of music enables you to tell the exact stories you want to tell, provided you have the skill. It's what makes bands like NNRA special.
An industrial post-metal solo project of Louis Lambert (DDENT), NNRA is profoundly aware of what it wants to say, and knows just how to say it. Along with visual artist Sebastien Mathieu, the two seek to call upon dark and vivid music and art to form their latest album, Incarne. It releases on April 26, but we have a taste of one of the tracks from the single eponymous piece referred to as "Incarne 2nd Movement". Without further ado:
Incarne is loosely themed on an old Arabic tale and, like most ancient tales, it's equal parts beautiful and violent:
'In the old days, there was no color, gardens were grey and nightingales were silent. Yet one day, a nightingale fell in love with a rose, and loved it so much that he wanted to embody it. He squeezed it so tightly to his chest, that the rose threw a thorn into his heart. His red blood spread and gave color to the roses, and thereafter to the world, while his piercing cries of pain gave nightingales the ability to sing. It is a poem about love, the creation of life, when one loves something so much that one wants to embody it physically; in Latin, in carne means 'in the flesh'. No life, no color or music without devouring passion.'
This unique origin story is deftly told by NNRA's daring and dark tones. Each note lands like a splash of color upon the canvas of the earth. The industrial undercurrent of the track feasts on the oil pumped into it from the natural performances by Lambert. There's a masterful symbiosis between the organic and synthetic here that you don't here very often from music like this – a kind of understanding between man and machine that pushes Incarne into the upper echelon of industrial-based music.
I'd be remiss to now show off the starkly fitting cover art by Michael Sallit, adorn with black and white shades with red accents. Since Incarne will be pressed to vinyl (available a few weeks after initial digital release), you can also see how the tracklist will break down on its two sides, combining to a length of just under 41 minutes.
Tracklist:
SIDE A
1. NNRA INCARNE 1st movement
2. NNRA INCARNE 2nd movement
3. NNRA INCARNE 3rd movement
4. NNRA INCARNE movement 4A
SIDE B
5. NNRA INCARNE movement 4B
6. NNRA INCARNE 5th movement
7. NNRA INCARNE 6th movement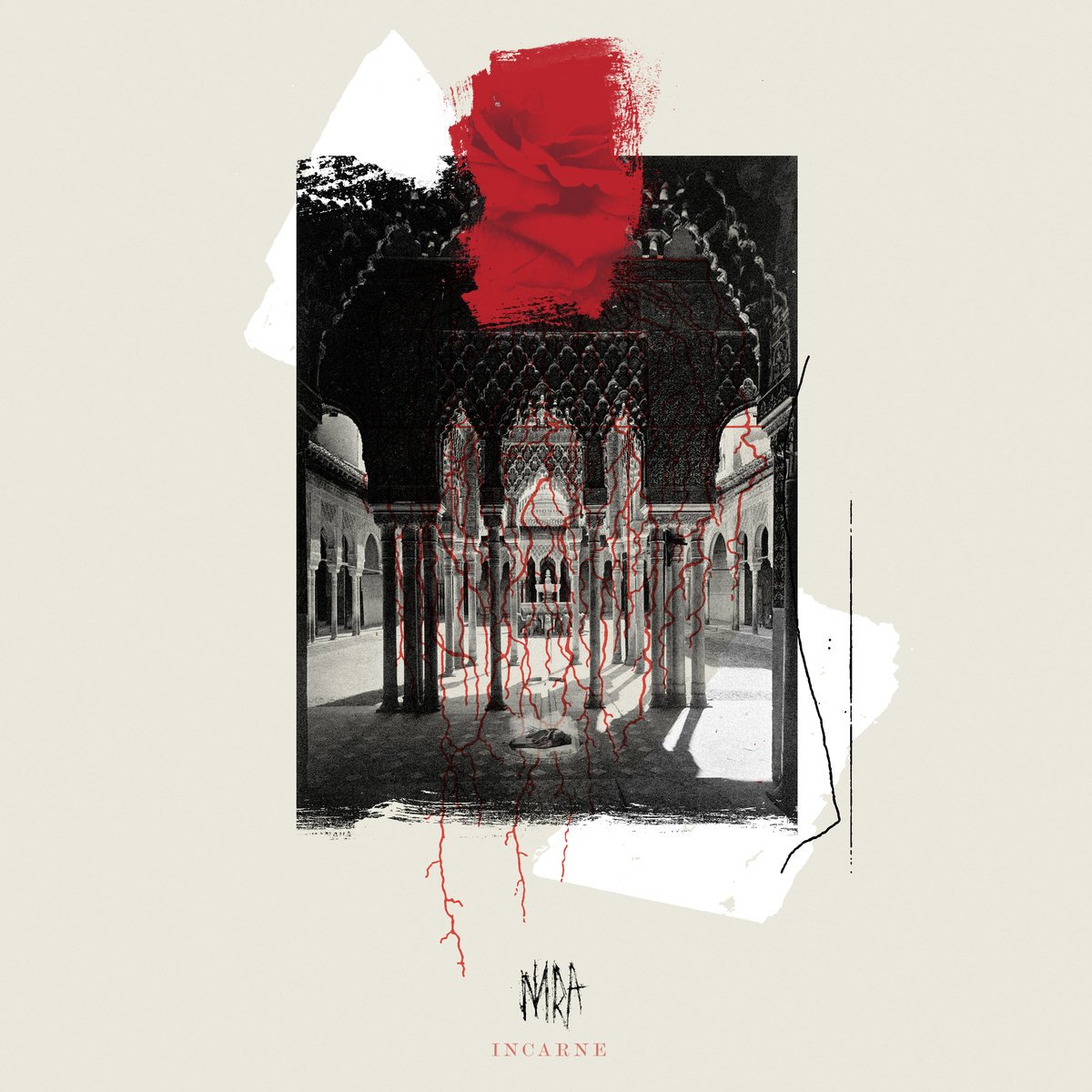 Incarne promises to be a standout in post-metal for 2019, so be sure to secure your copy through the project's Bandcamp page, where you can also listen to their self-titled debut. Follow NNRA on Facebook as well – they will be doing some live shows soon with additional performers and a video projected during the performance that will complement the story and performance itself.